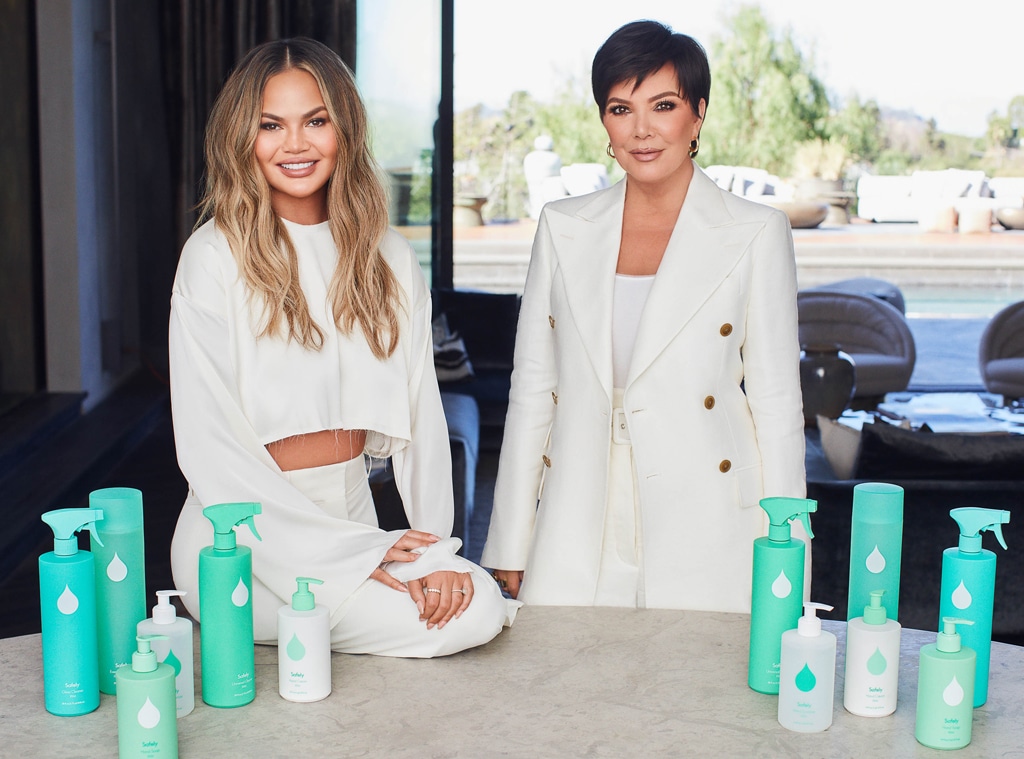 Mike Rosenthal
We interviewed these celebrities because we think you'll like their picks. Some of the products shown are from the celebrities' own product line or a brand they are paid to endorse. E! has affiliate relationships, so we may get a commission if you purchase something through our links. Items are sold by the retailer, not E!.
Contrary to popular belief, cleaning products don't need to be packed with chemicals to be effective. That's why Kris Jenner, Chrissy Teigen, and Emma Grede created Safely, a line full of plant-powered products that actually work and smell amazing at an affordable price point. So far, Safely has produced hand sanitizer, laundry detergent, glass cleaner, and more items that are free of harsh chemicals.
Aside from creating effective cleaning products, Safely has pledged to donate 10% of May sales to the organization Baby2Baby. Chrissy shared, "On behalf of Safely, we are so proud to partner with Baby2Baby—an organization I've worked with for many many years that provides basic essentials to mothers, children, and families living in underserved communities who have been impacted by COVID-19 the most."
Kris emphasized, "Families right now need our help as a community more than ever and I'm so excited to support the amazing work that Baby2Baby does to ensure children everywhere have the basic essentials they deserve." 
Emma told E!, "To have the opportunity to work with Kris and Chrissy has really been an incredible experience. They have both built their own successful respective brands and truly understand how to connect with consumers and speak directly to them. Chrissy knows exactly what she wants and settles for nothing less. Kris is a branding genius in whatever she does and has been the guiding light throughout the process."
She explained that Safely is so unique because it provides consumers with a "home care line that smells great, free of harsh chemicals and at an accessible price point, ranging from $6-14." Check out those great products, including bundles with multiple items below.
Safely Hand Soap
The Safely Hand Soap cleans your hands without stripping away moisture, with a promise to leave you skin "baby soft and smooth." It even smells like "a fresh bouquet, a touch of firewood, and those overpriced candles you love."
Safely Laundry Duo Kit
It's never a good thing to run out of laundry detergent. Avoid that by getting this set of two. The plant-based enzymes remove stains and the pH-balanced formula is gentle on the skin.
Safely Essential Home Kit
These are three products you need to clean every surface of your home: Glass Cleaner, Universal Cleaner, and Everyday Laundry Detergent.
Safely Everyday Laundry Detergent
The Safely Everyday Laundry Detergent is suitable for whites, brights, and dark-colored clothing. It even "smells like you air-dried your clothes in a field of tall wildflowers."
Safely Clean Freak Kit
This kit is Kris' favorite from Safely. It has everything you need to keep your home spic and span and serves the perfect introduction to the brand. The set includes Glass Cleaner, Universal Cleaner, Everyday Laundry Detergent, Hand Soap, Hand Cream, and Hand Sanitizer.
Safely Clean Hands Kit
Chrissy's favorite bundle is the Safely Clean Hands Kit, which will give you hands "that look like they've never worked a day in their lives." The set has Hand Soap, Hand Cream, and Hand Sanitizer.
Safely Hand Cream
If you have dry hands or brittle nails, you need the Safely Hand Cream in your life. The cream is enriched with Vitamin E, almond oil, and soothing willow bark extract.
Safely Hand Sanitizer
Safely Hand Sanitizer kills 99.9% of common bacteria without drying out your skin. And another bonus? It doesn't have that "straight-up alcohol smell."
Safely Universal Cleaner
Safely describes this product as "the overachieving, multi-purpose cleaner," which means you can stop hoarding a million different cleaners. This one has a "does-it-all" formula that you can use on multiple surfaces in your home.
If you're looking for more eco-friendly products, check out these favorites from Kardashian/Jenner family pal Stephanie Shepherd.