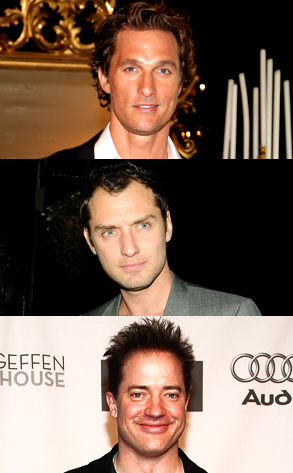 Venturelli/ Getty Images, Martin Fraser/Getty Images, Alberto E. Rodriguez/Getty Images
Brendan Fraser recently underwent what turned out to be very public hair transplants. Do a lot of balding men in Hollywood do this on the down-low?
—Diane, via Facebook
First off all, let's pull the steam brakes on this libel lawsuit engine before it explodes: Yes, a few years ago, paps took photos of Fraser looking so bald his head fell somewhere between hard-boiled egg and Don Rickles. Fact.
Couple years ago, Fraser came back on the scene sporting a very pleasant head of hair. Fact.
Exactly how that hair got there—surgery, hair system, wig, mind control—is not fact.
Now, something has touched the golden heads of male stars like Fraser, Matthew McConaughey, Jude Law and the Pivenator. Doctors tell me that it's most likely surgery. But you may be shocked at exactly who's doing it—and who pays for it...