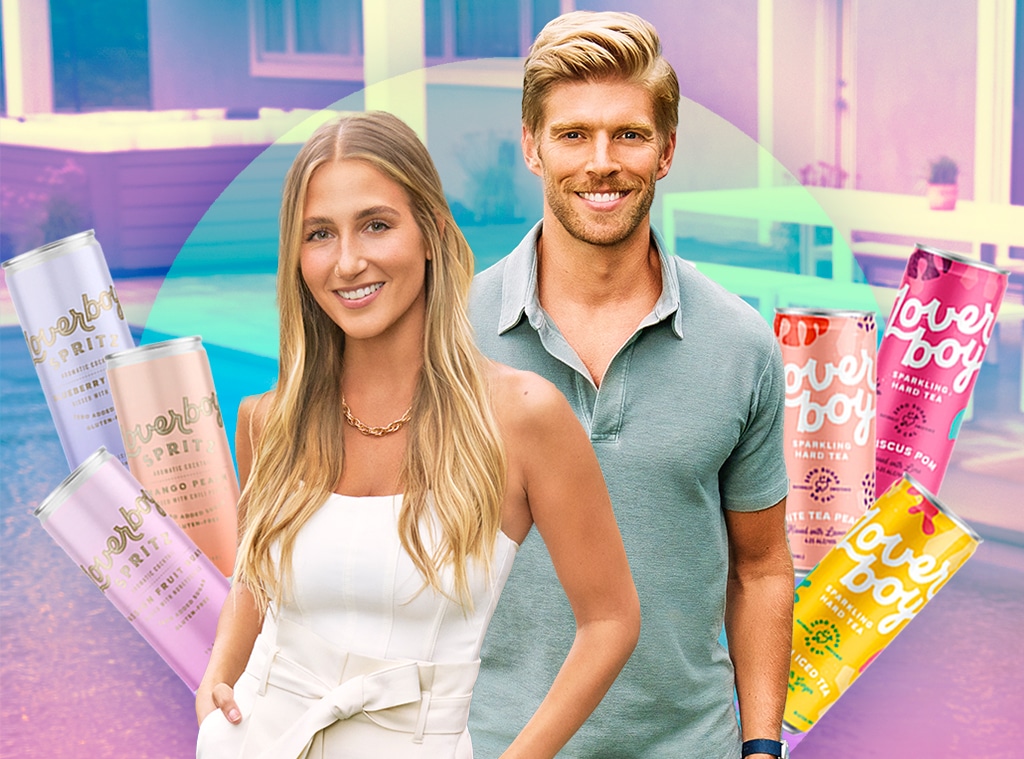 Bravo; Loverboy; E! Illustration
Loverboy: It's not just a drink, it's a lifestyle—and the unofficial ninth cast member of Summer House. 
Since season three of the Bravo reality hit, fans have watched as engaged couple Kyle Cooke and Amanda Batula have built their brand of sparkling hard teas & premium craft cocktails from the ground up. Sure, they party hard, but they also were doing it while selling their fun, brightly colored products, with Loverboy cases lining the walls of their Hamptons home. 
But, unlike many a Bravolebrity who has attempted to use their airtime to sell us something (Never forget Sonja Morgan's toaster!), Loverboy is the couple's livelihood. And while Kyle may occasionally present as a lovable overgrown frat guy onscreen—and we love him for it—spend just a few minutes with him on the phone talking about his company and it's clear he's very serious. 
"At the end of the day, Summer House is always a work hard-play hard show, and we can't bore people to death and we also don't want to make an infomercial, but my livelihood and my career is a big part of what the show was based on," Kyle told E! News. "People work their asses off and then enjoy the fruits of their labor. It makes us look like a bunch of alcoholics, but at the end of the day, those 15 weeks of summer, it's not how I'm living the remaining weeks of the year in New York City. I am letting loose and catching up on my social and leisure time."
Kyle, 38, is well are of the apprehensions some viewers may have when it comes to a reality star starting an alcohol brand.
"It's kind of tricky just because someone comes on and you have to wonder if they have the right intentions in the first place, long before they drop some type of product," he explained. "And more often than not, they're not dropping anything that's unique. Basically any spirit or any wine can be white-labeled. Not to knock on any Housewives wines, but let's be honest, do you own a vineyard? Are you the winemaker? No, so what are you doing? You're just selling it under your name."
Over the last three years, viewers have watched as Kyle, Amanda and fellow cast member Carl Radke, vice president of sales, have put their "blood, sweat and tears" into building Loverboy, which first launched in January 2020 with three flavors of hard seltzers. 
"When we first started, I was hellbent on doing the sparkling hard tea because I looked at hard seltzer, it just seemed to be from a brand and liquid standpoint and we wanted to do something fun, colorful, flirty and maybe an extension of me," Kyle explained. "I guess I'm kind of all those things."
Their take on the popular spritz followed in April, which was more an extension of Amanda, with Kyle calling it a "classier upgrade." Also a healthier swap, with their cans clocking in at 4 grams of sugar vs. upwards of 30 grams in a restaurant's version. 
Now, Loverboy has launched its canned espresso martini, complete with yet another Insta-worthy design. And if you're a Bravo fan, you know Kyle and the crew have been ordering the classic cocktail for several seasons, because it's not just a summer sipper.
"The reason why I think they are so popular right now it is one of the few top 10 classics that are really consumed year-round," Kyle explained. "Because it's dark and rich, it feels right at home in the winter. But because it's served iced and cold and in a martini glass, you feel right at home drinking it in the summer."
Also, it just feels like a treat, with the reality star adding, "It's a nice drink to have in the middle of your night because it does have a little bit of caffeine."
But, like most indulgences, the standard martini is packed with added sugar. 
"The average bartender will put a shit ton of simply syrup in it to cover up any s--t well vodka they're using, so what you have is a cocktail that has about 25 grams of sugar," Kyle explains. "This is a martini, so you're getting four ounces of liquid, so if you put that down in four or five sips and then you have another one. Now you're at twice the amount of sugar you're supposed to have for the day in two drinks."
Which is where Kyle saw the opening to put their "better for you" twist on the classic. After months of testing and over 26 iterations, their dairy-free espresso martini comes in at 110 calories and just 3.5 grams of sugar, which comes from maple—a.k.a. no artificial s--t. And did we mention there are two drinks in each can, coming in at 12 percent alcohol by volume? 
E! Illustrations/Lover Boy
While the Loverboy espresso martini will not be making a cameo during the current season, the cast definitely enjoyed the fruits of Kyle and Amanda's labor, particularly in one episode. 
"It actually got cut, but you saw the remnants of it because I was absolutely hammered, the day we had guys' night, we launched our passion fruit spritz. It tasted so good that I probably put down over a dozen and I was on a different planet during that night."
That flavor was the house's favorite this season, with Kyle adding, "Ciara's not a big drinker and she was even like, 'Those things are tasty!'"
That trio of Loverboy releases comes together for a perfect day of drinking that would make anyone feel they're crashing a Summer House party, minus the crazy wigs and theme parties.
"You start with the light and refreshing, nothing that's going to get you too hammered too quick," Kyle explained of beginning with the hard seltzer before moving on to the spritz when "you're ready for more flavor and more punch." Finally, you can "cap off dinner with an espresso martini or two, and then the night's upon you."
Living the Loverboy lifestyle, which is on full display Thursday nights on Bravo, was all part of Kyle's vision when he initially thought of the company back in 2018. But there was one aspect he didn't see coming that has become one of the brand's biggest attractions: The merchandise, including sweatshirts and hats often sported by the cast members promoting the "Good Times, No Regrets" ethos, that sells out within minutes after it's put up on the website. They have more than 10,000 customers just on merch alone.
"Look, the merch has clearly taken off in a way I don't think we could've anticipated," Kyle said, "but Amanda's got a great eye, she's got a great sense of style, and when we did the initial branding we wanted to create a lifestyle brand because we wanted to transcend categories."
Because why should only summer get to have all the fun?