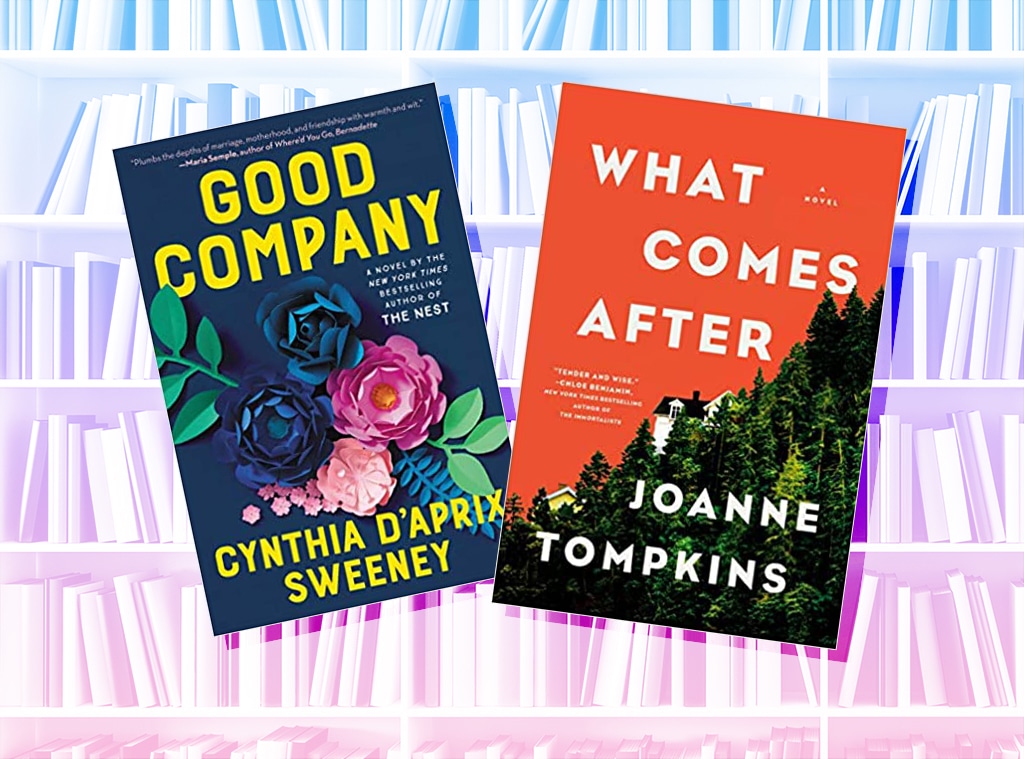 We love these products, and we hope you do too. E! has affiliate relationships, so we may get a small share of the revenue from your purchases. Items are sold by the retailer, not E!
April showers bring books we really want to devour.
Spring has officially sprung and we can't think of a better way to welcome the slightly warmer temps and sunshine than by burying our noses in a book for an hour or five. 
This month, there are some delicious offerings, including a few juicy psychological thrillers that'll have you feeling grateful for the extra hours of daylight and a highly anticipated follow-up that will be required reading for fans of a certain hit Netflix series starring Penn Badgley. You know who you are.
So go on, make yourself a cup of coffee or tea while you get lost in the pages of your next read after shopping physical copies of our picks, pulling them up on Kindle Unlimited or through a free trial of Audible, because technology.
Here are 15 books to check out this month...
You Love Me by Caroline Kepnes
Oh hello you, the person who binged the crap out of the Netflix show starring Gossip Girl's Penn Badgley as your manic-psycho-dream-boyfriend-turned-stalker. May we interest you in the third installment of the series that You is based on, which finds Joe Goldberg hiding out in Bainbridge Island, Wash.? Well, only if you consider "hiding out" to include finding his next love interest while working at the library, only to discover she's married to someone he, course, doesn't think is suitable husband material. Gulp. (April 6)
Caul Baby by Morgan Jenkins
The acclaimed essayist makes her fiction debut in one of the year's most buzzed-about books that illuminates the search for familial connection through a separated mother and daughter. Desperate to become a mother, Laila turns to the Melancons, a powerful Harlem family known for their caul, a precious layer of skin that is the secret source of their healing power. Devastated when the deal falls through, Laila doesn't know that her niece , the ambitious Amara, delivered her own child to be raised as a Melancon. The stakes are raised further (and get even darker) when the family matriarch predicts the "caul baby" Hallow will restore the family's prosperity. (April 6)
The Nine Lives of Rose Napolitano by Donna Freitas
Rose Napolitano can't stop fighting with her husband over prenatal vitamins after he's changed his mind about having children post-nuptials. And the clash literally won't stop because it is playing out again and again—with a different outcome every time—in each of Rose's nine lives in this engrossing exploration of what it means to be a woman, what it means to be a mother and the complicated gray area in the middle. (April 6)
Second First Impressions by Sally Thorne
If you are in the mood for a rom-com filled with witty banter, eccentric characters and an opposites attract kind of love story, The Hating Game scribe's latest book is definitely for you. A beautiful retirement home manager and a muscular, tattooed man hired as an assistant to two of her residents cross paths and sparks immediately fly...until she learns he's the son of the property developer looking to sell her building. The Hallmark Channel is shaking! (April 13)
What Comes After by JoAnne Tompkins
Two grieving families in a small coastal Washington town are brought together by an unexpected source in Tompkins' reflective tale of grief and redemption. Daniel is still reeling from the death of his son, while his neighbor, working single mother Lorrie, is struggling to cope with a heinous act committed by her own child. But when a mysterious pregnant girl emerges from the woods in between their houses and into their lives, she brings along with her hope and a chance at forgiveness. (April 13)
When the Stars Go Dark by Paula McLain
From the bestselling author of The Paris Wife, When Stars go Dark follows grieving detective Anna Hart as she flees San Francisco for her small North California hometown. But when she learns a local teenage girl has gone missing, the crime feels reminiscent of a tragedy that occurred when she was a child. McLain waves together actual cases of missing persons, trauma theory, and a touch of the metaphysical in this gripping tale that will keep you up all night, muttering "just one more chapter" to yourself. (April 13)
Little Pieces of Me by Alison Hammer
When modern-day Paige Meyer gets an email from a DNA testing website claiming that her father is a man she's never met, she begins to question everything, including her strained relationship with her mother, Betsy. But in the novel's 1975 timeline, Betsy's secret romance with Andy Abrams leads to unexpected consequences. Of course, the present and past come crashing together when Paige seeks out Andy for the truth in this moving story of identity and family. (April 13)
Early Morning Riser by Katherine Heiny
Readers will desperately want to be a part of the unconventional family of friends at the center of Heiny's novel, which has more charm than any memory-filled bracelet. Jane wasn't expecting to fall for one of Michigan's most notorious bachelors, Duncan, or to find herself constantly dealing with his ex-wife, said ex-wife's new husband and her beau's coworker. But when one terrible car accident links all five of their lives together forever, her views on marriage and family are changed in this bittersweet and bitterly funny story. (April 13)
The Good Sister by Sally Hepworth
Everyone has a dark side, even your own twin sister. While everyone believes Fern and Rose to be as close as can be, no one knows that they were raised by a mother who was a true sociopath. Rose had always been her sister's protector and when Fern does something terrible, they decide to keep the secret. But when Fern decides to help make her sibling's dream of having a baby come true, a horrified Rose begins to realize her twin has secrets of her own. (April 13)
Under the Southern Sky by Kristy Woodson Harvey
There's something about Woodson Harvey's writing that just feels as calming as sipping sweet tea on a warm summer night. In her latest release, two childhood friends reconnect in their hometown of Buxton Beach. Journalist Amelia has just separated from her husband, while Parker is still grappling with the death of his wife. The two unexpectedly come back together after Amelia discovers that a cluster of embryos belonging to Parker and his late spouse are about to be deemed "abandoned." (April 20)
Mirrorland by Carole Johnstone
Fans of twist-filled thrillers, look no further than Johnstone's tale of estranged twins who invented their own dark and imaginary world, the titular Mirrorland, filled with pirates, witches, and clowns. Twenty years later, Cat must return to 36 Westeryk Road, the imposing gothic house in Edinburg, when her sister goes missing. (April 20)
Dial A for Aunties by Jesse Q. Sutanto
One (accidental) murder. Two thousand wedding guests. Three generations of an immigrant Chinese-Indonesian family dealing with a possible curse. Four meddling Asian aunties. Put them all together and it's a recipe for a delicious and devourable read from Sutanto. (April 27)
Her Last Holiday by C.L. Taylor
What do you do when your sister disappeared on a wellness retreat that went mysteriously wrong? If you are Fran, you obviously book yourself on the next getaway led by Tom Wade, who was just released from prison after serving his sentence for the deaths of two other soul-searching women. What could possibly go wrong? (April 27)