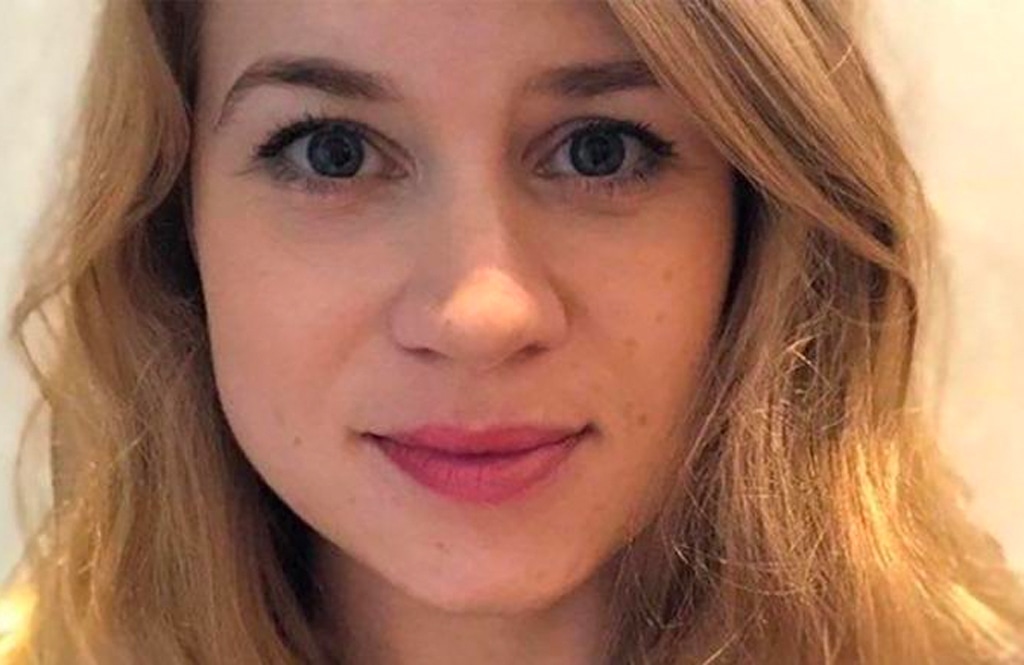 Metropolitan Police
On the evening of March 3, Sarah Everard had dinner at her friend's house in Clapham, in southwest London. She left at 9 p.m. and started walking home to her place in Brixton, about 50 minutes away on foot. The 33-year-old, who was wearing a green rain jacket, blue pants, a knit cap and a light-colored face mask, spoke to her boyfriend, Josh Lowth, on the phone for 15 minutes, hanging up at 9:27 p.m. A doorbell camera from a house off Clapham Common glimpsed her at 9:30 p.m. 
And that was the last anyone, or anything, saw of her.
Lowth reported Everard missing the next day after she missed a meeting at work and he was unable to get ahold of her—which was not like her at all, according to those who knew her well.
"She has always been an exceptional friend, dropping everything to be there to support her friends, whenever they need her," Rose Woollard, who'd known Everard since they were classmates at Durham University, told the BBC March 5, describing her as "beautiful, thoughtful and incredibly kind."
Everard had been excited about her new job as a senior marketing account manager, Woollard said, adding, "It is extremely uncharacteristic of her to have gone missing, which is why we are all deeply concerned something has happened to her." She also told the Mail Online she had spoken to her friend earlier in the day on March 3, and "she was fine. We talked about how boring our days have been. I think she was dealing with lockdown like we all are."
Everard's parents came to town from their home in York to aid in the search, which made for nightmarish news around the country—a young woman walking home alone at night, seemingly vanishing into thin air.
"With every day that goes by we are getting more worried about Sarah," her family said in a statement March 6. "She is always in regular contact with us and with her friends and it is totally out of character for her to disappear like this. We long to see her and want nothing more than for her to be found safe and well. We are desperate for news and if anyone knows anything about what has happened to her, we would urge you to please come forward and speak to the police. No piece of information is too insignificant."
Richard Gardner/Shutterstock
Police officers knocked on hundreds of doors looking for information, spoke to more than 750 people and combed through hours of CCTV footage to try to piece together Everard's movements. Divers searched nearby ponds and canine units were dispatched to try to pick up her scent. Authorities also looked into recent reports of women being harassed in the area and other incidents that could possibly be connected. Scotland Yard said they weren't issuing any official advisories for the area, but reminded everyone to take "normal personal safety" precautions.
"This is definitely a missing person investigation at the moment but I remain open-minded as to all possibilities in the investigation," Detective Chief Inspector Katherine Goodwin of the Metropolitan Police told reporters March 8.
"I want to remain clear," Goodwin noted, "that at this time we have no information to suggest that Sarah has come to any harm. We share the wish of her family and friends to have her back safely with her loved ones."
Needless to say her picture and pleas for help in finding her were all over social media, and cousin Tom Everard told Sky News their family appreciated all the shares.
"We're still desperately worried about Sarah and just want her safe and home as soon as possible," he said.
Peter MacDiarmid/Shutterstock
But on March 10, human remains were found in a builder's bag that had been left in a wooded area of Ashford, a town in Kent that's almost 50 miles away from Clapham. Dental records would eventually confirm they had found Everard.
The next day, her devastated family released a new statement, saying, "Our beautiful daughter Sarah was taken from us and we are appealing for any information that will help to solve this terrible crime. Sarah was bright and beautiful, a wonderful daughter and sister. She was kind and thoughtful, caring and dependable. She always put others first and had the most amazing sense of humor.
"She was strong and principled and a shining example to us all. We are very proud of her and she brought so much joy to our lives. We would like to thank our friends and family for all their support during this awful time and we would especially like to thank Sarah's friends who are working tirelessly to help. We are so grateful to the police and would like to thank them for all they are doing. We are now pleading for additional help from the public. Please come forward and speak to the police if you have any information. No piece of information is too insignificant. Thank you."
While Everard's death would have sent a shiver up people's spines anyway, tensions were only heightened by the nearly year-long lockdown that had been in place nationwide due to the coronavirus pandemic. And the usual media frenzy that tends to erupt in such a case—especially when the victim is a young, photogenic white woman who was missed by her loving friends and family immediately—was soon compounded by the fact that her accused killer was a cop.
Metropolitan Police Officer Wayne Couzens was first arrested on the night of March 9 on suspicion of kidnapping, detectives arriving at his home in the town of Deal (also in Kent) to take him into custody. He was booked again March 10 on suspicion of murder and a separate incident of indecent exposure. Authorities announced March 12 that the remains had been positively identified and Couzens was formally charged with murder and kidnapping.
"She would never have taken a lift with a stranger," Sarah's uncle Nick Everard told The Sun after investigators announced Couzen's arrest. "She was sensible. She didn't know him and she wouldn't have voluntarily got into a car. I'm trying to work out what has happened. I don't know that area but I keep looking at a map of Clapham Common to see which route she took."
He added, "I've got to talk to my brother. This is the worst news. I want to find out all about this man. He's got two children, for God's sake."
On June 8, Couzens, appearing in court via video from Belmarsh Prison, pleaded guilty to kidnapping and raping Everard and, per The Guardian, has admitted responsibility for her killing but has yet to enter a plea on the murder charge. His next hearing before the court is scheduled for July 9.
According to the Met, Couzens joined the force in 2018 and was an active officer with the parliamentary and diplomatic protection command and his primary role was "uniformed patrol duties of diplomatic premises." His wife was also arrested in March on suspicion of assisting an offender and then released on bail, but authorities confirmed to the Mirror that no further action will be pursued in her case.
The Met Police announced the autopsy results last week, stating, "A postmortem examination into the death of Sarah Everard held at the William Harvey hospital in Ashford has given cause of death as compression of the neck. Sarah's family have been informed and are being supported by specialist officers."
At an inquest held March 18 in Maidstone, Kent, which Everard's family watched virtually from home, investigators detailed what they knew of her final hours. And while an official cause of death had not been determined yet, coroner Patricia Harding testified that no natural disease was a factor.
In the meantime, mourners had flocked to pay their respects at a memorial shrine that sprang up at the Clapham Common Bandstand, with even Kate Middleton turning up unannounced to leave flowers March 13.
"She wanted to pay her respects to Sarah and her family," a source told People. "She remembers what it felt like to walk around London at night."
And with most women in Britain left to navigate their neighborhoods without a security detail, what happened to Everard left many of them especially rattled—and angry, as the demand for more measures to keep them safe reached a fever pitch. The Guardian reported a surge in safety app downloads, including a free app called WalkSafe that had been downloaded about 2,000 times but then saw 300,000 in the week after Everard was confirmed dead.
"It was something that I definitely felt very strongly about," WalkSafe co-founder Emma Kay told the paper. "There have been instances in the past of myself, dating back from a young age— I'm talking schoolgirl age—where you felt nervous, you've been scared."
The identity of the alleged perpetrator, however, caused a separate rupture in people's reaction to the case. After his arrest, it was revealed that Couzens had been accused of exposing himself at a south London fast-food restaurant on Feb. 28, prompting questions as to why he hadn't been suspended from the police force. The Independent Office for Police Conduct confirmed March 12 they were investigating whether the two officers who fielded the complaint had handled it appropriately. (The police watchdog was examining five referrals related to Couzens and Everard's disappearance, Sky News reported, including one about a head injury the suspect sustained after he was taken into custody and which required medical attention.)
Amer Ghazzal/Shutterstock
"This case has affected women right across the capital and across the country but I cannot begin to imagine the pain that Sarah's friends and family are going through," Mandu Reid, leader of the Women's Equality Party, said in a statement after Scotland Yard announced Couzen's arrest. "The fact that a police officer has been arrested on suspicion of murder makes it all the more frightening, and it is imperative that the case is now taken over by a separate police force. We have to do this right."
The Met—one of countless police forces that faced global scrutiny last summer over their handling of protests against police brutality and racial inequality—did not intend to step aside. Rather, authorities tried to reassure a horrified public.
"The news today that it was a Metropolitan Police officer who was arrested on suspicion of Sarah's murder has sent shockwaves and anger through the public and through the Met," Met commissioner Cressida Dick said March 10, per The Guardian. "I speak on behalf of all my colleagues when I say that we are utterly appalled at this dreadful, dreadful news. Our job is to patrol the streets and to protect people."
London Mayor Sadiq Khan said, "I want to assure Sarah's family, and everyone in our city, that the police are doing absolutely everything they can...Londoners will continue to see more police officers on our streets continuing their investigation and carrying out reassurance patrols in the area where Sarah went missing a week ago.
"I know how concerned the public will be at the news that a serving police officer has been arrested, and it is right that the case has been referred to the police watchdog for independent investigation."
Meanwhile, officials at every level of government were weighing in, including British Prime Minister Boris Johnson, all of them seemingly in agreement that women deserved a better level of protection lest they be afraid to ever take a walk alone at night for the rest of their lives. Labor Party leader Keir Starmer said in a news conference at the House of Commons that this had to be a "watershed moment," and Johnson declared that the U.K. was in need of a "cultural and social change in attitudes."
Frank Augstein/AP/Shutterstock
But on the night of March 13, reassurances that the police were there to help fell by the wayside. Hours after the Duchess of Cambridge had visited the site, several women were arrested at an anti-violence rally in Clapham Common. Police had advised against any gathering that day, due to ongoing COVID-19 precautions, and organizers had sent word that they'd do a doorstep vigil instead, lighting a candle or shining a light from their own homes. Thousands of people showed up anyway. They said later that it was intended to be a silent event, but as the sun went down, the activity level ramped up.
According to photos, video and multiple eyewitness accounts, the gathering was mostly peaceful, with most attendees wearing masks and some holding signs reading "End Violence Against Women" and "She Was Only Walking Home."
At times the group chanted "How many more?!" and "Shame on you!" in the police's direction and photos and video show some cops and protestors in each other's faces, but it was unclear what exactly led to people being arrested.
"The scenes from Clapham Common are unacceptable," Khan tweeted out later that night. "The police have a responsibility to enforce Covid laws, but from images I've seen it's clear the response was at times neither appropriate nor proportionate. I'm [in] contact with the Commissioner & urgently seeking an explanation."
Met assistant commissioner Helen Ball responded that police intervened "where enforcement action was necessary."
Patsy Stevenson, one of the protestors who was arrested, told LBC Radio she'd received a $278 citation and was debating whether to fight it. "We were there to remember Sarah, we all felt deeply saddened and still do that it happened," she said. "So I brought a candle with me but unfortunately wasn't even able to light it to put it down because the police turned up and barged their way through."
Demonstrators also gathered to protest violence against women on March 15 outside Parliament, where Johnson was scheduled to meet with other officials to discuss safety policies regarding women and girls. The prime minister was also due to sit down with members of law enforcement in the wake of the vigil debacle. On March 14, the Home Office—which demanded that the Metropolitan Police provide a full account of what happened over the weekend—had stopped short of calling for Met commissioner Dick's resignation, as some demanded.
"This morning, given how difficult last night was, after what has been an incredibly upsetting week, I'm very keen that we don't preempt the findings of that report and give the Met commissioner a chance to explain what happened last night," Home Office Minister Victoria Atkins said on Sky News' Sophy Ridge on Sunday the day after the vigil
Labor MP Jess Phillips, who serves as the shadow minister for domestic violence and safeguarding, also said on the show, "If Cressida Dick stays or goes doesn't make women in this country more safe and that's what I want to talk about...We don't need just to be angry, we need action."
NEIL HALL/EPA-EFE/Shutterstock
The clash with police—which so many immediately took sides on in the news and online, opinions seemingly split along political lines as tends to be the case these days—threatened to overshadow the underlying issue at hand. That being the age-old scourge that is the chronic mistreatment of women, from harassment and stalking to physical and sexual violence, as well as the historic lack of institutional support for women seeking help, let alone justice.
Instances of harassment and violence against women are "grossly under-reported," Susannah Fish, former chief constable of the Nottinghamshire Police, told BBC's Newshour March 21. She said that the government's request a week beforehand that police forces across England and Wales start recording misogyny as a hate crime—which police had already been doing in Nottinghamshire, Fish noted—was at least a start, because "we have to start somewhere."
So many women are reluctant to come forward, Fish explained, in part not wanting to relive the trauma that comes with talking to authorities or testifying, as well as due to fear of not being believed or "having to justify themselves over and over again."
Seeing the outcry over what happened to Everard, she said she hoped that this moment can lead to real change.
"And it's dreadful that it's taken yet another tragedy, but we can't just talk about it this time," Fish said. "We have to take action, and take concerted action."
But not to be forgotten, despite all the people turning up and speaking out, demanding that their government offer up something better than assurances that this sort of crime remains an "incredibly rare" occurrence, there's still a grieving family that won't be healed by policy changes or police reform.
"They are totally devastated and bewildered and vulnerable," Beatrice Jones, whose 40-year-old daughter Moira Jones was kidnapped off a Glasgow street and murdered in 2008, wrote in an open letter posted March 16—her way, she said, of responding to all the requests for comment she was now getting because she might know what the Everards were going through. "They cannot fully take in what has happened and the permanence of what has occurred."
People left condolence notes for the Everard family and messages condemning violence against women on the gates of Queens Park in Glasgow, one of many sites around Great Britain other than Clapham where tribute was paid to Sarah. 
"But now it has all escalated to a media frenzy more representative of individual anger than of shared grief," Jones continued. And more than anyone else, she insisted, it's Everard's family that deserves protection from being re-traumatized again and again—though it's bound to happen as the investigation into the circumstances of Sarah's death continues.
Jones also wrote, "I can fully understand that women everywhere are saying enough is enough and in most of the country that was made evidence in a very dignified and respectful way." Now, she noted, everyone's reporting on the vigil that went wrong and other resulting turmoil, and soon the perpetrator "will no doubt get more media coverage than Sarah as time goes by. That is the norm and all of that will pile more even trauma on Sarah's family."
So, she concluded, "At this time all we can do, all of us, is keep Sarah's loved ones in mind. We send love to them all and wish them all the strength they need to get through the dark days ahead."
(Originally published March 27, 2021, at 3 a.m. PT)