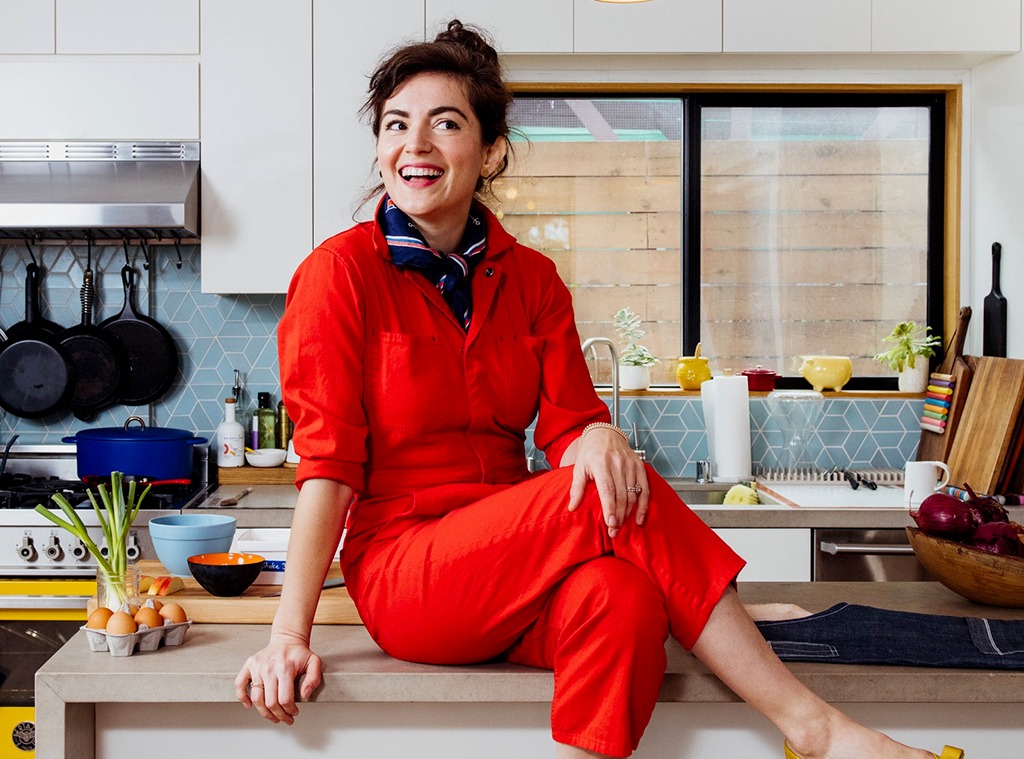 Julia Stotz
We interviewed this celebrity because we think you'll like their picks. Some of the products shown are from the celebrity's own product line. E! has affiliate relationships, so we may get a commission if you purchase something through our links. Items are sold by the retailer, not E!.
In honor of Hispanic Heritage Month, we're thinking about all the incredible Latina female entrepreneurs who are making a difference. One woman that comes to mind is Ellen Bennett, founder of Hedley & Bennett. When she was 24-years-old, she ran with the idea to create stylish aprons that replaced the drab ones she wore as a line cook. And now she has a multi-million-dollar company and a new book, Dream First, Details Later: How to Quit Overthinking & Make It Happen!, that came out last April.
When the pandemic began last year, Ellen went from making aprons and kitchen essentials to producing masks overnight.
"We pivoted within 24 hours the day of the shutdown. I've done a lot of wild things in my journey as an entrepreneur and that was by far the wildest," Ellen revealed to E! News. "And it was, it was before everyone else that did a pivot to that face mask, so it was really out there to make that move. And we teamed up with a doctor for a month and a half there and we were kind of our own version of the CDC. It went fully viral on Instagram because of the buy one, donate one model that we created with the masks. And you know we've been able to donate over half a million masks to date. Brooke Williamson, who won Top Chef, was delivering the masks directly to the doctors. Like it was a beautiful, wild, and terrifying time where everybody rallied, and everyone did their part in a way that I've never experienced anything like it."
In addition to producing masks during quarantine, like so many others, Ellen has been spending more time in the kitchen.
"I think that people are stuck at home and they don't have a ton of things to do," the entrepreneur told us." Besides, you know, wondering when they can go out into the world again, and so cooking is the place that they've all kind of turned to. I've absolutely seen a huge push, especially on social media, sharing it with others. It's like breathing and eating. Like we all do it, we all have to do it every day, so why not make it an adventure. I really got into brisket. So, I've been smoking briskets like they're going out of style and, you know, briskets are 16-pound chunks of meat like it's not a small endeavor. Thanksgiving every day!"
Aside from honing in on her brisket skills, Ellen also finished writing her book! And while some would expect a cooking book from the professional chef, the Hedley and Bennett founder proves she has much more to share than recipes, but rather inspiring advice for entrepreneurs and dreamers everywhere.
"Sometimes you don't have all the details ironed out, but you just have to show up anyway and figure it out and by swimming in the sea of life, you find more things and discover more things and have more experience than staring out the window and being like, 'well, what if I do this?' 'How about I plan this for 10 years', or 'what if I need investors first?' So yeah, all those things are just stopping people from beginning, and sometimes you just need to begin the journey to actually make forward progress without all the details ironed out."
And her favorite kitchen essentials? A Boos block, large cast iron skillet, Unicorn pepper grinder, Maldon salt and Wonder Valley olive oil.
To buy Ellen's empowering book and shop our favorites from Hedley & Bennett, scroll below! 
Dream First, Details Later: How to Quit Overthinking & Make It Happen! by Ellen Bennett
"I started this company out of my house with $300 eight years ago. I was raised by a single Mexican mother in Los Angeles. I came from literally nothing and built everything I have," Ellen explained to E! News. "Because I decided that I could because I kept showing up, and so that is the message here, you know I am not Ayesha Curry, I'm not Jesse Tyler, not some famous person that's writing a memoir. I'm somebody real that I think other people can say 'wait she's like me, I'm like her, I can do this too.' That's why it's so important to get the message of wake up and fight, and dream first details later."
The Essential Apron
Hedley & Bennett's iconic apron is available in 20 unique colors, textures and prints. Tested by Michelin Star chefs, we're confident this apron will get anyone excited about cooking!
The Potholder - Santa Fe
Now that you have your new go-to apron, you need an equally stylish pot holder! This one is made from 100% cotton, and rough and tumble canvas. Plus, it was designed with Jesse Tyler Ferguson!
The Denim Tote - Light Wash Denim
Not only is this tote super cute, it will hold all of your essentials while you're on the go.
The Smock
If you don't like a fitted apron, the smock offers a stylish approach to protecting yourself from kitchen spills. And it's safe to put in the washer and dryer!
The Socks - Dream First Details Later - Navy
Add some fun to your kitchen uniform or everyday outfit with these performance socks!
Vans x H&B Sk8-Hi Tops
These non-slip shoes are great for wearing in the kitchen or to the farmer's market on the weekends. We love the rainbow soles!
The Work Tee - Rose
The Work Tee is a wardrobe staple! Plus, it comes in four versatile hues.
-Originally published on Wednesday, March 3, 2021 at 12:20 p.m. PST.