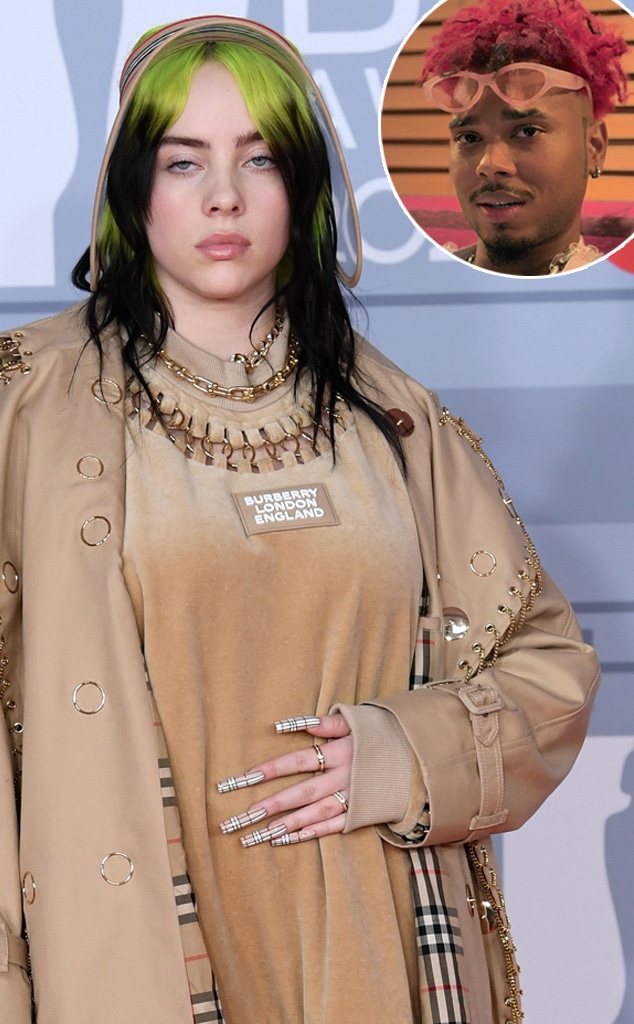 David Fisher/Shutterstock, Apple TV +
Billie Eilish is ready to share a rare glimpse into her personal life. 
In the new documentary Billie Eilish: The World's a Little Blurry, the Grammy winner offered a closer look into her life as one of music's biggest stars. Along the way, fans were introduced to her then-boyfriend named Brandon Quention Adams. Often referred to as Q, the rapper also performs under the stage name 7:AMP. And while the pair has since gone their separate ways, cameras rolled in the thick of their relationship.
"He's so fine," Billie said when looking at a photo of Q on her iPhone. "Oh my gosh." In another scene, captured moments before the release of her debut album When We All Fall Asleep, Where Do We Go?, the singer told her boyfriend, "I love you. I'm in love with you." 
Whether you've watched the Apple TV+ documentary already or simply want to learn more about Q, E! News is here to help. Keep scrolling to learn even more about the rapper who managed to keep this relationship private—until now.
Picture Perfect: When releasing his debut album under the name 7:AMP, Q asked Billie to appear on the cover. When Bleaupro was ultimately released in February 2019, fans spotted Billie in an orange top supporting her boyfriend.
Watch:
Grammys 2021 Snubs and Surprises: BTS, The Weeknd and More
Keeping It Private: Q is a 24-year-old Los Angeles-based rapper who is signed to the music label At Eaze Music Group. To the surprise of some, the musician is not active on social media. In fact, Q previously deactivated his Instagram. Perhaps he's letting his lyrics do all the talking.
Music Inspiration: According to reports, Q expressed his love for Kanye West on Instagram before he took down his page. In fact, he called Yeezus one of his favorite albums. 
Trouble in Coachella: In Billie's documentary, viewers watched the singer get tickets to the festival so Q could support her performance in 2019. While he eventually paid a visit to her trailer, some fans were disappointed to see him distanced during such a big gig. It also didn't help that he didn't do anything for her on Valentine's Day.
What Went Wrong: Fans received some answers into why Billie ultimately called off the relationship.
"I just wasn't happy, and I didn't want the same things he wanted, and I don't think that's fair for him," she explained in the documentary. "I don't think you should be in a relationship super excited about certain things that the other person couldn't care less about. I don't think that's fair to you. I didn't think that was fair to him. And there was just a lack of effort, I think. I literally was just like, 'Dude, you don't even have enough love to love yourself. You can't love me, dude. And you don't. You think you do.'"