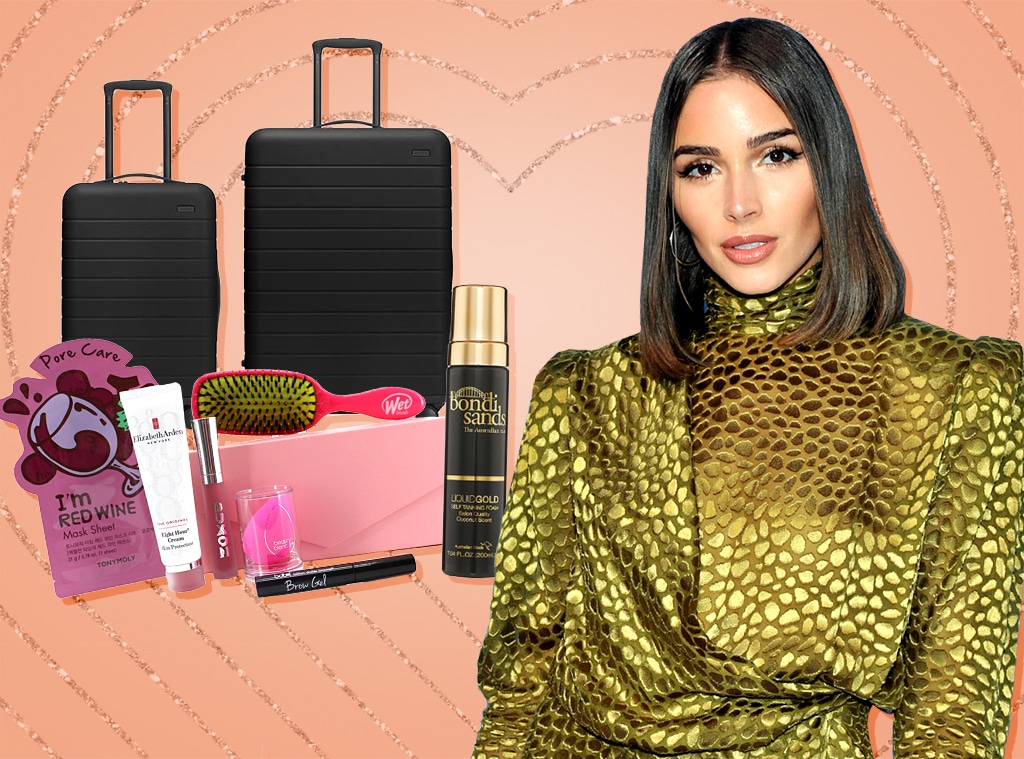 We interviewed this celebrity because we think you'll like their picks. Some of the products shown are from the celebrity's own product line or a brand they are paid to endorse. E! has affiliate relationships, so we may get a commission if you purchase something through our links. Items are sold by the retailer, not E!.
Are you struggling to find the perfect Valentine's Day gift? We totally get it!
It can be hard finding a gift for your significant other or Galentine that is both meaningful and useful. Luckily, Olivia Culpo is here to help you nail down your Valentine's Day gifts for everyone on your list. From cozy knit sets that she and her sisters designed to pizza makers and matching suitcases, the fashion influencer has the best gift ideas and advice for V-Day!
"I love to give experiences that you can do together," the businesswoman revealed. "Whether it's a boyfriend, husband, best friend, etc., you can give something that allows you to spend time with them. It can be a "coupon" for a zoom happy hour/game night, a trip to look forward to in the future, or a special night at home with food and cocktails."
And Olivia's favorite part about Valentine's Day?
"Sometimes life can get going so fast, Valentine's Day is a great excuse to slow down and remember what you love so much about the people in your life. And it's the perfect time to let them know!"
To check out all of Olivia's fabulous gift ideas, scroll below!
Bondi Sands Liquid Gold Self Tanning Foam
"I love to gift experiences that I can share with the people in my life. Recently, I invited a bunch of my friends to Cabo on a girl's trip and I surprised them with a gift basket that included details about the trip, a bathing suit, sunscreen, a tote bag and a full self-tanning kit to prep for the trip."
Culpos x INC Fuzzy Cropped Knit Set
"This is the perfect cozy set for hanging at home. We have it in black, green, white, peach and pink with hearts! I wear mine all the time and it washes easily."
Olivia Culpo BFF Box
"I am a beauty product junkie and since I try so many products I really feel like I know what products are the best. I love to share this knowledge with others and give bundled gifts of my favorite products. I recently discovered this website that has great discounts on incredible products - like everything from Charlotte Tilbury to La Mer. I worked with them to curate some unique Valentines day gift boxes that I believe bring together some of the best products in the market. There are several gift sets that range from more affordable to total luxury, so hopefully there is something for everyone in your life. I even have a boyfriend box because men love products too - whether they say it or not!"
The Crispy Crust™ Pizza Maker
"I am cooking at home more than ever and everyone knows that pizza is something I love to make and eat. I have a Breville pizza oven at my house. It is so easy to use and makes the best pizzas for entertaining or (these days) just staying in and watching a movie. If I do have people over, I love to let everyone choose their own toppings and I make individual pizzas."
Set of Two Suitcases
"I know we are not traveling much now, but that is why I think this is a great gift. Once life gets a little more back to normal, I think people will be excited to get back out there and have some fun. A luggage set is a promise of the trips that will be back in our lives soon and I love to match luggage - it just feels so much more special."
Moleskine Classic Notebook
"This is a great gift now more than ever with the extra time at home. Sometimes I will gift this with a beautiful pen and a candle - something that sets the tone for some self-care time. I have taken a lot of time this last year to read, write and learn more about myself. It is so much easier to do when I am not working as much. I, personally, love to journal every morning and feel like I am constantly finishing a journal and looking for my next."
Dearborn Glassware- Set of 2
"I am decorating my house right now, so I have been into interiors. Currently, I am working on the bar and dining room, so I have been researching tableware. There is this brand Ferrone that makes glassware that is insanely beautiful and unique. And I love to give the wine glasses as gifts. There are other brands too that are not as expensive. It is really more about finding unique glassware that feels special rather than the price tag."
Men's Ascot Slipper
"I live in my Ugg slippers! They were a gift to me years ago. I typically like to buy people gifts that I have already received and loved. They are a great gift for men,  too!"