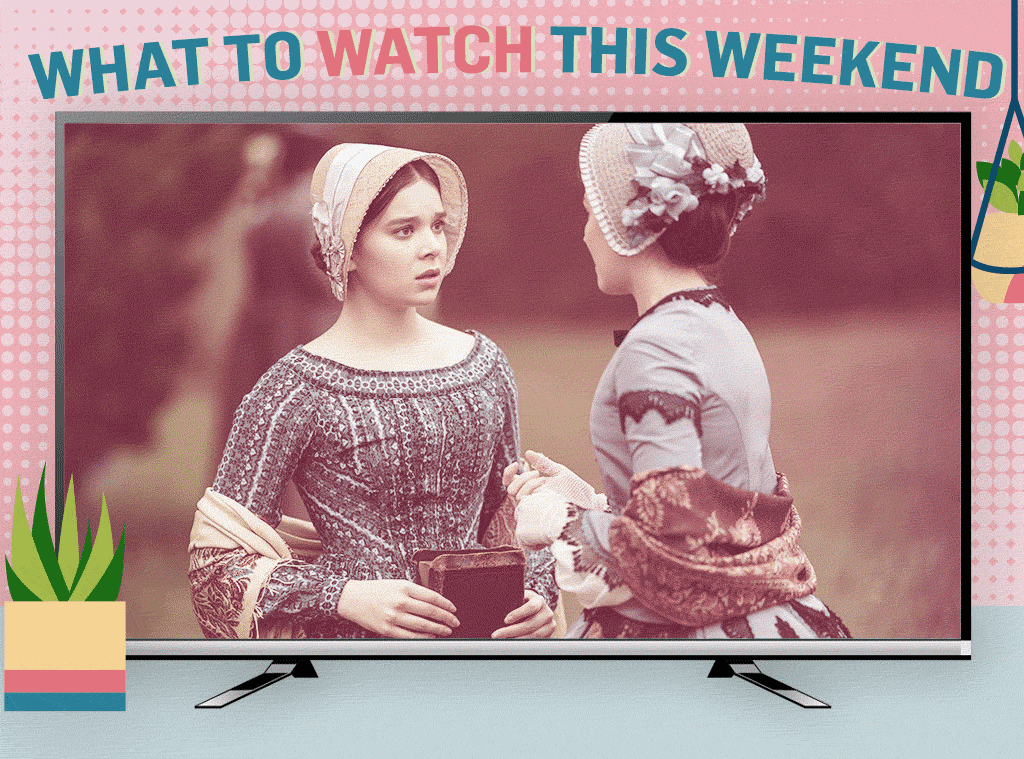 AppleTV+; NBC; Netflix/E! Illustration
Let's have some fun in 2021—and by fun we of course mean continuing to stay inside and binge TV like it's 2020.
Fortunately, several of our favorite shows are back with new seasons to make the great indoors feel like a treat, including the highly anticipated return of Cobra Kai, which Netflix graciously dropped one week early. Who needs a sensei when you have a streaming service, right? And two of the most inventive series—Dickinson and Zoey's Extraordinary Playlist—have returned for their second seasons, along with the premiere of a documentary about Tiger Woods and Nicolas Cage's series about cussing. 
Plus, Netflix's latest docuseries might keep you awake at night questioning the meaning of life (more than you already do, anyway) and Hallmark Channel is continuing to provide the warm and fuzzy feelings in the new year...
Here are our top streaming picks for the weekend of Jan. 9-10:
If You Want to Know What All the Hype Is About: Listen, we were hesitant about diving into the world of Cobra Kai, too. Of course, we have seen the Karate Kid movies and begged our parents to join a dojo as kids. But could a sequel series really live up to the OG? In the words of Johnny Lawrence: Hell yeah! William Zabka and Ralph Macchio reprise their iconic roles in the Netflix series, which began its run on YouTube before being picked up by the streaming giant and promptly blowing up. But season three finds one of movie history's most infamous pairs of enemies—gasp!—finding common ground against a common enemy. And yes, we still want to join a dojo. (Where to Watch: Netflix)
Watch:
Exclusive: "Dickinson" Premiere Brings Out the Stars
If You're a Poet and You Didn't Even Know It: When Apple TV+ first launched in late 2019, The Morning Show snagged much of the attention, with the cool and quirky Dickinson flying under the radar. The period comedy returns for its second season, with Hailee Steinfeld back in action as poet Emily Dickinson as she attempts to deal with her newfound fame. Imagine being an influencer in the 1800s. New additions to the cast include Finn Jones and Pico Alexander, as well as Nick Kroll taking on the role of Edgar Allan Poe. Yep, that's going to be worth the cost of a subscription alone. (Where to Watch: Apple TV+)
If You Like Musicals and Love Triangles: Fact: Zoey's Extraordinary Playlist was one of 2020's most delightful TV experiences, so we highly recommend you join in on the musical fun. The quirky comedy's second season just premiered on NBC and found Zoey returning to the world after mourning a major loss. Plus, there's a major resolution when it comes to one of the best ongoing love triangles, with Zoey making a choice between Max and Simon. Catch up now, thank us later. (Where to Watch: NBC App and Peacock)
If You Are Ready for the Weirdest Show of 2021: We know it's early, but we're pretty sure History of Swear Words is going to win that moniker by year's end. The power of curse words are explored in this six-episodes series, hosted by Nicolas Cage (no, we're not f--king with you) and featuring Nick Offerman, Sarah Silverman, Jim Jeffries and Nikki Glaser. (Where to Watch: Netflix)
If You Are Looking For a Quick Binge: Originally intended to air on Paramount Network, Coyote stars The Shield's Michael Chiklis as a retired border patrol agent who is forced to work for the people he spent his 32-year career trying to keep out of America after moving to Tijuana. While it was initially set to be 10 episodes, the pandemic halted production in Mexico, resulting in a slightly uneven six-episode run. But the short season is still compelling, with gorgeous cinematography, breakneck pacing and a top-notch performance from Chiklis. (Where to Watch: CBS All-Access)
If You Already Miss Countdown to Christmas: Wait, you thought Hallmark was done with original movies now that people are taking down their Christmas trees? Silly reader, don't you know the network churns out seasonal programming all year long? The "New Year New Movies!" lineup continues with A New Year's Resolution, which stars Friday Night Lights' Aimee Teegarden and Michael Rady, one of our favorite Hallmark leading men. In this rom-com, Teegarden plays a morning show producer who makes, you guessed it, a New Year's resolution to say yes more. Naturally, she happens to meet a confirmed Yes man in Rady's character who could provide the key to her biggest story, and love, ever. (Where to Watch: premieres Saturday at 9 p.m. ET on Hallmark Channel)
Andrew Redington/Getty Images
If You Can't Resist a Good Sports Movie or 30 For 30: If you were one of the many people obsessing over Michael Jordan in The Last Dance last year, HBO's new two-part documentary Tiger will likely be a hole in one for you. (See, we can do sports puns!) Tiger Woods' epic rise, fall and comeback is dissected through never-before-seen footage and interviews. While Woods did not participate, viewers can expect to hear from Rachel Uchitel, the woman at the center of the golf star's sex scandal in 2009, for the first time when she discusses her relationship with Woods. (Where to Watch: premieres Sunday at 9 p.m. ET on HBO and HBO Max)
If You Are Fascinated By (and Maybe a Little Afraid of) the Afterlife: Based on a book of the same name by investigative journalist Leslie Kean, Netflix's Surviving Death explores what happens after we die. Each episode of the docuseries tells personal stories of near-death experiences and welcomes experts (including mediums) to shine a light on topics such as reincarnation and communicating with the dead. (Where to Watch: Netflix)
If You've Been Waiting Almost Two Years For This: You can't rush the gods and American Gods definitely know this as they've been eagerly awaiting season three since 2019. The Starz fantasy drama is finally back, with Blythe Danner, Game of Thrones' Iwan Rheon, Power's Lela Loren, rapper Wale, Danny Trejo and Pose's Dominique Jackson all joining the cast. (Where to Watch: Starz)