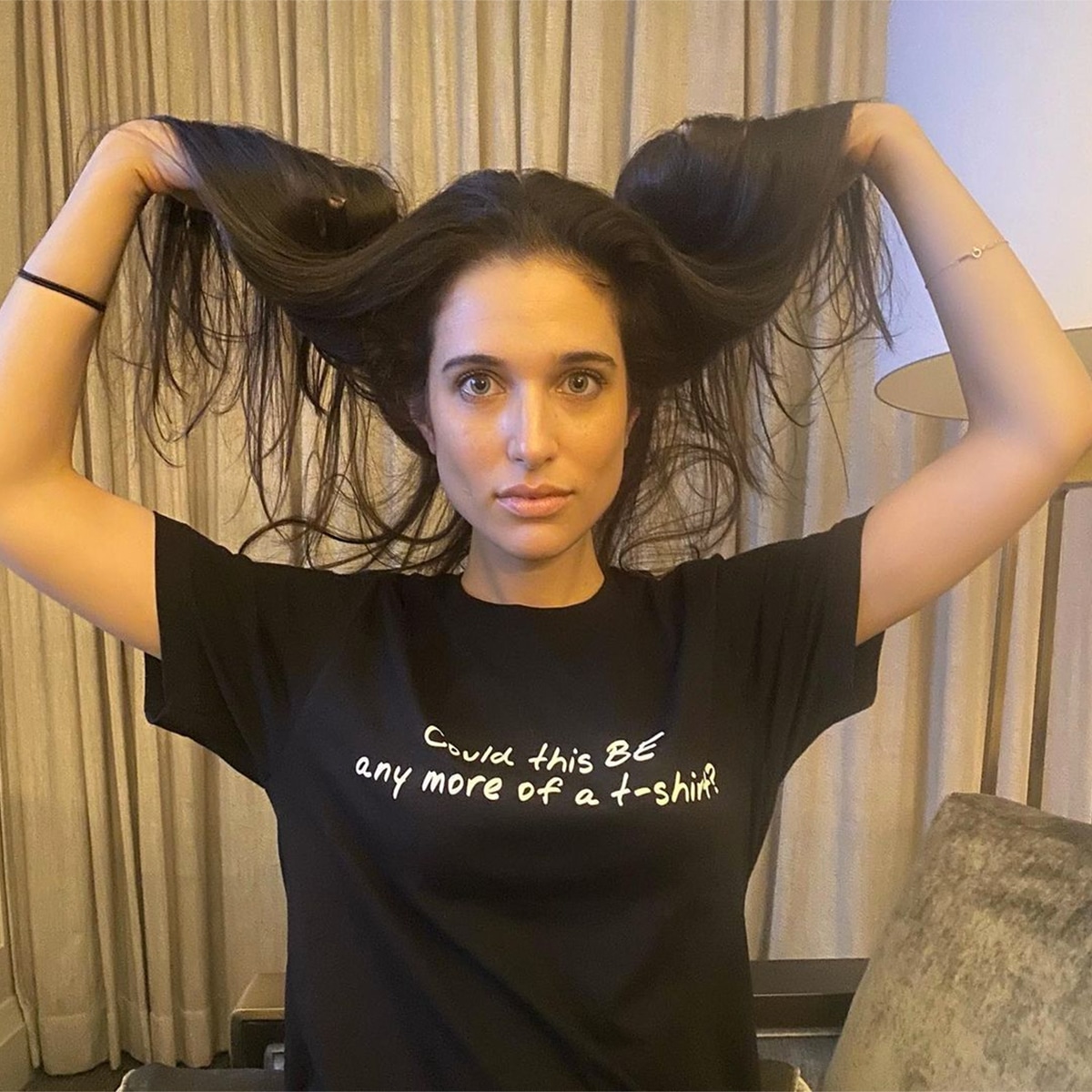 Instagram / Matthew Perry
"Oh...my...gooooood" this is too adorable.
On Saturday, Dec. 5, Matthew Perry shared on his Instagram page a photo of his fiancée Molly Hurwitz for the first time. In the pic, the 29-year-old lifts up her long hair up while wearing a black T-shirt bearing the words, "Could this BE any more of a t-shirt" in the iconic Friends font. The slogan parodies one of Perry's character Chandler Bing's most popular running gags.
Perry is promoting his new limited edition merchandise line that benefits the World Health Organization's COVID-19 relief efforts.
"What is this, a limited edition t-shirt for charity?" the 51-year-old actor wrote on Instagram on Friday. "For two weeks only, I'm releasing an apparel collection! Proceeds will support the World Health Organization's COVID 19 relief efforts."
His post featured a photo of himself holding a banana up to his ear and wearing a white T-shirt bearing the same slogan as Hurwitz's, but with images of Bing doing his trademark silly wedding guest dance.
Later on Sunday, Perry posted another photo of Hurwitz holding a banana up to her ear and wearing a black baseball cap bearing the words, "What is this, a baseball cap?" The actor wrote, "Hats?!? Banana still not included."
Last week, Perry announced his engagement to Hurwitz, a Hollywood literary agent who also worked as a manager. The two first started dating two years ago.
"I decided to get engaged," Perry told People at the time. "Luckily, I happened to be dating the greatest woman on the face of the planet at this time."
And even more good times are ahead. Perry is set to appear with his former Friends co-stars at an HBO Max reunion for the hit show this March. The streaming network had originally planned to air one this year but it was postponed due to the coronavirus pandemic.
"Looks like we have a busy year coming up," Perry tweeted in November. And that's the way I like it!"
(This story was originally published on Sunday, Dec. 6 at 1:17 p.m. PT)