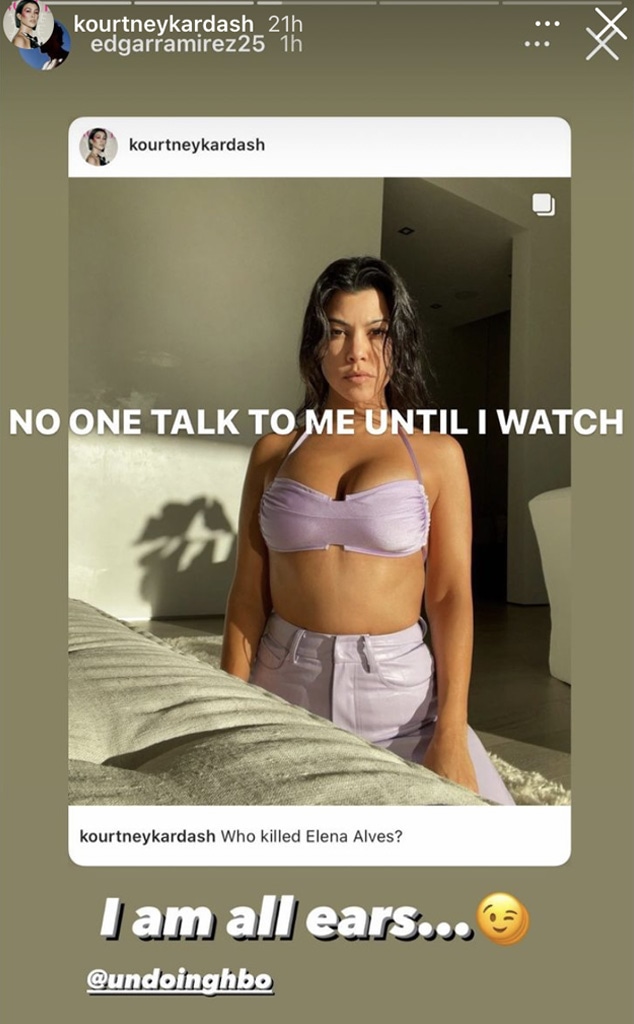 Kourtney Kardashian/Instagram
Fans are keeping up with... these flirty messages.
Kourtney Kardashian recently had a playful and cheeky exchange with The Undoing actor Edgar Ramírez. Over the weekend, the Keeping Up With the Kardashians star raved over the hit HBO show on Instagram.
"Who killed Elena Alves?" the Poosh founder captioned her post on Sunday, Nov. 29, referencing one of the characters from the limited series. In her upload, the reality TV personality shared a series of sultry images that showed her wearing a lavender bustier and matching pants. 
Taking notice of her caption, Edgar, who plays Detective Joe Mendoza in the show, shared Kourtney's post on his Instagram Stories. "I'm all ears...," he wrote along with a winking emoji.
The flirty messages didn't stop there. "NO ONE TALK TO ME UNTIL I WATCH," Kourtney replied on her Instagram Stories on Monday, Nov. 30, to which Edgar responded with three emojis: the monkey hiding its face, the monkey covering its ears and the flame emoji.
As fans of the E! star know, she is currently single. What's more, is the Venezuelan actor appears to be single as well. 
News of their exchange comes a month after Kourtney had a cheeky correspondence with her ex, Scott Disick.
In mid-October, the Flip It Like Disick star left a playful comment on Kourtney's Instagram after she quoted Cardi B and Megan Thee Stallion's "WAP" lyrics.
"I don't cook, I don't clean," the lifestyle guru wrote at the time, to which Scott replied, "That's for sure."
Christopher Polk/E! Entertainment/NBCU Photo Bank via Getty Images/David Crotty/Patrick McMullan via Getty Images
Just last month, an insider told E! News the two "have come a long way."
"They definitely have had their ups and downs over the last decade, but are now closer than ever," the insider shared at the time. "They call each other 'best friends.' They have truly figured out a way to co-parent that is best for them and have a good routine going."
Moreover, Scott has recently struck up a romance with Lisa Rinna's 19-year-old daughter Amelia Hamlin. According to a separate source, Kourtney has been supportive of his new fling, saying, "Kourtney doesn't care who Scott dates as long as it keeps him happy and busy."
"He's in a good place with Kourtney and has been a great dad to the kids," the source added. "That's when Kourtney is happiest."
Romances aside, The Undoing finale aired on HBO on Sunday night, and E! News has you covered with a breakdown of the satisfying episode. Click here to read more.