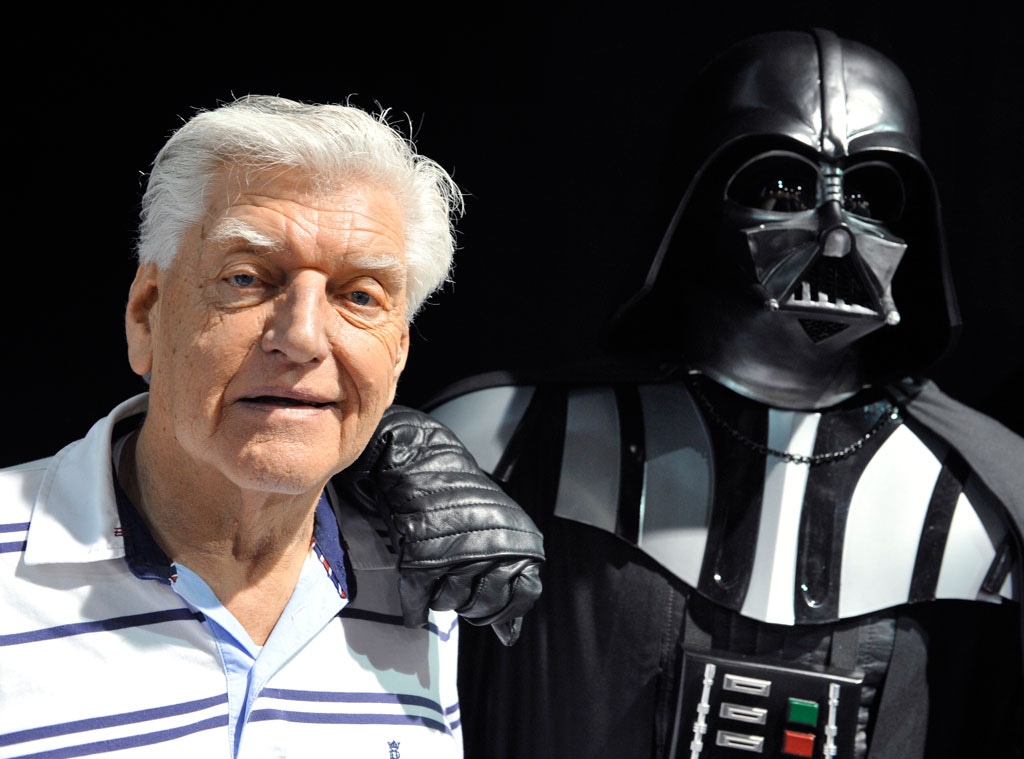 THIERRY ZOCCOLAN/AFP via Getty Images
UPDATE: David Prowse's daughter thanked fans for sending their love and support following her father's death on Sunday, Nov. 29.
"Dad would have been over the moon about the reaction he has had today," Rachel Prowse shared on Twitter. "Me and the rest of the family have been overwhelmed by the lovely comments and the sharing of some hilarious memories. Thanks twitter for brightening a difficult day."
Taking to Facebook, Rachel posted a lengthier message about her dad's passing and touched on his impact as Darth Vader in the Star Wars franchise.
"Thank you so much to everyone that has reached out and sent their love and best wishes to my me, my mum and my brothers, it means more than you know," she wrote in part. "I will get round to replying to you. As a family we were very used to sharing my dad with others across the world and now that he has gone it is incredibly touching to see and hear about the impact he had on so many people."
"Dad had a broad fan base from many different areas of his life and work, he will be missed by many," she continued. "He'd had a fabulous life, travelled all over the world doing things that he loved especially meeting fans at conventions and signing thousands and thousands of autographs over the years... For those of us that grew up in the 70's and 80's he will be best remembered as being the Green Cross Code Man and also for being Darth Vader, the most evil villain in cinematic history; to me he will always just be dad."
Read more about the actor's life and legacy below.
______
Star Wars has lost another legend.
David Prowse, who physically played Darth Vader in the original trilogy, has died. He was 85. His agent, Thomas Bowington, told BBC News that Prowse passed away after a short illness. In 2018, CNN reported that Prowse was being treated for prostate cancer. The actor is survived by his wife, Norma, and their three children.
Bowington called his death "a truly and deeply heart-wrenching loss for us and millions of fans all over the world." He also said in his statement to BBC News, "May the force be with him, always! Though famous for playing many monsters - for myself, and all who knew Dave and worked with him, he was a hero in our lives."
A former bodybuilder standing 6'7", Prowse was cast as Darth Vader for his imposing physique and played the masked villain in person.
However, James Earl Jones provided his booming voice, as Prowse's English accent was deemed unsuitable for the part. In the original trilogy's last film, Return of the Jedi, the late Sebastian Shaw physically portrayed Vader when his face was revealed to main character Luke Skywalker, played by Mark Hamill.
Hamill, 69, paid tribute to Prowse on Twitter following news of his death, writing, "So sad to hear David Prowse has passed. He was a kind man & much more than Darth Vader. Actor-Husband-Father-Member of the Order of the British Empire-3 time British Weightlifting Champion & Safety Icon the Green Cross Code Man. He loved his fans as much as they loved him. #RIP"
Prowse earned an MBE in 2000 for playing the Green Cross Code Man in a U.K. road safety program.
Watch:
In Memoriam: Fallen Stars of 2020
Anthony Daniels, who has played C-3PO in 11 of the 12 Star Wars films, also paid tribute to Prowse. The 74-year-old British actor tweeted, "Dave has gone. I don't think 3PO ever faced Vader's mighty presence on set, other than as a bag of bits on Chewie's shoulders in the carbon freezer. But Dave's iconic figure dominated the finished film in '77 and has done so ever since. And will continue to do so."
Star Wars creator and original director George Lucas said in a statement to the Hollywood Reporter, "David brought a physicality to Darth Vader that was essential for the character. He made Vader leap off the page and on to the big screen, with an imposing stature and movement performance to match the intensity and undercurrent of Vader's presence."
Lucas added, "David was up for anything and contributed to the success of what would become a memorable, tragic figure. May he rest in peace."
In addition to Star Wars, Prowse also appeared in Stanley Kubrick's A Clockwork Orange in 1971. According to the Hollywood Reporter, that's where Lucas first saw him.
Prowse had largely kept out of the spotlight in recent years. In 2015, he attended the premiere of Spanish directors Marcos Cabota and Toni Bestard's documentary film about his life, I Am Your Father, named after Darth Vader's iconic line to Luke Skywalker, in Madrid.
The following year, Prowse attended the funeral of Kenny Baker, who played droid R2-D2, C-3PO's companion. He died at age 81 in 2016. Also that year, original Star Wars actress Carrie Fisher, who portrayed Princess Leia, died at age 60. Their co-star Peter Mayhew, who played Chewbacca, died at age 74 in 2019.
(This story was originally published on Sunday, Nov. 29, 2020 at 9:14 a.m. PST)