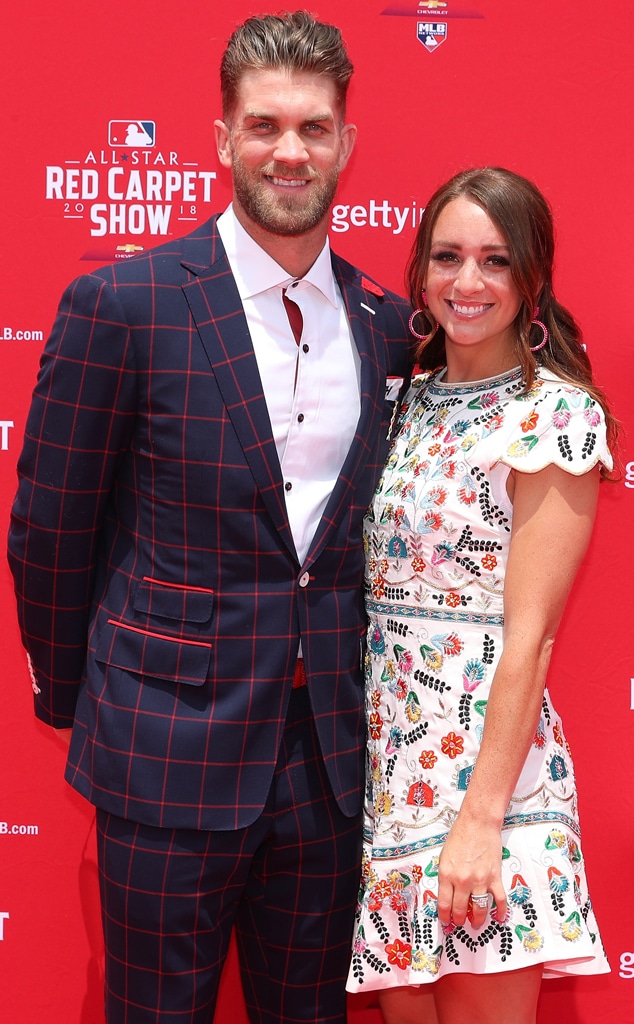 Patrick Smith/Getty Images
It's a party of four!
MLB star Bryce Harper is officially a dad times two. The Philadelphia Phillies player and his wife Kayla Harper shared the sweet news that they welcomed their second child together, a baby girl.
At this time, the couple is keeping details of their little one to themselves, however, they did reveal their newborn daughter's name. "Brooklyn Elizabeth Harper," the proud parents captioned both of their Instagram posts on Sunday, Nov. 22.
Their baby girl arrived sooner than expected. In June, when Kayla announced she and Bryce were going to have a daughter, she also revealed her bundle of joy was due in early December. But it looks like Christmas came early for the couple!
That same month, the professional athlete was overjoyed to learn about the sex of his baby. "Girl dad," Bryce shared on Instagram at the time.
This marks the pair's first daughter. A little over a year ago, they welcomed their first child together, a baby boy they named Krew. 
Back in August, the pair celebrated Krew's first birthday. Kayla shared a heartwarming tribute to her little one and reflected on her year as a mother.
"Here we were a year ago just minutes after welcoming Krew to the world," the proud mom began her message, alongside an image of her, Bryce and Krew in the hospital bed. "Little did we know our world changed so much for the better in those moments. Krew has challenged us, reminded us what love without condition is, and brought us more joy than anything we could have ever expected."
Watch:
Necessary Realness: It's a Celebrity Baby Boom!
"As much as Krew has learned and grown this year I think Bryce and I have learned and grown just as much," she continued. "I love seeing the world through his eyes and relearning the simple things in life with him. He has been the greatest gift and biggest blessing we could have ever received."
Kayla explained just how "crazy" this year has been amid the coronavirus pandemic, but she said she's "grateful" for the downtime she's had with her loved ones.
"God gave us so much unplanned family time before baby girl gets here," she expressed. "Happy 1 year Krew and happy one year of being parents and keeping another human alive babe!"