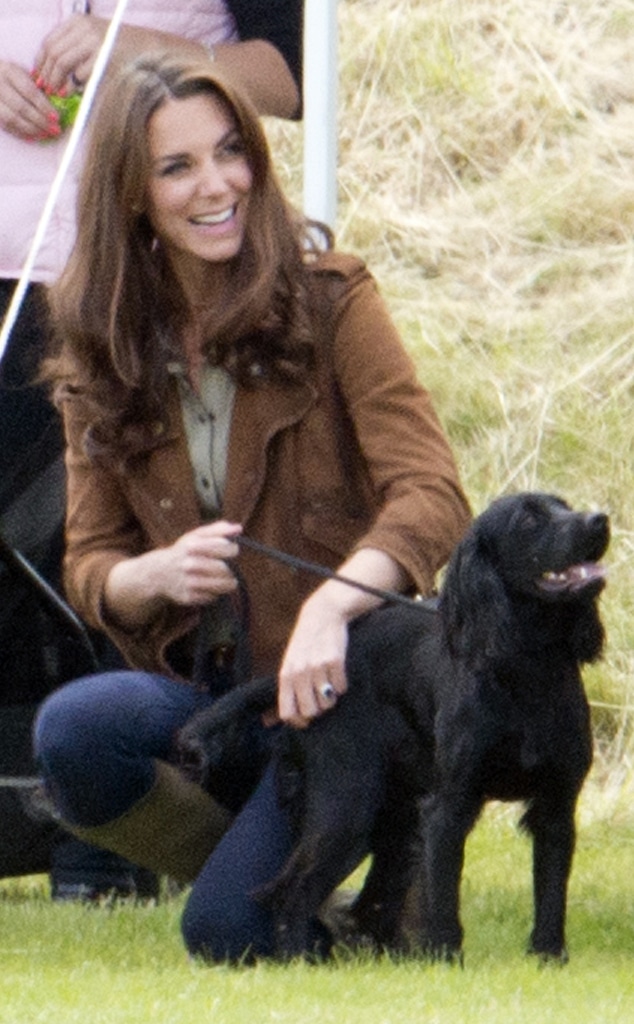 Getty Images
Kate Middleton and Prince William and their three children are mourning the loss of their family dog, Lupo.
The Royal couple announced the sad news on Instagram on Sunday, Nov. 22. They shared a photo of the black cocker spaniel and wrote, "Very sadly last weekend our dear dog, Lupo, passed away. He has been at the heart of our family for the past nine years and we will miss him so much. - W & C."
Lupo was part of a litter born in 2011 to Ella, one of Kate's brother James Middleton's dogs. Kate and William welcomed the puppy to their Kensington Palace home that Christmas, eight months after their royal wedding. Lupo was so popular that in 2014, he became the subject of a children's book.
Over the years, the couple as well as James, his and Kate's sister Pippa Middleton and William's brother, Prince Harry, were occasionally spotted and photographed with Lupo, while he has also appeared in official family portraits. In 2013, Kate was seen with the dog in Hyde Park in London. At the time, she was pregnant with her and William's first child, son Prince George. In addition to the now-7-year-old, they are also parents to Princess Charlotte, 5, and Prince Louis, 2.
In 2012, the Duchess of Cambridge and her brother were seen walking Lupo through Kensington Gardens.
"It is with great sadness that Lupo, the beloved dog of my sister Catherine and her family has passed away," James shared on his Instagram on Sunday. "Lupo was the son of Ella, brother to Zulu, Inka & Luna. He was 9 years old."
"Nothing can ever prepare you for the loss of a dog," he continued. "For those who have never had a dog, it might be hard to understand the loss. However for those who have loved a dog know the truth: a dog is not just a pet; it is a member of the family, a best friend, a loyal companion, a teacher and a therapist. Many people over the years have reached out to me about the pain of loosing a dog and for most, the loss of a dog is, in almost every way comparable to the loss of a Human loved one [sic]."
Watch:
Prince William and Kate Middleton's Dog Lupo Passes Away
James continued, "The pain I felt from loosing my first dog Tilly back in 2017 still hurts and on hearing the news about Lupo brought a wave of emotions flooding back [sic]. There isn't much of a rule book on how to grieve for a dog, but I've said a prayer, lit a candle and taken Ella (Mum) for a long walk to spend time remembering Lupo. Rest in peace Lupo. Tilly & Mini will be waiting for you. You will always be remembered and your legacy will live on forever. Good Boy."
Take a look at some of the Royal family's happiest moments with Lupo: