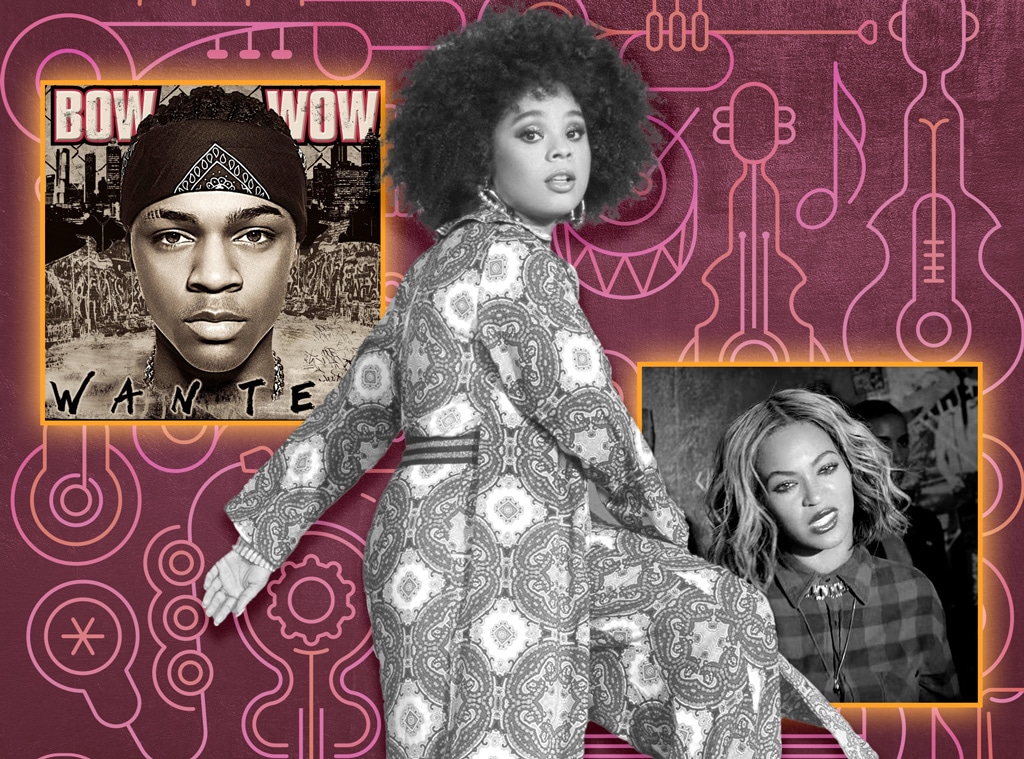 Atlantic Records/E! Illustration
Tayla Parx is ready to take listeners on a journey.
The singer-songwriter known for penning her own hits ("I Want You" and "Fight" with Florida Georgia Line) as well as Grammy-nominated tracks for superstars like Ariana Grande and John Legend has just released her second studio album, Coping Mechanisms. And as she told E! News, the new LP is a deeply personal tour of her life as of late.
"One of the things that I definitely think my fans have to know about this album is that it really is an experience and a timeline of the past few months to year and a half of my life," she explained. "We're going through a lot of different genres, different time frames in music, and I'm really hopping into my musician bag this time around. I really wanted to show that side of myself."
Unlike when she's writing for other artists, the inspiration here is all her. "When it comes to the music that goes on my own records, it usually comes from my own life," Tayla shared. "Whether it's something that I saw in passing or something that I felt. But it always has to be something that's real for me—and this album, Coping Mechanisms, is really showing you a really honest side of my emotions and attitudes about being in love."
In celebration of the new album, E! News asked Tayla to pull back the curtain on the albums and artists that have influenced her throughout her journey. From the song she turns to when she's at her lowest to the one guaranteed to turn her all the way up, this is the soundtrack to her life.
The song/album that reminds me of childhood: I think of "6, 8, 12" by Brian McKnight! I know that's a serious song to think of as a kid, but it was on a karaoke disk that my parents got me when I was younger. It had so many classic R&B songs on it.
The first album I remember buying: Bow Wow's Wanted album. Of course, I had a crush on Bow Wow at the time, but also it came out around the time when he and Ciara had "Let Me Hold You" out. 
The song/album people might not expect me to love: Unknown Mortal Orchestra's Multi-Love. It's a left-of-center band that I absolutely love, but this album in particular is special because of the storyline. It's one of the first albums I've heard tell the story of that nature and, of course, it's just so funky!
The song/album that makes me think of falling in love: My album We Need to Talk reminds me of falling in love because of my willingness to be open to the idea for one of the first times in my life.
The song/album I turn to when I'm at my lowest: "I Smile" by Kirk Franklin. That's actually exactly why I did a cover of it for my A Blue State EP.
The song/album I hope I never hear again: I plead the Fifth lmao.
If I could only hear one song for the rest of my life, it would be: "If You Asked Me To," Celine Dion. The songwriting is incredible, line for line, along with the melodies. The other obvious is Celine's voice!
The song/album that's guaranteed to get me turned all the way up: Beyoncé's "Bow Down." [This is the title for the track that acts as the first half of "Flawless" off the 2013 self-titled album.] I remember the first time I heard this record, honestly, it made me want to turn it up and speed down the freeway! I'm transported back to that moment anytime I hear it.
The song/album I wish I wrote/recorded: I wish I wrote "Open Your Eyes" by Bobby Caldwell. He has such an incredible discography overall, but this song in particular was ahead of its time when it was released. I love the drama of it all, in the transitions from section to section. There's also a great balance between talking about a serious topic while also being uplifting.
My own song that I'll never get tired of performing: My record "We Need To Talk." I always enjoy performing this record because of the energetic drums! They're very drum & bass inspired and it's perfect for my style of performing, which is very high energy!
My own song that I'll be happy to retire: "Easy." I think "retire" is a harsh word, but it's just so damn tough, emotionally, to get through when I do it live without crying.
The song on my new project that I can't wait for fans to sing along with me on tour: I can't wait for fans to sing a record called "You Don't Know" with me! It's a song I imagine singing to random people, hyping them up, so that would be nice to have that in real life.
Coping Mechanisms is available now.
Watch:
Ariana Grande's "7 Rings" Music Video Had Champagne Problems