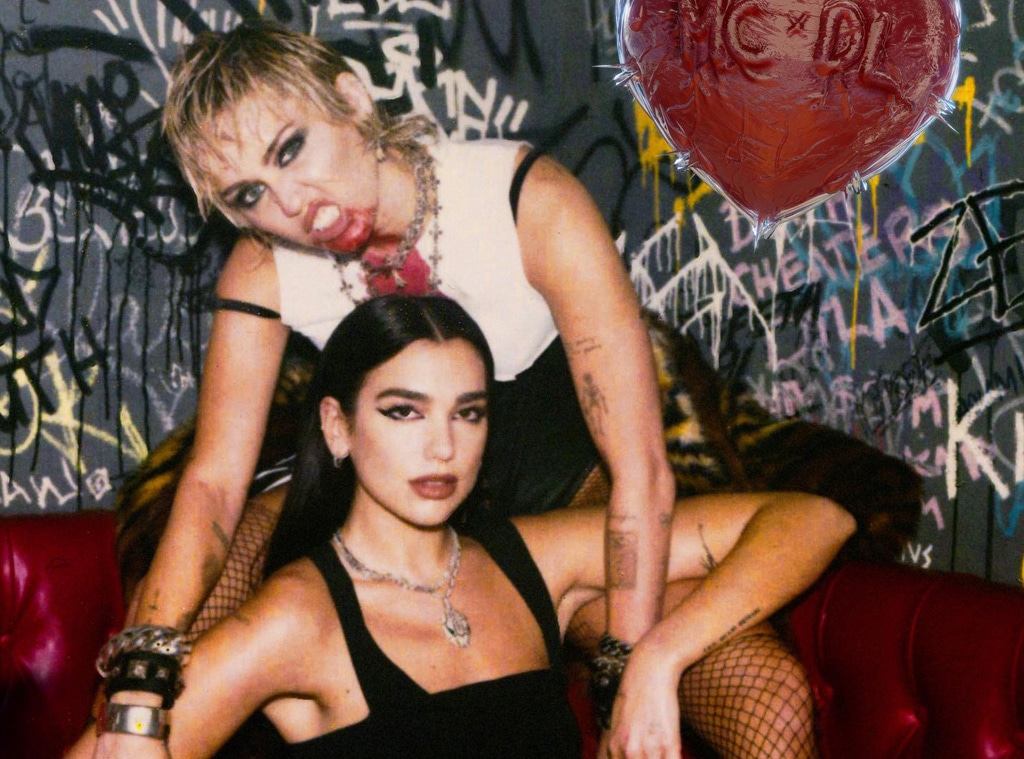 RCA Records
Get ready to pick your jaw up off the floor after watching Miley Cyrus and Dua Lipa in their wild new video.
Cyrus released the video for her newest tune, "Prisoner," on Thursday, Nov. 19, and let's just say that the tamer version of the pop star that was evident on her previous album is nowhere to be seen here. "Prisoner" follows "Midnight Sky" as the second single from her forthcoming album Plastic Hearts, which drops on Nov. 27.
The video definitely channels the 1980s in the best way, with Cyrus decked out in leather and fishnets as she and Dua Lipa grab the wheel of a tour bus. After watching what they do from the driver's seat, perhaps someone might want to contact the DMV to see if they're licensed to operate that thing.
There are even slasher-movie vibes as a knife gets plunged into a heart-adorned teddy bear, followed by the 27-year-old "Wrecking Ball" singer covering herself in what may or may not be blood.
And in case the stuffed-animal stabbing doesn't tip you off, this is not a video for embracing your romantic side. "In loving memory of all my exes," reads a message at the end. "Eat s--t."
Cyrus has certainly had some high-profile exes of late who might not enjoy this video. Her divorce from Liam Hemsworth was finalized in December 2019, and after the two separated, she dated Kaitlynn Carter and then Cody Simpson.
"Two halves can't make a whole," she said at the time of her split from Simpson.
It appears she and the Aussie singer-songwriter remain on good terms. Cody, dressed in a sparkly red dress, makes a brief cameo in the music video. 
In a preview of an interview with Apple Music that debuts on Monday, Nov. 23, Cyrus explained why the new song feels like a perfect one for these times.
"We're just trapped in our emotions right now," she said. "It's like, 'Locked up, can't get you off my mind.' Anything that you've tried to suppress or compartmentalize at that point, it's coming up. It's yours to own, to own it or release it."
The Hannah Montana alum pointed out that she loved working with Dua Lipa in part because the "Don't Start Now" singer doesn't pull any punches.
"We edited this video on text message, me and her directly as artists," Cyrus continued. "I don't want to do a song with someone's manager. I want to do a song with the artist. Her allowing me to have that direct line of communication and then also the ability to just trust each other, both of us, I think our egos are pretty in check that she's very willing, and I'm very willing."