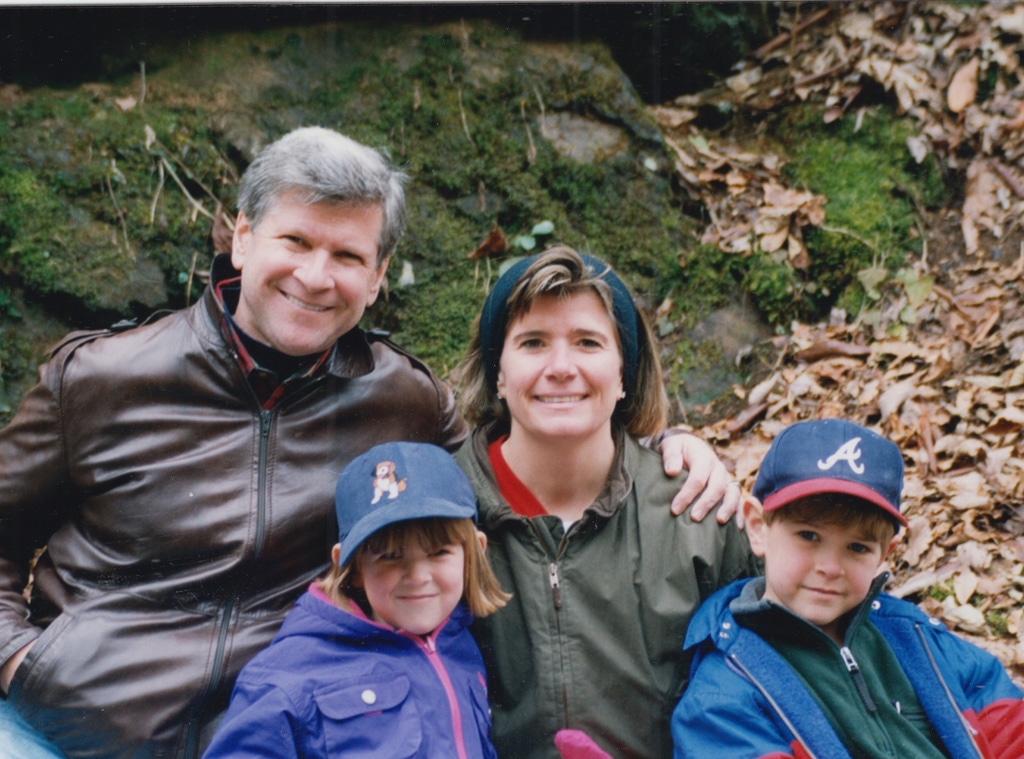 Courtesy of HBO
Who killed Madison Hamburg's mother?
That's the question at the heart of Murder on Middle Beach, a new four-part documentary series premiering Nov. 15 on HBO that finds Madison conducting his own investigation into the still-unsolved 2010 slaying of his mom, Barbara Hamburg.
As Madison says, "The only person I know that didn't [do it], is me."
Meanwhile, when he calls his dad to ask if he can interview him for his show, Jeffrey Hamburg—who was a person of interest in his ex-wife's death but whose DNA didn't match the evidence collected at the scene—tells him, "I'm not sure I could talk about things...Obviously there's more to the story than any of us really know."
Naturally, another question Madison must contend with as he goes along is, How much do we really know about the people closest to us?
Barbara was found dead on the morning of March 3, 2010, in the yard of her rental house on Middle Beach Road in Madison, Conn. Police responded at 11:25 a.m. to a 911 call reporting an injured woman after her sister Conway Beach found her lying in the grass, bleeding from her head.
"It looks like somebody hit her with something," Conway is heard telling the dispatcher in a recording of the 911 call released just this year by the Madison Police Department in response to a contested records request from a production company working on Murder on Middle Beach. (Police refused the release of other records, Madison Detective Chris Sudock saying at a Freedom of Information hearing in February that it could compromise the investigation because there was "information contained in those files that only the perpetrator of this crime would know.")
Conway calls her sister "Barbie," her familiar nickname, per the New Haven Register. When the dispatcher starts to instruct her in how to perform CPR, she says, "I don't want to move her because I don't think it's a—I think this was not an accident." About three minutes into the recording, Conway says she can hear sirens.
A subsequent autopsy showed the cause of death to be multiple blunt and sharp force injuries.
Barbara's obituary stated that she had "loved the outdoors, athletics, and travel" since she was a kid. But, it continued, "Most of all, she loved life and she radiated her love to others through her energy, spirit, and good will, helping those in need, and drawing deeply on her compassion for others. Her membership in AA was a centerpiece of her life for the past five years. Barbara was a tireless worker, supporting others to recover, bringing great joy to the Madison and New Haven AA community."
She was 48 and a mother of two children, Madison Chedsey Hamburg and Barbara Alexandra Hamburg (she goes by Ali), who were 18 and 16 at the time.
"When you first died, I used to call your phone, just so I could hear your voice in the voicemail," Madison told those in attendance at a memorial service for his mom this past Feb. 29 at First Congregational Church in Madison, Conn. "I would leave you messages, even though I know you could not hear them. Every so often something triggers me to remember that it's all real. I'll see a mother and son getting ice cream together or see my friends' mothers watch them get married and have kids...My life will never be normal. I will never have that with you."
Barbara "had a zest for life and was a survivor," her attorney Richard Callahan told the Middletown Press after her death. He had expected to see her on March 3, 2010, at 9:30 a.m. for a hearing in New Haven family court regarding her divorce from Jeffrey. Her ex-husband and his lawyer had shown up for court, Callahan said, but when Barbara failed to arrive, they all left.
Barbara and Jeffrey had been divorced since 2002, finalizing their split in Georgia, where the family used to live, but had been in and out of court ever since, mainly tangling over money issues, according to public records. When they broke up, they were granted joint legal custody of their kids, but Barbara had primary physical custody.
Among the allegations highlighted by the Middletown Press, Barbara had accused her ex of being thousands of dollars behind on alimony and child support payments, while Jeffrey had contended that his former wife had failed to pay her half of the mortgage on their jointly owned property. Court records showed he filed for bankruptcy in June 2009, the paper reported, and he was claiming he simply couldn't afford to pay her. 
Because of their tumultuous past, Jeffrey was automatically someone authorities wanted to talk to right away. 
He was questioned on the day of her murder by Connecticut State Police investigators and agreed to give a DNA sample. Jeffrey ultimately was never named as an official suspect—but he remained a person of interest on the police's (and therefore local media's) radar.
"My client, Jeffrey Hamburg, has been the focus of this investigation for a very long time," attorney Hugh Keefe said that May. "We would like to know where the police are going with their investigation. We think that's a reasonable request."
Days later, a source familiar with the investigation told The Day that Jeffrey's DNA didn't match the evidence collected from the scene at Barbara's house.
Watch:
6 Binge-Worthy Shows Based on Real-Life Murders
But the news about Jeffrey's tenuous financial situation had just begun.
In 2011, he was charged with first-degree larceny for stealing more than $100,000 from his daughter Ali's trust account in 2006 after she filed a criminal complaint against him. The warrant for his arrest alleged that he had mainly used the money to finance his "high standard of living," including a Park Avenue apartment in Manhattan, and "utilized his children's custodial accounts to meet his financial needs."
The following February he was briefly jailed for failing to pay $138,000 he owed to Barbara's estate.
He was arrested again in May 2012 for allegedly pilfering more than $100,000 from accounts belonging to both of his kids between 2008 and 2010, including a final $400 he withdrew from Ali's trust—the last of her money—two weeks before his ex-wife's murder. Jeffrey had set up an irrevocable trust—the kind that the person who sets it up isn't allowed to draw from—for his daughter in 1993, when she was born. 
The New Haven Register reported in 2012 that Madison had declined to press charges over more than $100,000 his dad allegedly stole from his trust, also in 2006. Ultimately, Jeffrey was said to owe nearly $1 million to the elder Barbara's estate and was in debt after borrowing $500,000 from his sister Marcia and accepting various other loans from acquaintances. In a 2009 affidavit, he had testified that he had used money from his kids' trust for personal use, as well as to pay private school tuition for Ali.
Jeffrey maintained that he kept looking for work and couldn't get hired because would-be employers would Google him and the results would inevitably be a line-up of stories about Barbara's murder.
All the while, not a single arrest had been made in her 2010 killing, and as the 10th anniversary of her death approached this year, the murder remained unsolved.
Madison, however, was on the case. The family had set up a new website where people could leave anonymous tips, and he was working on his documentary project.
"A message to the killer...If you are out there, the person who killed her, you must be living with such a weight," he said on the steps outside the church following the Feb. 29 memorial for Barbara. "I feel sorry for what you must be carrying. I beg you to tell us why. It's the question that I will have for the rest of my life and maybe the question is much deeper than a solution to a problem. Maybe it was a terrible mistake. Why not relieve yourself?"
Madison reiterated to WTNH's News 8 that day, "If you're out there—the person who killed my mom—I feel sorry for what you must be carrying. If I could ask you one question—it would just be 'why?'"
He added, "Please, turn yourself in. Let us know why, at least."
Conway Beach, who found her sister's body 10 years prior, told the station, "It's affected us extremely in a very painful way...What that person did, or people did, to my sister was horrific. And I want that memory out of my mind because it was awful to see and I want my family at peace again."
"We never are going to give up—ever," Conway added. "None of us."
At the time, Madison Police Captain Joseph Race told Zip06.com that the cold case was once again an active investigation, not least because of technological innovations since the first go-round. "We work on it, as things come in, as any new information or leads come in," Race explained. "It might not be every week. But every so often something comes in, and we work on it, and we follow the lead to where it goes."
He added, "DNA testing did provide new information, so we are following up on that. We follow the lead to where it goes."
With Murder on Middle Beach, Madison sought to provide a more complete picture of his mother's life in hopes of finding the missing pieces that could shed more light on her death.
"It was tough because we were selling a different take on true crime," Madison recently told the ShoreLine Times from his home in New York. "It wasn't a story about a murder, it's a story about identity and about my mom and that's a really hard sell. Thank God that HBO saw the potential and the rest is history."
At the memorial service, Barbara's siblings had talked about how she was always there for them, and Madison and Ali's friends remembered how Barbara's home became a haven for "wayward kids," anyone who needed a safe place to hang out. People spoke of her generosity, her sense of humor, how loyal she was. 
But the show promises a portrait of a far more complex woman, someone who according to what investigators found on her computer after her she was killed appeared to be involved in a pyramid scheme. (Police say there's no evidence that the dirty business dealings had anything to do with her death.)
"I didn't know Barbara," Madison told the ShoreLine Times. "In asking questions, I kind of got addicted to that. Unearthing who this person was that I grew up with, that was a superhero in my mind."
Furthermore, he continued, "It also compelled me to ask my dad questions, who's always been somewhat aloof to me, and my family and growing up in a really sheltered environment just kind of like getting to know this underbelly of what seemed perfect as a child." 
Madison amassed 1,000 hours of footage over 200 days of shooting, interviewing family, friends, acquaintances and law enforcement about his mom, his dad and the case.
He told the ShoreLine Times that what he uncovered showed "this overarching theme of the duality of American idealism...If there's a problem, we just pretend like everything's perfect. The more that we pretend, the more that we think that problem goes away."
Murder on Middle Beach also touches on a corruption scandal within the Madison Police Department that came to light in 2007—unrelated to his mom's case, but again, Madison said, "There's sort of this duality of everything is perfect on the outside, but there's all of this dark, brewing underneath and no one talked about that."
Madison Police Capt. Race told the paper that he hoped Madison's docu-series "will jog somebody's memory about something they saw that day, something they heard or something that someone else told them. Obviously, it's HBO, it's going to be national. It could be something that someone told someone in Georgia that all of a sudden breaks this thing wide open."
Murder on Middle Beach premieres Sunday, Nov. 15, at 7 p.m. on HBO and HBO Max.