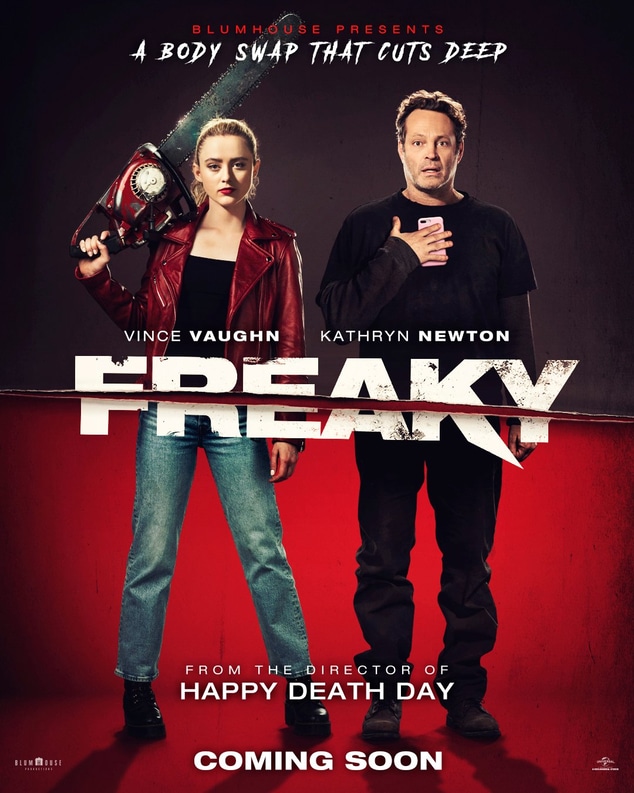 Universal
Ever dream about living somebody else's life for a day? Ever think about what an actual nightmare that would be before the inevitable lessons about what it's like to walk in another person's shoes are learned?
If not, there are movies for that.
Many movies, actually, because the trope of two people swapping bodies—mother and daughter, father and son, husband and wife, bride and random old man—has been part of cinematic history for more than a century, not even including all the takes on reincarnation, possession or wishing you were either big or 13 again.
The latest addition to the genre is the Friday the 13th release Freaky, a bloody horror-meets-humor thriller starring Vince Vaughn as a serial killer called the Blissfield Butcher, who switches bodies with a teenage girl. While stuck inside the murderer's body, Millie, played by Big Little Lies' Kathryn Newton, has to figure out how to reverse the swap before her inhabited body kills off the entire class.
But even though the Blumhouse Productions film is rated a hard R, Vaughn sought advice from the demographic that the most famous body-swap movies were made for in order to effectively embody a high school kid.
"Thankfully I have some nieces, or that could have been an awkward moment to be, like, hanging out at a high school," the actor shared on The Tonight Show Starring Jimmy Fallon on Nov. 10. "You know what I mean? Hanging out around girls you don't know at a high school. So my nieces were close to that age, so I got to watch them, which was good." (Vaughn up on a table in Swingers, drunkenly asking where the high school girls hang out, is obviously at the forefront of our minds right now.)
Talking to JoBlo.com, Vaughn explained how he and Newton teamed up to find "shared physicality and emotional points of view" to center their performances.
It was "so collaborative," Newton agreed.
She especially loved any time she got to share the screen with Vaughn, the actress said, particularly a scene in which she's tied up and Vaughn is trying to convince her crush that he's really her. Other than that, she added, "to kill, the chainsaw, hands down. Most badass thing I ever got to do."
Surely a lesson is learned in there somewhere between mutilations. But in the meantime, enjoy this relatively gore-free tour of the evolution of body-swapping onscreen:
Freaky is in open theaters starting Friday, Nov. 13, and will be available on VOD Dec. 4.
(E! and Universal Pictures are both members of the NBCUniversal family.)