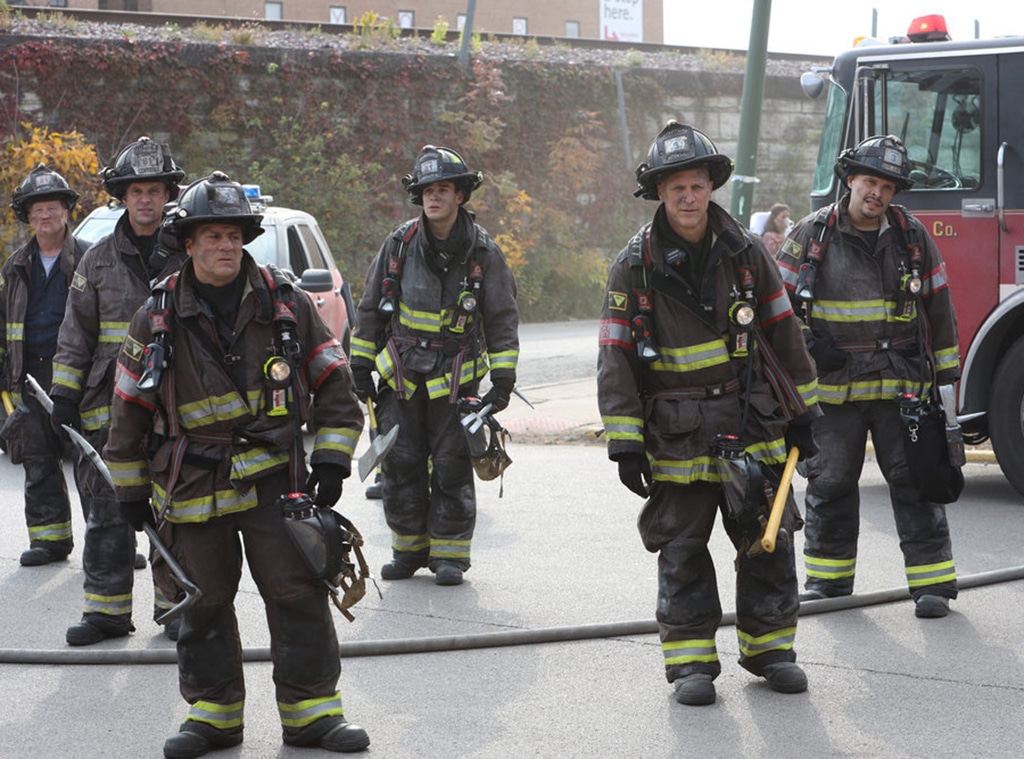 NBC
It's a big night if you love TV and the city of Chicago. 
NBC's Chicago shows are all about to make their return, and there's a whole lot to cover. Not only is there the usual drama to deal with as Chicago Med, Chicago Fire and Chicago PD head into new seasons, but they've all got to grapple with the coronavirus pandemic and civll unrest that had and continue to have a huge impact on hospitals, fire stations and police precincts. 
How will these fictional dramas take on the real life drama that COVID-19 has brought into all of our lives? How have the writers' plans changed in the past eight months? 
Ahead of their premieres tonight, we got a little bit of scoop about what to expect from Chicago Med and Chicago Fire from the people in charge. You may be pleased to learn that there are some "white dresses and tuxedos" in somebody's future...  
Chicago Fire 
Like most broadcast TV shows that aired this spring, Fire didn't get to film the finale they had planned. Showrunner Derek Haas told E! News that instead of going back to the planned storylines, the show "readjusted." 
"Since we didn't have a normal ending to the season, which usually is a cliffhanger, we are able to jump ahead to November 2020 and catch the audience up from there," he said via email. "It opened up the storytelling for sure." 
While the pandemic has had a huge affect on firefighters across the country, Haas said it won't take over the show. 
"We are just trying to depict what it is like to be a firefighter in Chicago in November of 2020," he said. "The pandemic is more of a backdrop—you'll see more masks—but it is not the focus of the show. We kind of did that last year with our big crossover 'Infection!'" 
Last season's makeshift finale did serve as the final episode for Foster (Annie Ilonzeh), who has officially left the show. Haas said we will hear about her and never say never to a return. 
"Maybe someday we will get to see her again," he said. "I always like to bring back familiar faces." 
In her absence, Haas said that Brett (Kara Killmer) "moves into more of a mentor/mentee relationship rather than instant best friends with her new partner. It is a new dynamic for Brett and for Kara to play." 
Brett also has some relationship moves coming up. Haas said she and Casey (Jesse Spencer) "are going to stop circling each other and get to it." Meanwhile, things are going well for Severide (Taylor Kinney) and Kidd (Miranda Rae Mayo). 
"For Kidd and Severide…maybe there will be some white dresses and tuxedos in their future," he said. 
In spite of all of the challenges faced by any production trying to function in the middle of a global pandemic, Haas said the new season of Fire went above and beyond. 
"I think viewers will think we outdid ourselves," he said. "This crew is the best. We didn't miss a beat and did not shortchange our production value for the show. I have been amazed by what this crew pulled off this season." 
Chicago Med
While Fire is readjusting, Chicago Med showrunners Andrew Schneider and Diane Frolov said they went back to how things ended in season five. 
"We've returned to all the storylines we'd planned last season but with some adjustments in light of the pandemic and how it's affected our doctors and nurses," said Frolov. 
Since Med is obviously a hospital show, coronavirus takes center stage. 
"The pandemic has had a big impact on our fictional hospital as it has on real hospitals in America," Frolov explained. "At Med, new safety protocols have been put in place as well as a designated COVID ICU. But we'll still do many non-COVID medical stories. They keep coming in regardless of the pandemic." 
But the usual drama also isn't going anywhere. 
"The season reflects how our hospital and its staff still provides first-rate, cutting-edge medical care in the midst of this long-running pandemic," Schneider promised. "Our show has always balanced a broad range of medical cases with the personal lives of our doctors, nurses and administrators, and we will continue to do that." 
Pandemic aside, there's lots going on in the hospital. 
Frolov teased that Natalie (Torrey DeVitto) and Crockett (Dominic Rains) will continue to grow closer as she learns more about his past (after fearing he committed a murder in the season five finale). Will (Nick Gehlfuss) and Hannah's (Jessy Schram) ill-advised romance "will take a dramatic turn" while both Charles (Oliver Platt) and Goodwin (S. Epatha Merkerson) will find that their relationships with their children are very challenging. 
The whole One Chicago crew returns Wednesdays starting at 8 p.m. on NBC. 
(E! and NBC are both part of the NBCUniversal family.)