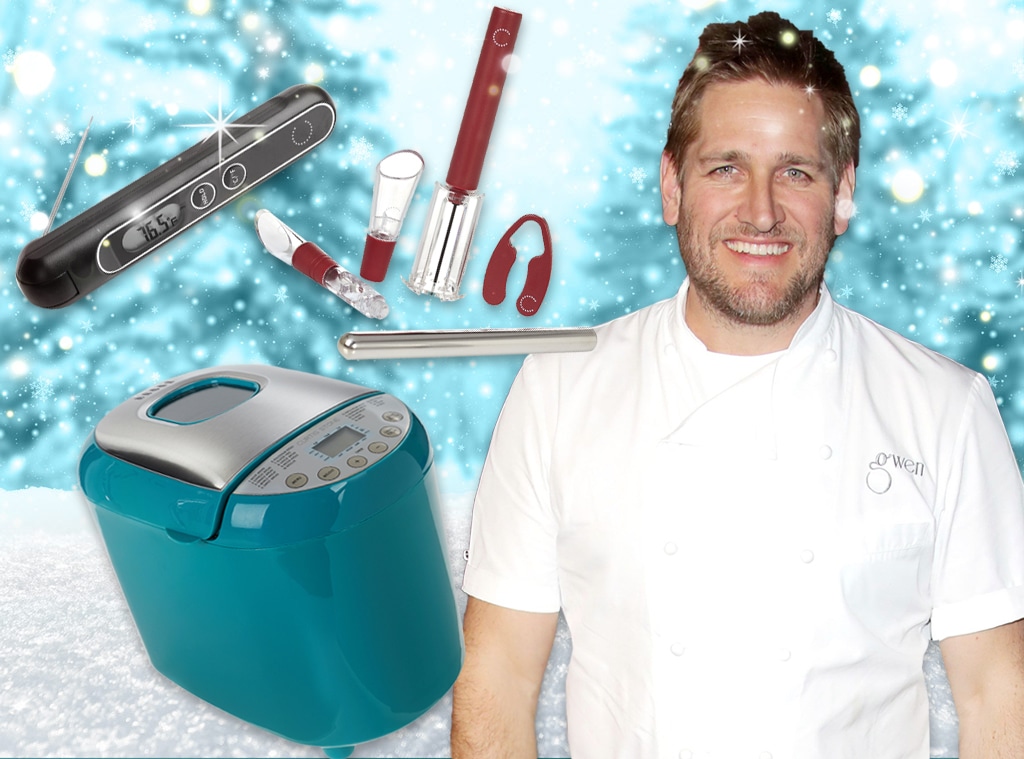 Shutterstock; E! Illustration
We love these products, and we hope you do too. E! has affiliate relationships, so we may get a small share of the revenue from your purchases. Items are sold by the retailer, not E!.
It's never too early to start planning for the winter season when a festive feast is involved! 
With the holidays fast approaching, Curtis Stone revealed some of his favorite picks to gift to family and friends alike. At the same time, the celebrity chef reminded fans how important it is to take a deep breath and spend some quality time with those you love.
"This holiday season, I am most looking forward to slowing down with my family and remembering what the holidays are truly about," Curtis exclusively shared with E! News. "It's been a crazy year and we've all had to adapt in many ways. It will be a nice chance to spend quality time with one another doing some of our favorite things—spending a lot of time in the kitchen making holiday treats, enjoying the warm California winter outdoors and making new traditions together as a family."
Before the fun begins, keep scrolling to see what Curtis recommended from his HSN line.
Curtis Stone 5qt Dura-Electric Non-Stick Skillet
"One of my favorite things to gift for the holidays is the gift of versatility and one thing you can never have enough of during the holidays is an extra burner! My Dura-Electric Non-Stick Skillet is like having an extra burner plus a deep skillet all in one and even allows you to keep food warm and serve from with its adjustable thermostat. The specially formulated re-enforced Dura-Electric non stick also makes clean up a breeze so you can spend less time cleaning and more time around the table with loved ones this year!
Curtis Stone Dura-Electric 1700-Watt 22L Air Fryer Oven w/Rotisserie
"I'm a huge fan of air fryers and finding ways to put a healthy spin on your favorite foods—especially after eating a few too many treats during quarantine. My air-fryer oven has seven different functions so you can literally do everything from dehydrating your favorite fruits to using the rotisserie feature & making the perfect chicken."
Curtis Stone 2lb. Bread Maker
"Bread makers are all the rage these days with so many recipes and methods to try. However, the process doesn't have to be complicated when you have one machine that can tell you exactly what to do and then takes care of the rest! This is the perfect gift for the friend in your life wanting to learn a new skill or maybe for yourself so you can give the gift of fresh bread this holiday season."
Curtis Stone Battery-Free Kinetic Meat Thermometer
"As a chef, I know the importance of proper temperature (especially around the holidays) and as a busy husband and dad, I know how frustrating it is when the thermometers battery gives up. You can never find the right size, you need it now, not tomorrow! That's why I invented my kinetic thermometer. No batteries, just a few shakes and you're off to the races. Test the temps in all your dishes and rest easy they're all cooked to the right temperature without ever worrying about the batteries!"
Curtis Stone Dura-Bake 3 Piece Mini Bakeware Set
"One of the things that makes me most excited for the holidays is all of the baking! This three-piece mini set is the perfect giftable item to help prepare all of your loved ones for a season of baking. I designed it specially to fit in either your countertop or full-size ovens and it's perfect for smaller portions (we could probably all use some of those!)!  My Dura-Bake nonstick is even eight times stronger than unreinforced nonstick, making cleanup a piece of cake!"
Curtis Stone 2 oz. Aussie Filet Mignon Medallion
"The holiday season means a lot of time spent preparing to host our loved ones. I love to make things easy with the gift of delicious food that's already seasoned and ready to cook. These Australian grass-fed, free-range and antibiotic-free filet medallions are exceptionally tender and buttery-soft, individually packaged so you can prepare as many or as little as you want and feel good that you're giving them (or yourself) something really special."
Curtis Stone Wine Pump and Chiller Set
"Wine is always an important part of a memorable holiday dinner—as long as there are no mishaps with the cork. My wine pump opener makes it easier than ever with a steel needle that can get through any cork keeping you just a few quick pumps of the top away from enjoying your favorite vino. But, lets not forget about temperature. When I'm enjoying a nice bottle of Australian Chardonnay with friends and family, the last thing I want it is for it to get warm so it also comes with a wine chiller stick that you can pop in the freezer and then drop in the bottle to keep your wine at the perfect temperature for an hour—plus the top is a pourer. It even comes gift box ready, so this can truly be the gift that will have your friends thanking you each time they use it!"