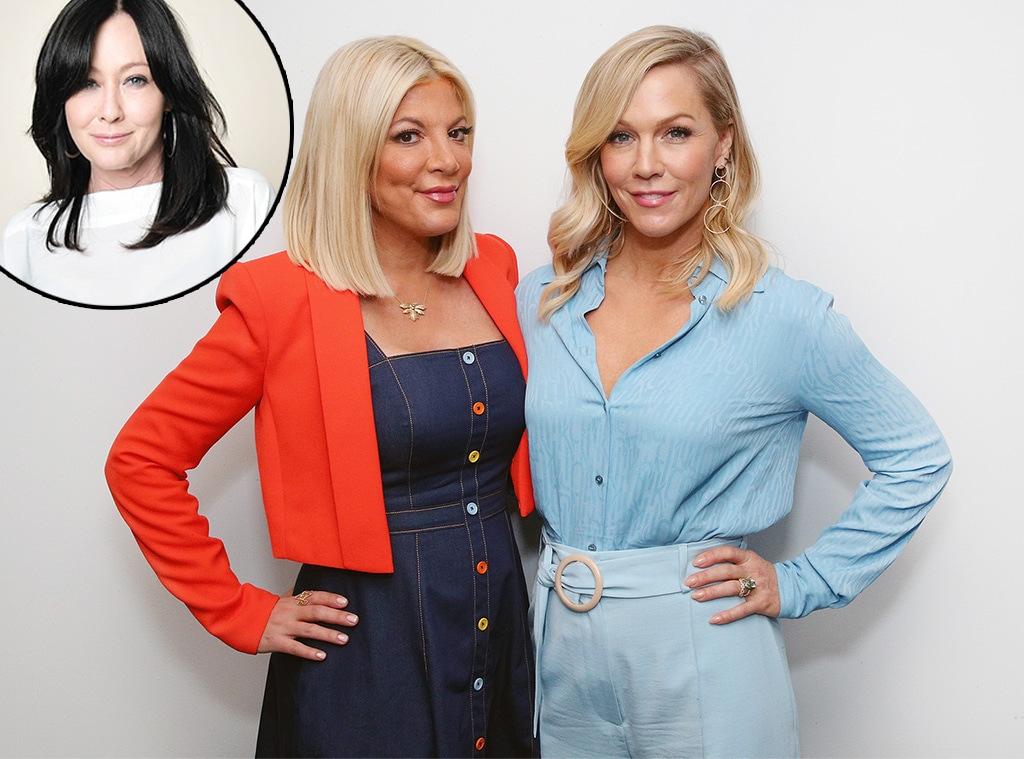 Getty Images
Shannen Doherty continues to have the support of her Beverly Hills, 90210 family.
As the actress continues to battle stage 4 breast cancer, co-stars Jennie Garth and Tori Spelling are shedding some light on her health journey. 
"I just check in on her once in a while and I definitely follow along on her stories to see and check in and see how she is," Jennie exclusively shared with E! News. "She keeps a really tight circle of very close people and I think that's the way to do it."
"She seems to be really doing well and thriving, and helping a lot of people through the process," the actress continued. "We're really here for her always and always cheering for her and really proud of what she's doing."
Tori, who also worked with Shannen on the hit '90s drama, echoed her close friend's sentiments. "I check in with her too and you kind of have to give someone their space," Tori explained. "And she knows we're here if she needs us or even just to have a good laugh."
Watch:
Jennie Garth Talks "Rare" Friendship With Tori Spelling
In an interview with Good Morning America, Shannen said she didn't tell many of her co-stars about her health when she returned to work for the BH90210 reboot. 
"I thought, when I finally do come out, I will have worked and worked 16 hours a day and people can look at that and say, 'Oh my God. Yeah, she can work and other people with stage four can work, too.' Our life doesn't end the minute we get that diagnosis," she shared. "We still have some living to do."
As Tori and Jennie send their best wishes to their co-star, the pair is also gearing up the premiere of their new iHeartRadio podcast titled 9021OMG. Scheduled to premiere on Monday, Nov. 9, the podcast is designed to be a "follow show" where old and new fans can look back on the iconic series. 
"When the two of us get into a room together, we go places that you know you never know what's going to happen," Jennie joked. "And hopefully we'll shut up enough to talk about the show."
Tori added, "We get sidetracked easily, which is like a true friendship...I think they should all just be prepared to fill up their movie popcorn and listen and be like, 'whoa.'"
To hear more from Tori and Jennie, watch Daily Pop on Friday, Nov. 13 only on E!