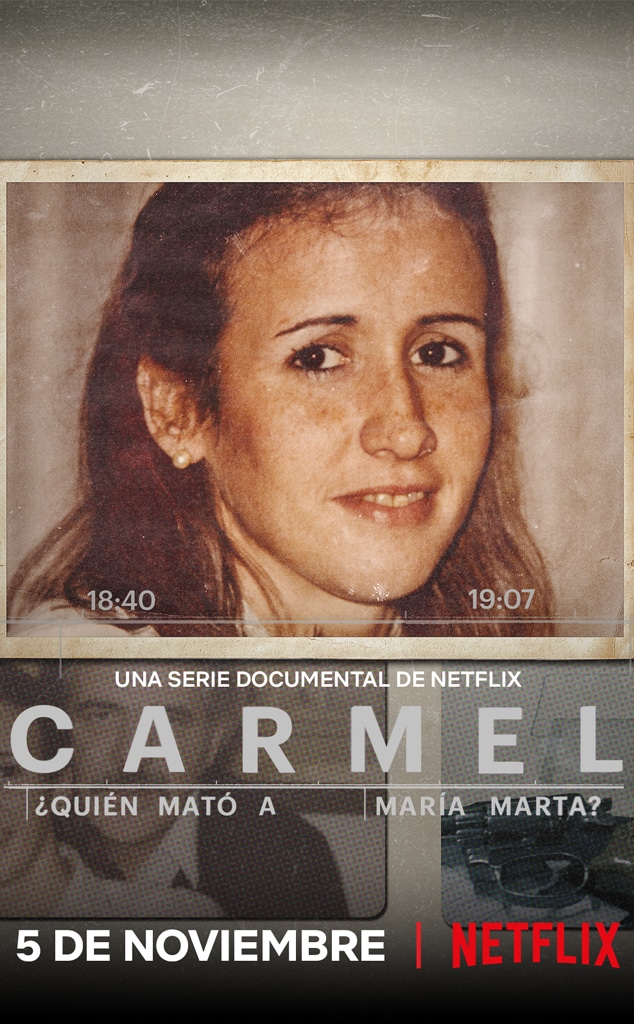 Netflix
Your true crime obsession is going international.
Carmel: Who Killed María Marta?, a four-part, Spanish-language docu-series from Argentina, is now streaming on Netflix, ready to introduce a new audience to a 2002 case that gripped a nation (Rich people! Murder! Wild theories!) and continues to this day to frustrate anyone who's still seeking answers.
So, yes, spoiler alert—the case of who killed María Marta García Belsunce remains unsolved. But the twists and turns in the investigation over the past 18 years, coupled with a host of people who were ready to talk about the confounding events that unfolded, made it ripe for a deep dive.
In an interview with El Intransigente, Carmel: Who Killed María Marta? director Alejandro Hartmann said he felt that the timing was right to take a closer look at what happened in 2002—yes, the crime itself, but also the frenzy that ensued when the first version of events fed to the media turned out to have wildly missed the mark.
Hartmann said that he and his crew were up front with their intentions when they approached all of the major players to participate in the series, telling them that they had no agenda other than a quest for the truth. They reached out to everyone involved, Hartmann said, and all but a few people agreed to go on camera.
Among those who said yes: María's widower, Carlos Carrascosa, who spent five years in prison for her death before Argentina's high court overturned his conviction.
Watch:
6 Binge-Worthy Shows Based on Real-Life Murders
The series shows him in court, telling the judge, "I am completely innocent, but I want to know who killed my wife."
As Carlos told police, on the afternoon of Oct. 27, 2002, he returned to their abode in Carmel Country Club, an upscale gated community in the Buenos Aires city of Pilar, after watching a soccer match at his brother-in-law's house. He found his wife of 31 years unconscious in the bathtub.
"I never thought she was dead," Carlos recalls in the new series.
He called for an ambulance and doctors quickly deemed it an accident. María, a sociologist who worked with a foundation for missing children, had seemingly hit her head and drowned in the tub. She was 50. The doctor who filled out her death certificate listed the cause as "non-traumatic cardiac arrest," her family signed off on it and her body was interred barely 24 hours after she died.
Meanwhile, the police never came to the house. No one called them.
But not everyone was onboard with the official explanation. Her family said that someone must have broken in, that perhaps, having come home early when her tennis match was called off due to rain, she had surprised a robber in the act. María's stepbrother insisted that local authorities take another look at the case.
Yet it was an ambulance driver at the scene who first told investigators that there had actually been "at least three holes" in María's head—and not holes consistent with banging her head on the tap. About a month after she had been interred at Recoleta Cemetery, not far from the gravesite of former Argentinian first lady Eva Peron, prosecutor Diego Molina Pico ordered the exhumation of her body. 
Medical examiners removed five bullets from her skull and determined that a sixth bullet had grazed her head.
The local media went wild with the news that the domestic accident they had been told about was actually a fatal shooting. During a search of the house, investigators discovered what turned out to be a bullet fragment in a plumbing pipe. As the docu-series recalls, the papers seized on the discovery of "el pituto"—"the thingy"—that María's stepbrother John Hurtig acknowledged flushing down the toilet.
Furthermore, traces of blood were found that indicated María had first been attacked on the ground floor of her home before being killed in her upstairs bathroom.
"You lied to me," Molina Pico accused Carlos at the time.
And with that, the prosecutor had a homicide investigation on his hands, telling reporters, "I'm the one who has to determine who killed her."
Some eyes turned to Carlos at first, the husband of a dead wealthy wife generally being a person of interest for no other reason than just because.
But María's family stood by him, hanging onto their theory about a robber. Moreover, there was another suspect, Nicolás Pachelo, who also lived in Carmel Country Club and couldn't account for his whereabouts during the time María was killed. According to the new series, the prosecution wasn't particularly interested in what he had to say at the time.
Hartmann said that Pachelo, who is currently in jail in connection with a string of robberies, was approached by producers but declined to participate in the show.
And Molina Pico ended up charging Carlos in his wife's murder.
The indictment he presented on Feb. 16, 2004, alleged that Carlos had been laundering money for a Mexican drug cartel and had killed his wife, who was also involved with the criminal enterprise, with the help of two unnamed accomplices to keep her from talking, according to the Los Angeles Times.
Moreover, everyone who gathered with him at the house in the hours after he reported finding María's body—from her brother to her masseuse—tried to help Carlos cover it up, fear of the cartel having "imposed silence upon those tied to this crime," the indictment further alleged. Basically, Molina Pico's theory was that María's family's insistence that Carlos was innocent was actually one big plot because so many of them were involved in her death.
"Enormous quantities of ill-gotten money from the Juarez cartel's operations in Argentina have purchased the consciences" of the accused, Molina Pico charged.
According to Argentina Noir: New Millennium Crime Novels in Buenos Aires, which probed how various fictional stories were inspired by real-life cases, one family member was accused of obtaining a false death certificate. Two others were accused of tampering with evidence. The first medic at the scene, the doctor who signed the death certificate and nine funeral home employees were also accused of being part of the alleged cover-up. So too were the masseuse (who showed up for an appointment that afternoon, not knowing María was dead), accused of helping them clean up the blood; a neighbor who allegedly told the Carmel Country Club president to keep police out of the community and pay them off if he had to; and a female friend of María's who insisted to authorities that no autopsy was necessary.
Molina Pico's critics, meanwhile, accused him of throwing everything at the wall to see what would stick, so determined was he to close the case that he was shaping facts to suit his theory, rather than letting the facts guide his investigation. The defendants' attorneys, per the LA Times, called Molina Pico a "spinner of fables."
Carlos pleaded not guilty and was acquitted of his wife's killing in 2007. By then prosecutors had quietly dropped the cartel motive, no solid evidence having come to light. (Reports from 2004 stated that an anonymous tip received that January, as well as a suspicious notation in one of María's computer files, led to Pico linking them to the cartel in the first place.)
But the prosecution appealed and the appellate court convicted Carlos, and in June 2009 he was sentenced to life in prison for aggravated homicide.
In September 2011, five of the people accused of aiding in the cover-up were found guilty and sentenced to anywhere from four to six and a half years in jail—but two months later they were all freed on bail, pending appeal. In 2015, three of the sentences were upheld, while a fourth was dismissed. The fifth person convicted had died by then.
His lawyers having immediately appealed his conviction, Argentina's highest court overturned Carlos' guilty verdict in December 2016 after new testing showed that his DNA didn't match any traces found at the scene. He has always maintained his innocence.
And the investigation remains open.
Carmel: Who Killed María Marta? is streaming on Netflix.