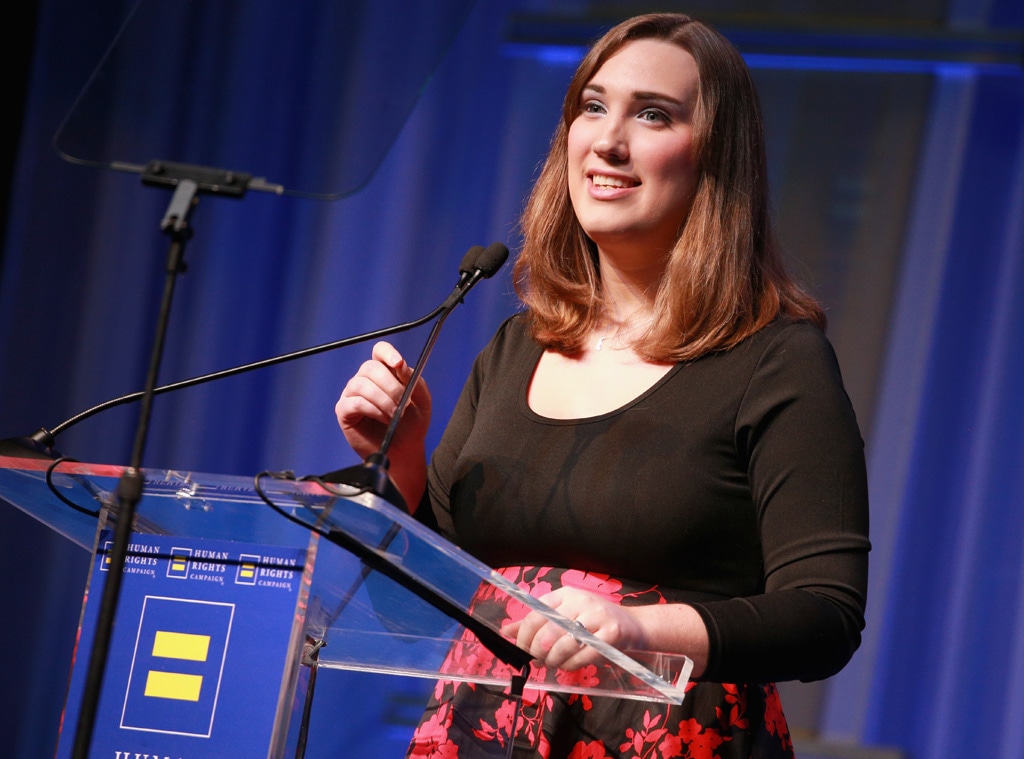 Rich Fury/Getty Images for Human Rights Campaign (HRC)
Sarah McBride just landed a spot in U.S. history books!
The national press secretary for the Human Rights Campaign became the nation's first openly transgender state senator after being elected to Delaware's state Senate. The news broke during the 2020 presidential election on Tuesday, Nov. 3.
"We did it. We won the general election," Sarah raved on Twitter of the monumental accomplishment. "Thank you, thank you, thank you."
She added, "I hope tonight shows an LGBTQ kid that our democracy is big enough for them, too."
Along with her trailblazing win, Sarah spoke like a true champion and said she was ready to fulfill her duties as a senator.
"As Delaware continues to face the Covid crisis," she began her message, "It's time to get to work to invest in the policies that will make a difference for working families."
Celebrities and public figures couldn't help but express their support of Sarah's history-making moment win against Republican candidate Steve Washington.
"Congratulations to my friend @SarahEMcBride," Katie Couric gushed on Twitter.
Billy Eichner shared, "Congrats @SarahEMcBride!!!" Natasha Lyonne uploaded a similar message, writing, "Congratulations @SarahEMcBride!!"
Kevin McHale didn't hold back his excitement, tweeting, "F--k yes @SarahEMcBride!!! Some wonderful news!"
Amy Schumer posted a heartfelt tribute. "Congrats to my friend @sarahemcbride and congrats to Delawareans for electing a great leader," she captioned her Instagram.
"OMG SARAH!!!!!!!! Ahhhhhh IM SO HAPPY FOR YOU!!!! @SarahEMcBride," Colton Hayes expressed. "We did it. We won the general election. Thank you, thank you, thank you."
Danica Roem, who was elected to the Virginia House of Delegates in 2017 and became the first openly transgender lawmaker to serve in a state legislature, cheered on Sarah. 
"She was ready. She did run. And she just won," Danica shared. "@SarahEMcBride, I am so, so, so, so proud of you, of who you are, of the campaign you ran and the values you stand for. I'm so grateful for your friendship and to call you the first out trans state senator in American history."
Watch:
Election 2020: Lady Gaga, Lizzo & More Rock the Vote
Earlier today, Sarah opened up about running for the Delaware senate in a candid interview with People.
"Growing up, it seemed like politics was where you could make the most amount of change for the most number of people in the most number of ways possible," she shared. "And hopefully, it's a way to build a world where more people could live openly, authentically, and freely."
As the publication noted, Sarah broke barriers as the first openly transgender intern at the White House during former President Barack Obama's administration in 2012. However, she made it clear she's not in this business for the press.
"I'm not running to make history or to make headlines," she mentioned. "I'm running to make a difference in this community and to represent this community as best I can by bringing the full range of experiences and perspectives I have with such a long history in this community."
She added, "I am mindful of the responsibility that I hold."