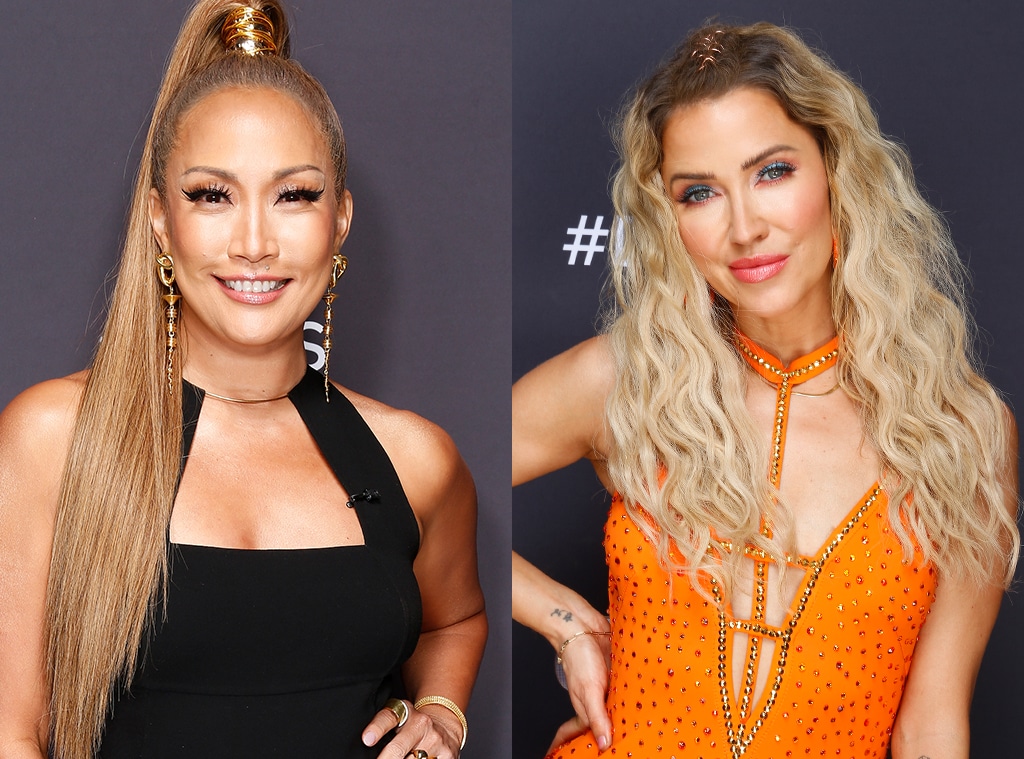 ABC/Kelsey McNeal
When it comes to judging on Dancing With the Stars, Carrie Ann Inaba has set the barre.
However, not everyone is a fan of the television personality's critiques on the long-running ABC competition series. On Tuesday, Nov. 3, Carrie Ann revealed on The Talk that she's received heat online for her tough judging of Kaitlyn Bristowe and Artem Chigvintsev's jive performance on Monday, Nov. 2.
"I still get bullied. Right about this time is when people start to bully me because of the way I judge people," Carrie Ann, who has been a DWTS judge since the show's 2005 debut, said. "I can't believe it still happens as adults."
The Talk co-host further defended herself and explained that she doesn't plan to "change" her style of judging anytime soon.
"I want to tell people who bully," she shared, "'It doesn't make me change the way I judge. I'm not about to change because you try to bully me. It only makes me stand stronger in my convictions and what I believe in.'"
"Just so you all know, for all of you trying to bully me about it, I judge the way I judge from my background," Carrie Ann, a fellow dancer and choreographer herself, continued. "That is my job to do it and I will always do it based on my own conscience, not because you're trying to tell me what to do."
During last night's episode of DWTS, Carrie Ann called out Kaitlyn and Artem for performing a lift during their jive, which is against the rules. "I'm a little torn right now... Can you do a back-tap on your own," Carrie Ann asked Kaitlyn. "I'm going to call that a lift." She ended up deducting points from their performance. 
The DWTS judge isn't the only one to speak out. Artem touched on Carrie Ann's critiques during an interview with Entertainment Tonight.
Watch:
"Dancing With the Stars" Top 3 React to Premiere Night
"At this point, it starts being a little personal... I feel it's definitely, maybe not a different standard, but I feel like it's different expectations," he expressed on Monday night. "I don't know. I'm watching back the dance itself, it's like, 'Oh, you can kick sharper!' Well, I can say that about everybody who dances on the show today. I don't know. It's really odd."
Kaitlyn quipped, "I would love to have her on the podcast, ask her a few questions. I don't know!" But jokes aside, the former Bachelorette star admitted that she was taken aback by Carrie Ann's judging.
"It's always reassuring to talk to other people and have them asking those same questions because we come back and we're like, 'Huh?' We're good at accepting constructive criticism," she said. "We're like, 'OK, great, now let's apply it. Thank you for the wonderful feedback.' With this one, it's like, 'Huh? OK?'"
Kaitlyn added that she just wants to understand Carrie Ann's critiques better and get a sense of "where it comes from."
"Is it from a place where you believe in us and you want us to do better," she questioned. "Is it coming from a place of, 'I was hard on Hannah [Brown] and you're another Bachelor girl'? Where is it coming from and how are we supposed to take it and bring it into our next rehearsal? What do you want us to channel and use from it?'"
She continued, "It's very hard to understand that. Derek [Hough] says things and I'm like, 'Great! Oh my gosh, I could work on that. Let's use that next time.' Same with Bruno [Tonioli]. And when Carrie Ann says things, I'm like, 'What do you want us to do with that?'"
For Artem, he said he feels like they are "never going to make [Carrie Ann] happy."
"It feels really discouraging, in a sense, to come back next week," he mentioned. "I was literally wanting to have earmuffs and put it on top of [Kaitlyn's] head."
This isn't the first time Carrie Ann has offered some tough love to Kaitlyn and Artem. Last week she gave them a low score of seven, and interestingly enough, fans discovered Artem and Carrie used to date in 2006 after meeting on the set of So You Think You Can Dance.
Fans wondered if that played a role in Carrie's criticism with one Twitter user writing, "@carrieanninaba just because to and Artem used to date there's no need to be so hard on @kaitlynbristowe."
Another user alleged, "Okay I had no idea Carrie Ann Inaba used to date Artem and also tried out for the bachelor and didn't get in, so this MUST BE WHY she is always so hard on previous bachelorette's on DWTS, right now Kaitlyn and last year(was it last year?) Hannah B."
Someone else added, "@carrieanninaba please learn to judge ALL contestants the SAME way. Don't put your personal feelings ahead of that. I feel for some contestants on @DancingABC bc you clearly don't like them based on how you judge them. I don't see @derekhough or @BrunoTonioli doing that."
Dancing With the Stars airs Mondays at 8 p.m. on ABC.