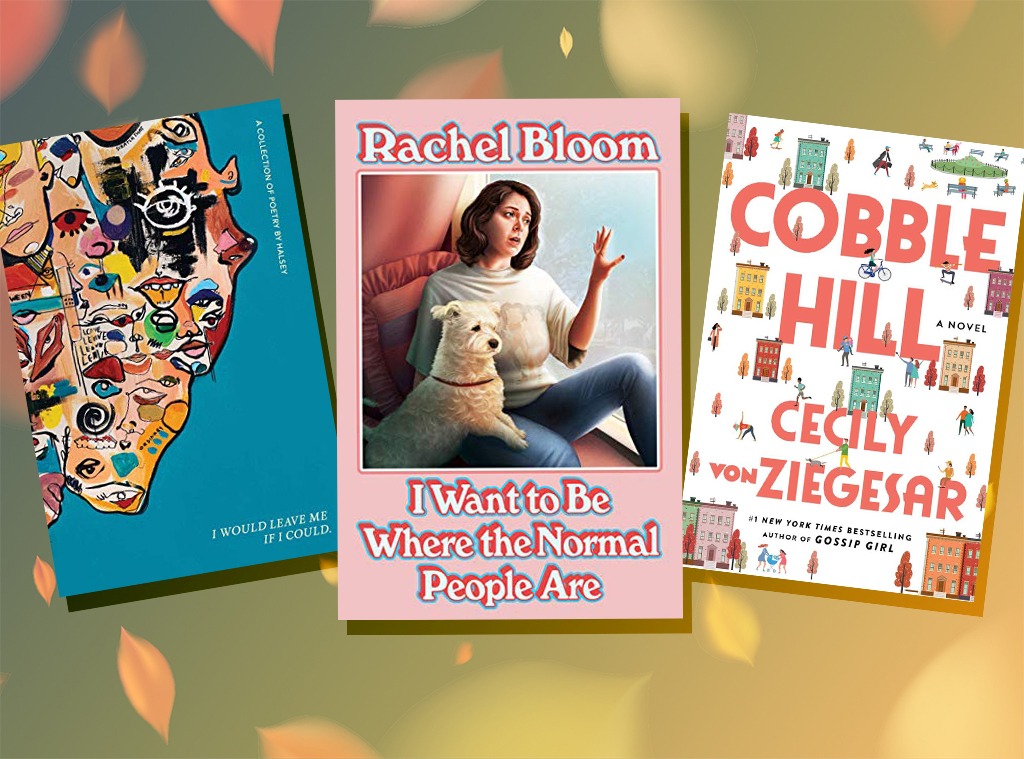 We love these products, and we hope you do too. E! has affiliate relationships, so we may get a small share of the revenue from your purchases. Items are sold by the retailer, not E!
So...anyone else scrambling to meet their ambitious quota of books to read in 2020 that they set back in January? Oh, we were so young and hopeful then.
We're probably not alone in not reading as much as we set out to this year and that's fine. Life happens. (Not to mention a pandemic.) But that doesn't mean you can't start now and November is the perfect month to dig back in. 
Several celebrities are releasing memoirs and books of poetry, including Rachel Bloom and Halsey, and there are a few thrillers coming out that'll keep you up all night, promising to read "just one more chapter."
Plus, a highly anticipated sci-fi sequel is finally being released after almost a decade. 
So whether you're looking for an epic novel to get lost in during your Thanksgiving holiday or want to get to know one of your favorite celebs more intimately, we've got something for everyone among our list of November's top reads...
The Haunting of Brynn Wilder by Wendy Webb
Just because it's November doesn't mean you can't let a little of October's spooky vibes continue and Webb's chilling tale of a woman running from a tragic loss will put a spell on you. The titular character thinks she's found an escape from her past in the small town of Wharton, but she soon discovers the quaint boarding house she's living in is filled with more than just creaky floors and seemingly friendly fellow lodgers. (November 1)
Clanlands: Whisky, Warfare, and a Scottish Adventure Like No Other by Sam Heughan and Graham McTavish
Gird your kilts, Outlander fans. Heughan, adored for playing the beloved Jamie Fraser on the hit Starz series, and McTavish, who played Dougal MacKenzie in the first two seasons, share their unexpected friendship with loyal followers in their travel book. In Clanlands, the pair document their road trip through Scotland, exploring the land, finding themselves and, of course, enjoying some whisky. (November 3)
White Ivy by Susia Yang
Yang explores the complexities of the immigrant experience in this twist-filled read, telling the twisted tale of Ivy Lin. A Chinese immigrant growing up in a low-income apartment complex outside Boston, Ivy is desperate to assimilate with her American peers, so she does what her grandmother taught her to do best: Shoplifts her way to fitting in. But what happens when she reconnects with the golden boy from her childhood as an adult, only to have a ghost from her past threaten to expose her façade? (November 3)
One Life</> by Megan Rapinoe
We're thinking the two-time Women's World Cup champion and Olympic gold medalist should prepare to add "bestselling author" to her resume after the release of her intimate memoir. In One Life, Rapinoe not only shares behind-the-scenes details about her impressive soccer career but also her journey in becoming a voice for social justice. From her decision to come out as a gay after the 2011 World Cup to advocate for marriage equality to the 2019 lawsuit against the U.S. Soccer Federation over gender discrimination, no topic is offsides for Rapinoe and that's why we love her. (November 3)
The Harpy by Megan Hunter
Sometimes you just need a f--ked up fairy tale and that's exactly what Hunter delivers in this explosive story about marriage and infidelity. After a couple's seemingly picture-perfect life is shattered when Lucy discovers James has been having an affair, they decide to stay together under one condition: She is allowed to even the score by hurting him three times, inciting a delicious and dangerous game of power and punishment that might just go too far. (November 3) 
Cobble Hill by Cecily Von Ziegesar
The Gossip Girl author is trading the high school hallways and debutante balls of the UES for the world of elementary schools and midlife crises in Brooklyn in her latest novel. (Imagine Dan Humphrey as a hip dad questioning his marriage and job.) Cobble Hill centers on an eclectic mix of characters, all dealing with their own personal issues in a very tight-knit community. You know you want to read it. XOXO. (November 10)
The Arrest by Jonathan Lethem
If you're a fan of post-apocalyptic and dystopian novels but are getting a little weary of the genre, let Lethem reinvigorate your interest. The Motherless Brooklyn scribe investigates a future that answers what happens when we all of our daily comforts that we take for granted—think airplanes, cars, computers, etc.—just stop working through the captivating lens of two siblings and the man that comes between them. (November 10)
Little Threats by Emily Schultz
Fill your suspense tank for the month with Schultz's haunting whodunit about whether or not a woman murdered her best friend...after she's already served fifteen years in prison for the crime. Twin sisters Kennedy and Carter are forced to confront their familial bonds and secrets after Kennedy's released from prison after confessing to the murder even though she can't actually recall anything. Enter: A crime show host arriving in town determined to find the truth. Did she actually do it or was she set up? What is their father hiding? And how can you share the face of a killer? (November 10)
The Office of Historical Corrections by Danielle Evans
After the award-winning Before You Suffocate Your Own Fool Self, Evans is back with another collection of short stories that prove she is one of the most powerful voices in the genre. In The Office of Historical Corrections, her characters grapple with issues of race and culture and how they impact American history. Prepare for this provocative novella to stay with you long after you reach the final page. (November 10)
I Would Leave If I Could by Halsey
The "You Should Be Sad" singer will be making her fans happy this holiday season with her book of poetry that tackles subjects including doomed relationships, family ties, sexuality, mental illness and feminism. "I wrote a few thousand sentences but am somehow struggling to string together a single one to summarize how excited I am about this," Halsey tweeted back in June about her poems' release. Same, girl. Same. Bonus: The cover art features an original painting by the star and she also voiced the audio book. (November 10)
No One Asked For This by Cazzie David
You might know her as Larry David's daughter. Or, more likely, as Pete Davidson's girlfriend before the Ariana Grande of it all. But after reading  her collection of dark, funny and relatable essays, it's impossible not to be obsessed with Cazzie David, the person. With a huge serving as self-awareness, the writer and actress serves up sharp takes on social media, anxiety, family dynamics and, of course, dealing with your BF breaking up with you only to enter one of the decade's most public relationships. (November 17)
I Want to Be Where The Normal People Are by Rachel Bloom
This Crazy Ex-Girlfriend is officially our favorite current writer thanks to her collection of hilarious and heartfelt personal essays. The Emmy winner explores the mundane, the momentous and everything in between in I Want to Be Where the Normal People Are, from her love of Disney to her struggles with depression and OCD. Plus, there are also amusement park maps on the subjects of insecurity, fame and anxiety for your enjoyment. Forget normal people, we want to be where Bloom is. (November 17)
Home Body by Rupi Kaur
Kaur's musings are an essential part of our self-care routine, with her previous releases—The Sun and Her Flowers and Milk and Honey—nestled permanently on our nightstands. The bestselling author is back with her third collection of poetry, which is filled with reflections on love, acceptance and embracing change. Feel free to welcome these intimate explorations into your home this month because if any author can cultivate a safe space, it's Kaur. (November 17)
Frontier Follies: Adventures in Marriage and Motherhood in the Middle of Nowhere by Ree Drummond
The Pioneer Woman continues her streak of being relatable, funny and so-darn-charming in her collection of stories and musings on country life. Frontier Follies is a deep-dive into Drummond's life, including insight into her 25-year marriage, her experiences with childbirth and raising her four children. So bake up a cobbler, pour a cup of coffee and virtually travel to the Drummond ranch for a cozy celebration of family. (November 17)
All That Glitters by Danielle Steel
The only true currency in this bankrupt world is Steel releasing several novels in a calendar year. If she writes it, we will read. Her latest? A woman's struggle to cope with the loss of her parents after they are murdered in a terrorist attack and her journey to find herself and happiness again. 
(November 17)
Ready Player Two by Ernest Cline
The top-secret follow-up to Cline's 2011 debut novel that became an instant hit is finally here. And by finally we actually mean after a torturous nine-year wait. (We see you, Game of Thrones book fans!) While details are scarcer than paper towels at your local Costco, here's what we do know: The OASIS and the real world are in jeopardy after Wade Watts discovers a powerful technological advancement that comes with yet another quest from James Halliday. Ready player us. (November 24)