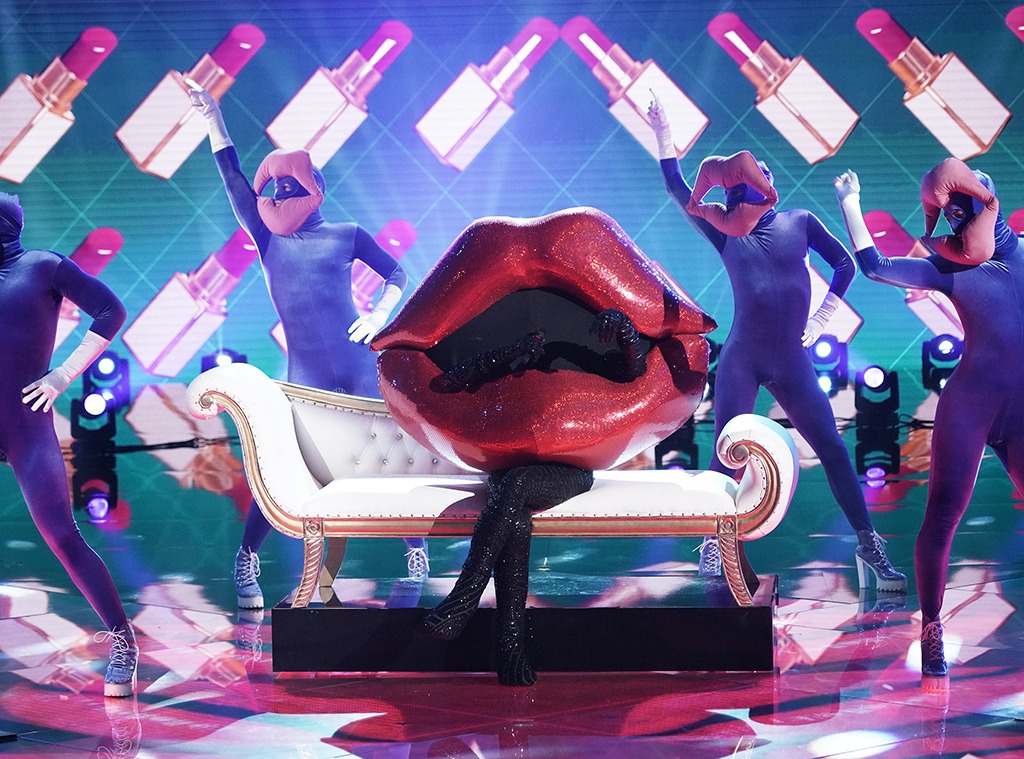 Fox
Another mask has come off. 
The Masked Singer just debuted the third and final group of singers hoping to win that golden mask in season four, and the the first reveal from Group C did not disappoint. After a thrilling performance of "Native New Yorker," the Lips took off her Lips to reveal herself to be none other than Wendy Williams. Broccoli, Jellyfish, Squiggly Monster and Mushroom remain masked in Group C. 
This was not the biggest shock since Wendy Williams has a hard time not being Wendy Williams. It was pretty clearly her from the moment she opened her mouth, even as Robin Thicke and Ken Jeong tried their best to throw out Sandra Bernhard and Allison Janney, and Ken even guessed that it was Mariah Carey, much to Nick Cannon's confusion. 
Ahead of the airing of the big reveal, Wendy chatted with E! News and opened up about what it was like to hit the Masked Singer stage. 
E! News: Why did you want to do this show? 
Wendy Williams: It's something really unexpected to people who are familiar with me. I'm also a fan of the show. I watch Masked Singer and when they called, I said okay. Okay okay! I picked my costume, they asked me what song, I told them what song and away we went.
E!: How hard was it to keep such a secret since you live such a public life? 
Wendy: It wasn't difficult keeping it off social media. But it was difficult keeping it from my family and certain friends. I wanted to tell them. Once I got out to LA I was really excited to tell them. But after my first or second day of being there, it didn't feel difficult because I realized I was in deep. Like, what did I sign up for? I'm nervous, I'm a little frightened. The costume is beautiful. Everyone does so much work to make sure everything is done properly for the guest. You can't walk around at all. You go from the hotel to the Masked Singer set. And I didn't want to disappoint. I didn't want to disappoint them, disappoint myself.
E!: Did your staff know you were doing this?
Wendy: The show didn't know. When they find out and my episode comes on, they are going to gag. They [Masked Singer] called my stylist but they didn't say where they were calling from. They acted like, we want to make Wendy a dress and we need her current measurements. I remember the day that Willie measured me. I said, "What are you measuring me for?" He said, "Well somebody wants to make you a special dress coming from Paris." It turns out it was the Masked Singer people being sneaky and secretive with Willie. Willie has no idea. He has no idea I was out there. He didn't even know I left town.
E!: How do you think they'll react when they find out? 
Wendy: Oh, they're going to laugh. Nothing but laughter. Laughter and wow. "Wow, you do keep a secret!"
E!: What was it like to perform in that costume? 
Wendy: You know, the costume is made of thousands of Swarovksi crystals. I see you through the mouth.  One part rests on my shoulders, the other part is velcro, you pull it up and the two parts are velcroed together. Its hot in there. The costume is really heavy.
Watch:
Wendy Williams Celebrates Star on the Hollywood Walk of Fame
E!: Were you worried the panel would guess you right away?
Wendy: Kind of, sort of. Only because I don't know how to falsetto my voice. A few times I laughed with nervous laughter. But also happy laughter. Because I couldn't believe I was on the set of The Masked Singer. (She sings) "New York City girl….."
E!: Are you shocked that nobody saw you when you were filming this?
Wendy: I'm not shocked that nobody saw me. The whole studio, it's a gigantic lot. All the car services serve the individual contestants. They would pull up one at a time and you have on all your stuff, your mask, your hair tucked in the back, a shield, a mask over your mouth. You couldn't show your ankles! They gave me black socks, I had black sneakers. And then I got back to the hotel and I'd walk like that all the way back to my room. And then I'd get inside my room and go, "Uh oh. What have I gotten myself into?"
E!: What are you most looking forward to after the reveal airs? 
Wendy: I will talk about it the next day on the show. I'll call my mother and father. I'll call my son right before coming on. I'll tell him, "Okay, this is what I've been working on." But no one even knew I was gone. I was gone seven days. 
E!: Do you have advice for other celebs thinking about doing the show?
Wendy: Do it. This is a top quality production. Do it.
Keep up with all of the season four contestants below! 
The Masked Singer airs Wednesdays at 8 p.m. on Fox.