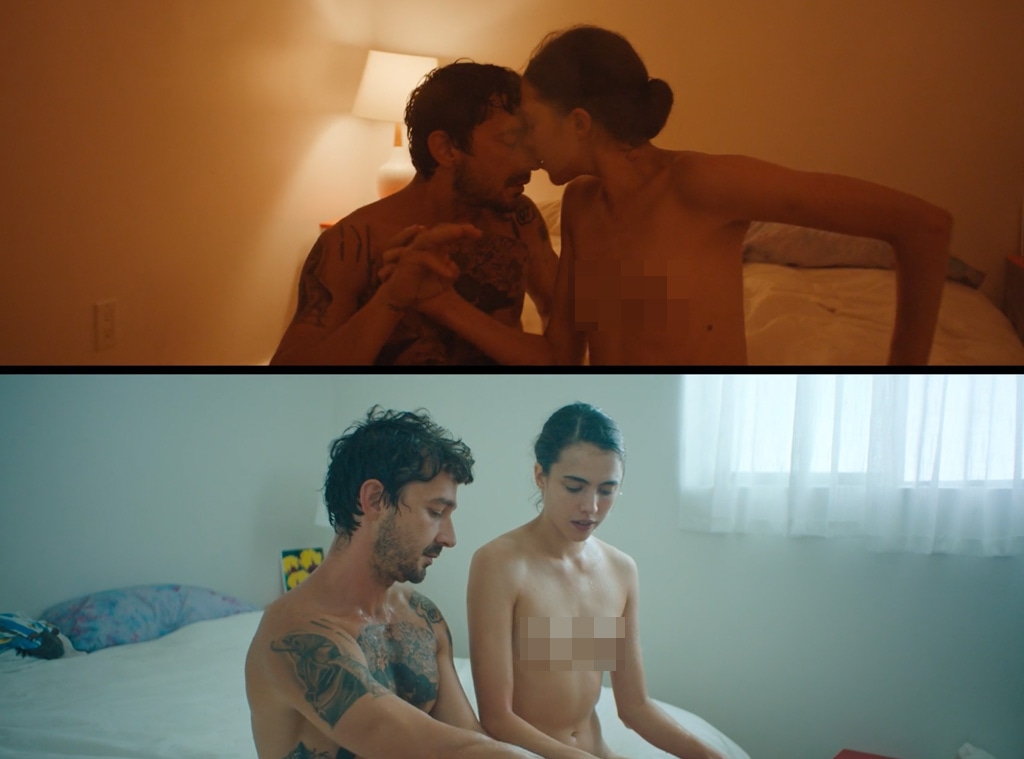 LaBeouf, Rönkkö & Turner/Vimeo
Shia LaBeouf and Margaret Qualley's latest project is for adult eyes only.
The actors appear completely nude in the newly released music video for "Love Me Like You Hate Me," a somber song by Margaret's sister, Rainey Qualley, who goes by the stage name Rainsford. 
In the short film, Margaret and Shia portray a couple in various stages of their romance. "The 10-minute split-screen film portrays the tenderness and toxicity of a relationship, presented from the dual, and at times conflicting, perspectives of a couple," a press release describes, according to Consequence of Sound. "With a gently disorientating structure, the piece builds towards an open-ended resolution that loops back on itself, returning us to where we began."
At times, Margaret and Shia are completely nude as they're in the throes of a choreographed sex scene. But, as Rainsford explained on Instagram, "It's filled with love and pain and tenderness and rage and real pieces of my heart."
Watch:
Shia LaBeouf & Mia Goth Divorce Amid FKA Twigs Dating Rumors
Rainsford and Margaret's mom, actress Andie Macdowell, commented on Instagram, sharing, "Incredibly beautiful congratulations everyone involved... Stunning."
In typical mom fashion, the Four Weddings and a Funeral star commented a second time. "This time it made me cry. So so Beautiful," she remarked. "I'm smiling and crying at the same time and I'll probably watch it in about oh I don't know I'm sure I'm gonna watch it at least 100 times."
Congratulations came in from other famous friends, including Debby Ryan and Leslie Odom Jr.
The video's release also coincided with Margaret's birthday, bringing new meaning to the term birthday suit.
Jokes aside, Rainsford thanked her sister for participating in the music video, writing on Margaret's Instagram, "Happy happy happy birthday. You're the best[.] Gift is my whole life."