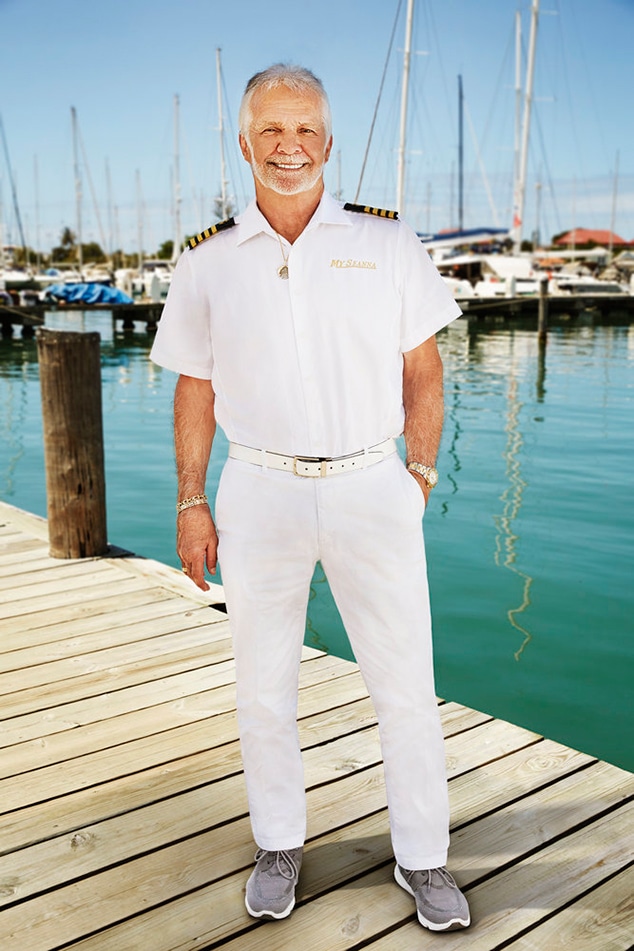 Laurent Bassett/Bravo
Captain Lee Rosbach and his crew are trained to handle anything.
Thus, when the world started to shut down due to the coronavirus pandemic amid filming season eight of Below Deck, the beloved captain assured us that the My Seanna crew kept their composure. Yet, despite the cool-heads, Captain Lee hinted that the experience was rather jarring.
"You have to keep in mind that we're pretty isolated there," Captain Lee told E! News during an exclusive chat. "We're kind of like, in a cocoon…in spite of the fact that we have satellite, we have everything that we need, but it comes in a little bit late and a little bit tardy."
Finding some humor during this serious topic, Captain Lee quipped, "Not to plug another show, Don't Be Tardy for the party when it comes to staying up to date with things. It can't be helped."
During the season eight first look, viewers watched as the Below Deck stars—including Eddie Lucas, Rachel Hargrove, Francesca Rubi, Elizabeth Frankini, Isabelle Wouters, James Hough and Shane Coopersmith—learned about the chaos surrounding COVID-19.
Imagine being abroad in the Caribbean when learning about hand sanitizer selling out and flights being grounded?
In the trailer, Captain Lee accurately declared: "The f--king world's going to hell in a f--king handbasket."
Giving some insight into this comment, the longtime Bravo star shared what it was really like receiving coronavirus updates at sea.
"You're wondering what's really going on in the outside world and how much information are you getting," the seasoned captain continued. "And we still have our jobs to do."
Watch:
Andy Cohen's Heartwarming Reunion With Son Ben
Per Captain Lee, he and the crew had to "stay focused" and "deal with the information as it came in." Although Captain Lee's crew was "concerned" about the growing pandemic, they never went into "full panic mode."
He added, "When you work on a yacht and you work on a super yacht, you're used to the unexpected and things coming up and emergencies happening. It has a tendency to prepare you, more so than the average individual, I think."
In Captain Lee's tenure of being a captain, this was the first time he's seen "the world totally shut down."
"But it happened, and it happened in real time," Captain Lee expressed. "The thing that you have to do is realize, 'What can I do? What can I do to make it better?' Take care of the things you can take care of."
In regard to how the yachting industry may've been affected by COVID-19, Captain Lee's answer may surprise you.
"I think the yachting industry, especially the charter industry, is very well suited to deal with it," Captain Lee explained. "Because once we leave the dock, I mean, we're totally isolated."
Thanks to precautions, such as testing crewmembers and guests, the charter business is going strong throughout this pandemic.
"It's probably thrived a little bit," he concluded. "It's the ideal vacation that you can still take because it's accessible to people and they feel safe."
Below Deck season eight premieres Monday, Nov. 2 at 9 p.m. on Bravo.
Binge past episodes of Below Deck on Peacock.
(E!, Bravo and Peacock are all part of the NBCUniversal family.)