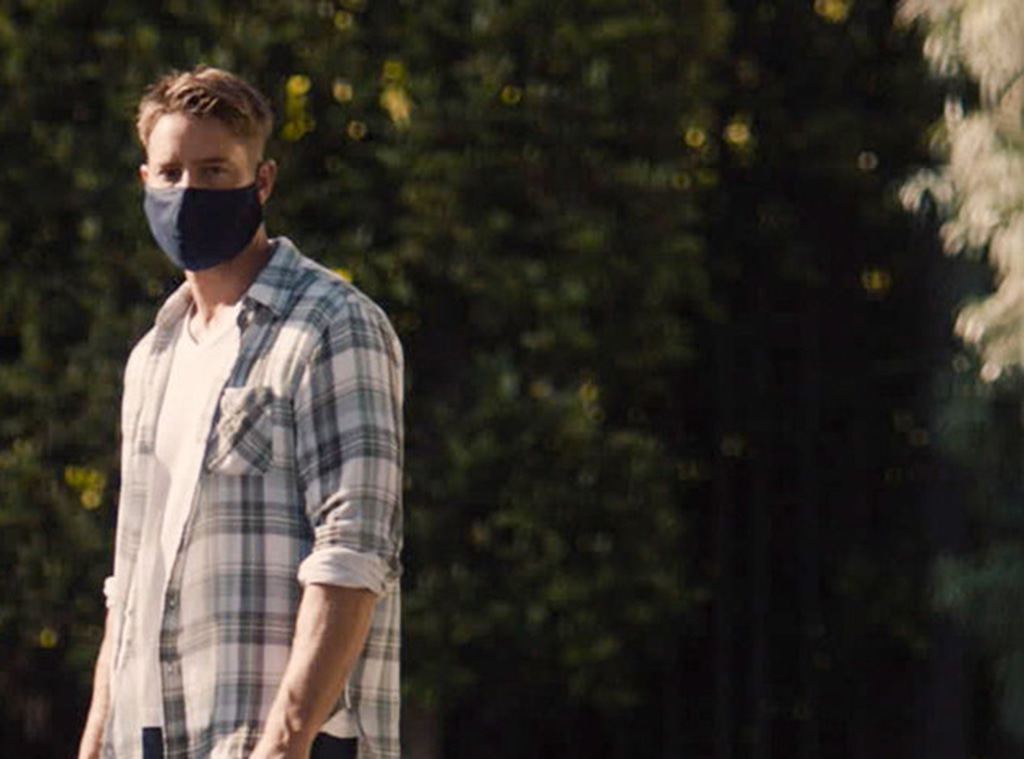 NBC
Kevin (Justin Hartley) has some big news for Kate (Chrissy Metz) on This Is Us. 
In a new sneak peek of the season five premiere, Kevin goes to Kate's house to deliver a big surprise to her and Toby (Chris Sullivan). Kate tells him to get further back in the yard (since this is the time of COVID-19), and she and Toby barely give him a second to speak. Toby thinks his big news is that he's the new Batman or maybe that he's starting his own tequila brand, or maybe he knocked somebody up! 
Kevin's face says it all, and he introduces Madison (Caitlin Thompson), who has been waiting in the car. Not only is she pregnant, but she's having twins! And they're Kevin's! Toby can only mumble nonsense while Kate's speechless, and honestly we laughed too hard at this whole exchange. We've missed these people. 
It's also nice to see that smile on Kevin's face as he explains to the neighbor Gregory (Tim Omundson) why they're all standing in the yard hugging themselves. 
After seasons and seasons of Kevin being fairly miserable, it's so nice to see him grinning like a maniac over the prospect of being a dad, even if we all know there's still some misery in there somewhere over what just happened with Randall (Sterling K. Brown). 
In the season four finale, Kevin and Randall got into the fight of their lives and said some things that they can never unsay. Kevin, for instance, told Randall that the worst thing that ever happened to him was Randall becoming part of the family. Randall told Kevin that Jack died ashamed of him and Kevin would never know what it was like to devote himself to another person. 
That explains why, in a flash-forward to the Big Three's 40th birthday, Kevin reminds his mother that they are not speaking to Randall right now. The season five premiere trailer shows Randall arriving at the cabin, but it's going to take a lot for these two to move past their issues. Creator Dan Fogelman described it as "Cain and Abel type stuff," which means it runs deep. 
Kevin learned of Madison's pregnancy right before that fight, and he then went back inside and told her that he was all in, even if he has to give up on finding the romantic love of his life. Ahead of the season four finale, Fogelman said that he and the writers had mapped out the fifth and sixth seasons of the show, and it was safe to say Kevin's love life is not actually over. 
Watch:
"This Is Us" Stars Dish on What Goes Down in Group Chat
"There's basically many more chapters in Kevin's romantic story," he said. "Kevin has a journey ahead of him, and I don't want to get too far ahead of it just yet."
Fogelman also confirmed that Cassidy (Jennifer Morrison) and Sophie (Alexandra Breckenridge), two of Kevin's exes, aren't totally out of the picture yet, "whether or not it's related to Kevin." 
Season five of This Is Us premieres Tuesday, Oct. 27 at 9 p.m. on NBC.
(E! and NBC are both part of the NBCUniversal family.)