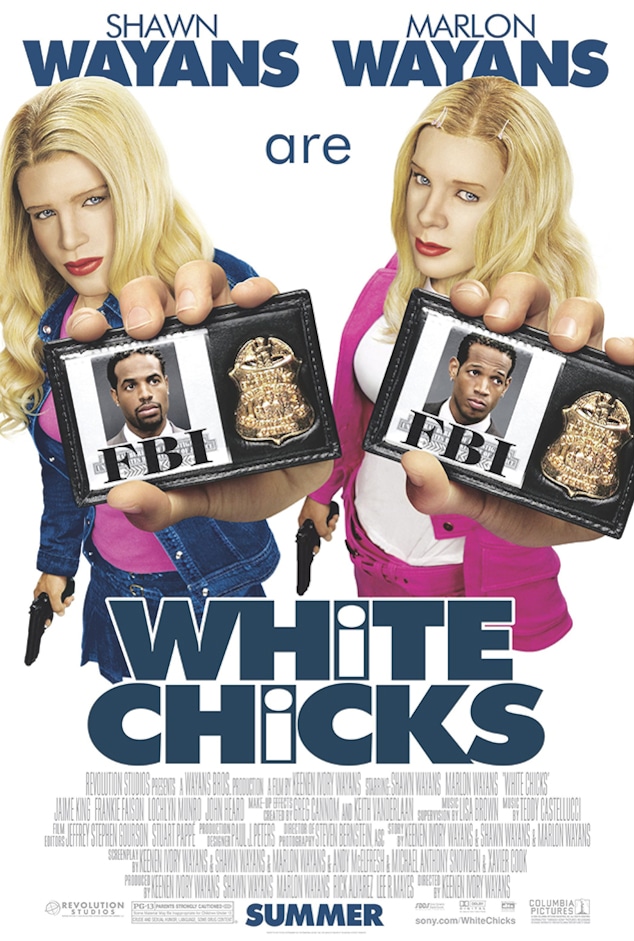 Wayans Bros/Revolution/Kobal/Shutterstock
Is White Chicks really getting a sequel?
Marlon Wayans set the record straight during an Oct. 22 episode of Watch What Happens Live With Andy Cohen. As fans may recall, Terry Crews fueled speculation after he appeared on the Bravo show last year. 
"I actually got with Shawn [Wayans]," the 52-year-old said in June 2019, "and he was like, 'Man, we're doing it. We're getting it going.'"
But on Thursday, Marlon suggested this may not be the case. "Terry's lying," he said, "but I ain't going to say that to him because he's too buff and I don't want to get beat up."
And while the 48-year-old said "we're working toward it," he also wouldn't say it's happening yet. "I'll let you guys know when it happens, happens," he continued. "But we're moving slowly toward it….I like doing movies where I'm a Black man. It's a lot less makeup."
This wasn't the first time Marlon had addressed the rumors. He also did so on Instagram days after Crews' guest appearance. "My face when @terrycrews tells the world #whitechicks2 is happening but we still don't have a deal in place," he wrote alongside a surprising scene from the movie. "Now every fanworld wise dms excitedly 'IS THIS TRUE'?! Um... NO! Not yet. #ohterry."
In the 2004 film, Marlon and Shawn play two FBI agents undercover as white women, who are hotel heiresses and the targets of a kidnapping plot. As for Crews, he played a man who tries to romance Marlon's disguised-as-a-woman character.
"I'm staying in shape just for that movie," Crews quipped in 2019. "I've been working out for 15 years so we could do White Chicks 2, y'all. Please!"
Watch the video to see the interview.
(E! and Bravo are both part of NBCUniversal).