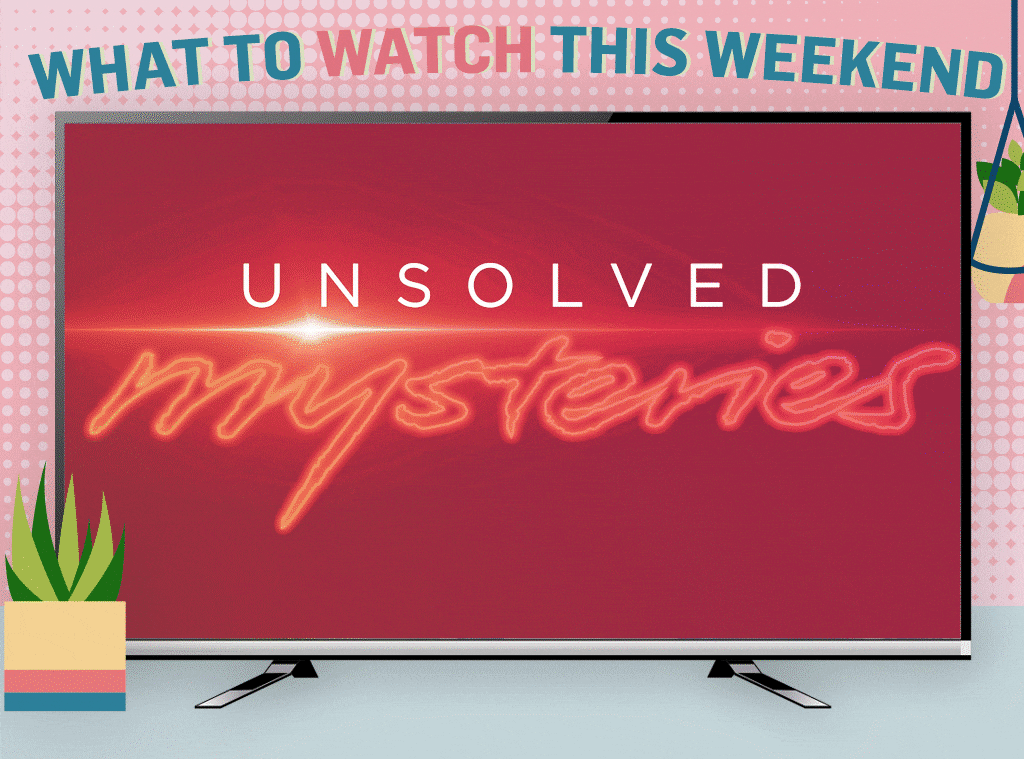 Netflix; HBOMax; E! Illustration
The theme of this weekend? Remakes ahoy.
Not only are fans being treated to the highly anticipated retelling of Roald Dahl's classic novel The Witches, but we're also getting a timely reimagining of Rebecca starring two stars who are currently making headlines for their love lives. 
But it's not just remakes coming to streaming this Saturday and Sunday, as Netflix is dropping the second half of one of the summer's most popular true crimes series and Olaf is finally getting his time in the spotlight.
Plus, Hulu is debuting a satirical horror flick perfect for your Halloween pre-game and we're suggesting a major rewatch before the return of one of 2019's most popular series. Hint: Baby Yoda may or may not be involved.
Here's what to watch this weekend, Oct. 24-25....
If You've Just Stopped Obsessing Over the First Batch of Unanswered Cases: Don't get out of that armchair just yet, detective, as Netflix just dropped new episodes of Unsolved Mysteries. Yes, prepare to spend your weekend getting lost in Reddit threads. Following Volume 1's success after its July 2020 release, Volume 2 introduces six additional cases, including the disappearance of a death row inmate during a Christmas shopping field trip (for real) and a deep-dive into the paranormal phenomenon that have taken place in Ishinomaki, Japan after the 2011 tsunami. (Where to Watch: Netflix)
Watch:
Does Anne Hathaway Have Any Other Vices Besides Alcohol?
If You're Searching For a New Halloween Flick to Enjoy With Your Brats: Ooh, did we say brats? We meant children, of course. Anne Hathaway is all camp and all wickedness as she takes on the role of the Grand High Witch in the Robert Zemeckis' new adaptation of Roald Dahl's The Witches. Originally set to be released in theaters, the flick is coming to streaming early as a holiday treat. Chris Rock serves as the narrator and Octavia Spencer co-stars in the witchy romp, which also serves as a Devil Wears Prada reunion between Hathaway and Stanley Tucci. That's all. (Where to Watch: HBO Max)
And if you want to revisit Anjelica Huston's iconic turn as one of the most wicked witches in movie history, the 1990 version would make for a most delicious double-screening. (Where to Watch: Netflix)
If You Want to Know Who Lily James Is After Hearing About Her in the News Non-Stop Recently: Now that we've got the Dominic West scandal mention out of the way, James, known for her roles in Baby Driver, Cinderella and Downton Abbey, teams with Armie Hammer—another recent headline-maker—in Netflix's remake of Rebecca. Based on the 1938 novel and Alfred Hitchcock's Oscar-winning 1940 film, the movie is the perfect date night pick heading into Halloween. One part romance and one part horror and one part psychological thriller, Rebecca is a gothic feast.(Where to Watch: Netflix)
If You Are Looking for Some Inspiration: Billy Porter, Samira Wiley, Cheyenne Jackson, Anthony Rapp, Shannon Purser, Heather Matarazzo, Sarah Gilbert, Jamie Clayton, Isis King and Gale Harold. That is the all-star lineup HBO Max assembled for Equal, its docuseries about the fight for LGBTQ+ rights in America, spotlighting several important figures and historic moments throughout the 20th century. (Where to Watch: HBO Max)
If You Love In-Depth Interviews With Your Favorite Celebs: David Letterman's My Next Guest Needs No Introduction returns for its third season with its most star-studded slate yet: Kim Kardashian West, Robert Downey Jr., Dave Chappelle and Lizzo each headline one of the four episodes. Spoiler alert: Here are the biggest bombshells from KKW's revealing time on the couch.  (Where to Watch: Netflix)
If You Are Missing Baby Yoda More Than Most of Your Fam: Hard same, friend. Why not rewatch the first season of The Mandalorian, which gifted the world with the salve that is that soup-drinkin', power-wieldin' 50-year-old miniature green cutie, ahead of season two's return on Oct. 30? (Where to Watch: Disney+)
If You're Ready to Build a Snowman: Need more Frozen in your life? Don't worry, Disney is here for you. Once Upon a Snowman tells the previous unknown origin story of Olaf, everyone's favorite sidekick, voiced by Josh Gad. The animated short film follows Olaf's first steps as he comes to life and searches for his identity in the snowy mountains outside Arendelle and features Idina Menzel and Kristin Bell reprising their voice roles of Elsa and Anna. (Where to Watch: Disney+) 
If You're Already Obsessed With Anya Taylor-Joy: The Witch and Emma star commands her latest project in The Queen's Gambit, Netflix's movie about real-life figure Beth Harmon, an orphan chess prodigy who struggled with addiction before becoming a Grandmaster in chess. At this point, we'd basically apologize to Taylor-Joy if she ran over our foot with her car; that's how obsessed we are. (Where to Watch: Netflix)
If You're in the Mood for a Horror Movie With Some Body: Insecure's Elle Lorraine and Lena Waithe star in Bad Hair, a satirical psychological thriller from Dear White People's Justin Simien that was one of the buzziest releases to come out of the 2020 Sundance Film Festival. Set in 1989, the movie follows the ambitious Anna (Lorraine) after she gets a weave in order to make it in the image-obsessed world of music television. But things take a turn for the hairy when she discovers her new tresses may have a mind of their own. While it may center on a killer weave, Bad Hair explores the often-overlooked cultural issues and conversations about Black women's hair. (Where to Watch: Hulu)
If You're in Need of a New Animated Movie: An adventurous girl builds and flies a rocket ship in outer space to meet a mythical goddess after her father brings home his new girlfriend in Over the Moon. With a stacked roster of voice actors, including Hamilton's Phillipa Soo, Jon Cho, Sandra Oh, Ken Jeong and Margaret Cho, this retelling of the classic Chinese tale about the moon deity Chang'e features catchy tunes, colorful animation and a powerful message about loss and grief. (Where to Watch: Netflix)