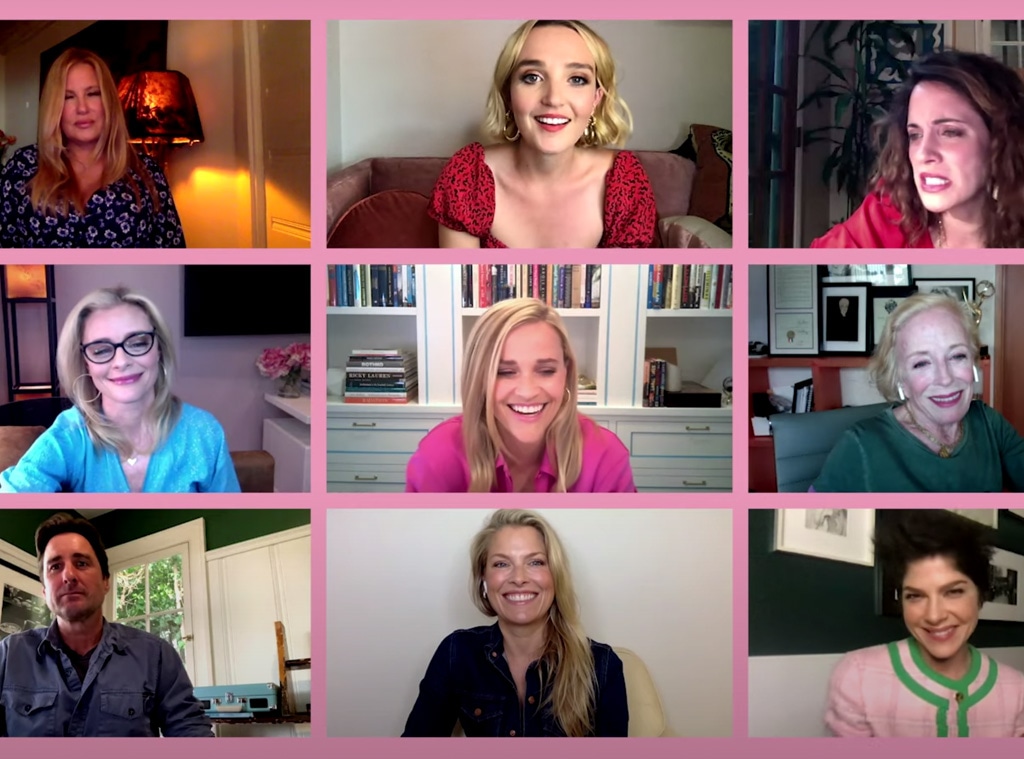 Reese Witherspoon x Hello Sunshine/Youtube
This Legally Blonde reunion is guaranteed to release some endorphins... and as Elle Woods famously said, "Endorphins make you happy!"
On Tuesday, Oct. 20, fans of the iconic romantic comedy reveled in nostalgia after the cast teamed up for one memorable reunion. Twenty years after the film's production, Reese Witherspoon, Luke Wilson, Selma Blair, Jennifer Coolidge, Ali Larter, Holland Taylor and others joined in on the fun. What, like it's hard?! 
"Of all the movies that I've made, there is one that comes up more than any other and that is Legally Blonde," Reese began the virtual reunion. "And I think that's because of Elle Woods. I think she just inspired people to believe in themselves. She just has a true sense of herself and she always wants to see the best in others."
The actress even shared that Elle Woods has "inspired her to always keep an open mind and to be an advocate for myself and for other people in this world." If anything, Reese pointed out that what we could all use during this time is her character's uplifting "spirit."
Kicking things off, moderator and SNL star Chloe Fineman asked if Reese knew how much of an impact Legally Blonde would have. "Oh my gosh, no. Not at all," the Big Little Lies star admitted. "I don't think any of us knew what this film was gonna turn out to be or how much it would inspire young women and young people across the world."
"The thing that actually really touches my heart is that more people stop me and say, 'I went to law school because of Elle Woods," she revealed.
Speaking more about the movie, Reese confessed that the famous bend and snap scene was originally filmed as "a full musical sequence" that ended up being cut out. Jennifer chimed in, "We filmed that for a month!"
In the end, Reese explained that the musical portion felt "odd" compared to everything else.
Watch:
Reese Witherspoon's "Legally Blonde" Virtual Reunion
When talking about Holland's scene-stealing moment when her character confronts Elle Woods when she wants to quit school, the actress said she couldn't believe how much it "would really resonate 20 years later."
"It's really a moment when an older person sees a younger person... who could be really knocked off on her pins," Holland expressed of the scene. "And it really doesn't take much, and I think we've all had that experience... Where some senior person cuts right through you and gives you a little shove, a little lift. It was a very sweet moment to play."
Selma also touched on how the film had one special cast, which doesn't happen very often. "Everyone from the actor to the UPS guy delivering a package, everyone was so perfect," she gushed. "Everyone created a really iconic snapshot what needed to be for this movie."
"The stars were aligned so perfectly," Jessica Cauffiel added. "Reese, you really were the guiding light and you elevated us to place a focus, dedication and seriousness and commitment."
"This was my college…," Reese said, tearing up. "This is where I went to college. I didn't finish college but I finished Legally Blonde and we all got together and made this movie together that has inspired so many young people and it's just such a gift... Every time people come up to me and tell me they love this movie, I give it all to you. I share it all with you all."
In true Elle Woods fashion, the reunion featured a charitable aspect and was a fundraiser for World Central Kitchen.
Watch the full reunion in the video above!