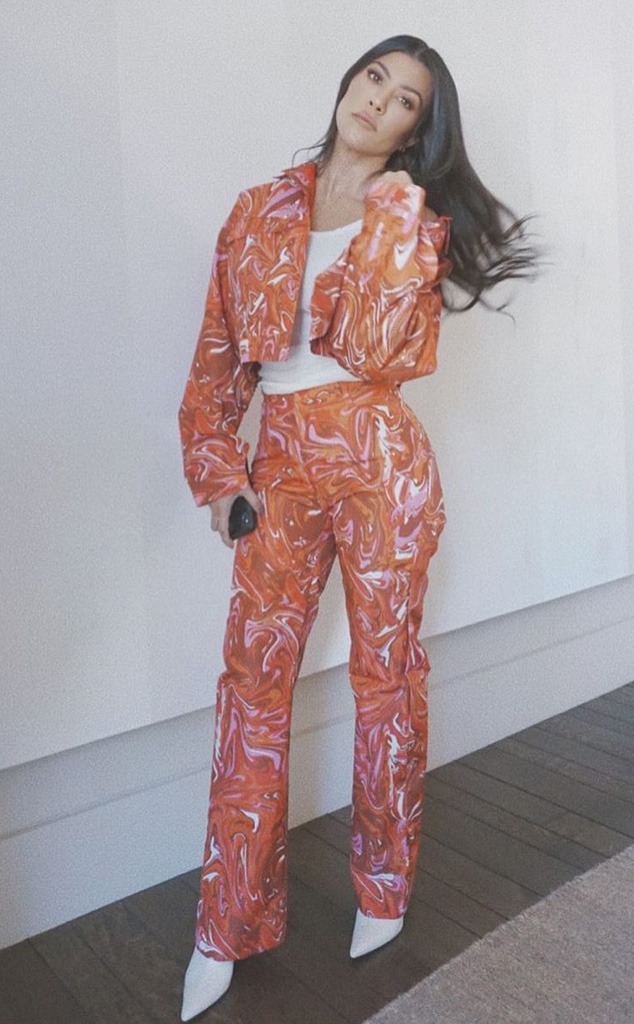 Kourtney Kardashian/Instagram
Scott Disick is always one to keep it real.
Taking to Instagram, Kourtney Kardashian posted one stylish snap that showed off her wildly colorful co-ord set that looked like an artist's mixed paints. "I don't cook, I don't clean," the Poosh founder captioned her post, referencing Cardi B and Megan Thee Stallion's "WAP" lyrics.
Kourtney's millions of fans couldn't help but rave over her post, including Scott, who left one cheeky comment. The Flip It Like Disick star responded, "That's for sure."
While the Talentless founder was quick to point out the honesty of Kourtney's caption, others came to her defense.
"Besides quesadillas, this is correct," Simon Huck shared. "You only make your matcha collagen," one follower replied, to which Kourtney responded, "and tip top notch waffles."
Knowing the reality TV star shares three kids with the fashion mogul—Mason (10), Penelope (8) and Reign (5)—it's safe to assume both Kourtney and Scott are not to be messed with in the kitchen.
In a recent episode of Keeping Up With the Kardashians, Kim Kardashian spilled the beans that Scott was actually hoping to expand his family with the Poosh founder.
"Scott's like, 'We're going for baby number four,'" Kim dished, adding, "Is that serious? I want to know."
While cameras cut off before Kourtney could answer, she recently shut down rumors that she was pregnant. So it's safe to say there aren't any plans, as of now, for Scott and Kourtney to add another little one to their family.
Kourtney Kardashian/Instagram
If anything, it appears Scott is enjoying the single life after calling it quits with Sofia Richie in May 2019. The two were together for three years before deciding to part ways, with a source telling E! News at the time, "There wasn't a fight or anything bad that happened between them."
By August, a separate source explained they were "no longer" on speaking terms. While it wasn't clear why they stopped speaking to each other, the source hinted that their age difference played a role in their breakup.
"Friends attributed their 15-year age difference becoming an issue," the source mentioned. "He's in a very much different place in his life, really focused on a more quiet lifestyle, his kids and his investment businesses. And Sofia, at 21 years, really still trying to figure what she wants to do which drove them apart over time."
Watch:
Scott Disick Spotted Out With Model Bella Banos
Fast forward to October and Scott was spotted hanging out with model Bella Banos at Nobu in Malibu, Calif.
Of their night out at the beginning of the month, an insider told E! News, "It was just the two of them out together for dinner," the witness continued. "She looked great and walked behind Scott as they left the restaurant. At that point, they had the car ready for him to go."
However, a second insider said things between Scott and Bella are "very casual."
As for Kourtney? She's currently single.