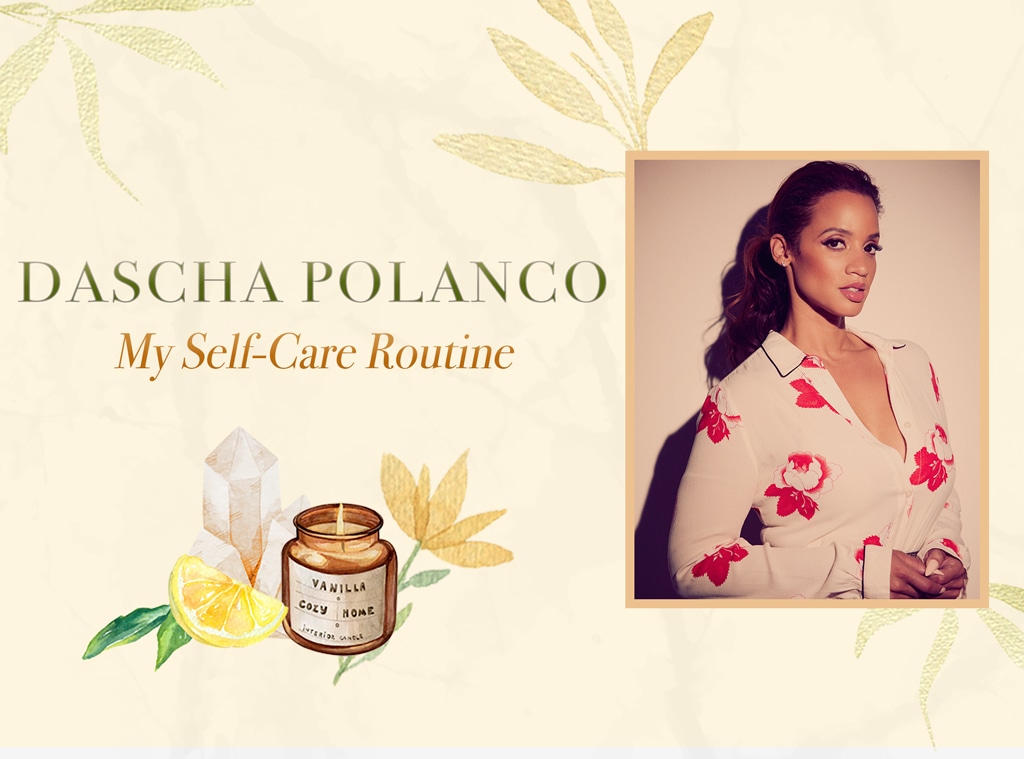 Nathan Johnson; E! Illustration
Wellness is the new black.
Are you in a bit of a rut? Prepare to be majorly inspired and surprised by Orange Is the New Black star Dascha Polanco's self-care routine.
The 37-year-old actress, who will next be seen in the movie adaptation of In the Heights, opened up about her daily rituals exclusively to E! News as part of our Wellness Wednesday, including the three things she does every day—having an orgasm included—and her favorite ways to break sweat—sex included. Oh, and did we mention whipped cream is also involved, yet unrelated? Let us repeat: prepare to be inspired and surprised.
Read on to find out how the mother of two starts and ends her days and learn all about her go-to beauty routine...
Affirmation or Mantra You Tell Yourself:
"I accept myself unconditionally right now." I have been very critical and tend to punish myself. I have more but this one is timeless.
The First Thing You Do in the Morning:
Drink water and take my cholorophyl, wobenzym and theranine. Then check the celly.
Three Things You Try to Do Each Day:
Meditate, laugh and an orgasm. Not always in that order. I haven't done enough of any of it, so I'm taking the time for it all right now.
Watch:
Dascha Polanco - 2019 Emmys E! Glambot
Social Media Accounts You Follow for Positivity:
I like to follow content creators that make me laugh, teach me but also give me the pleasure to appreciate their talent. In addition, I love food, baby pages, grandparents...they are ruthless and free.
Your Favorite Way to Break a Sweat Right Now:
My favorite way to break a sweat is mix of sex, PRx Performance, hiking, biking.
Your Go-To Snack:
Raw cheese and nuts.
Your Go-To Healthy Recipe:
Broiled brussels sprouts, avocado and smoked salmon.
Your Go-To Indulgence:
Whipped cream, raspberries and vanilla. I grew up in a household without it and I never knew how good whipped cream was until now.
Your Go-To Easy Beauty Routine:
Moisturize, highlight cheeks, eyebrows, shimmer eyelids and lots of mascara and some lip balm. Now that I have to wear a mask I tend to only do my eyes. 1, 2, 3 and voila!
Your Current Feel-Good Song:
Saint Jhn's "God Bless the Internet."
Evan Agostini/Invision/AP/Shutterstock
The Apps or Podcasts You've Been Turning To:
Letgo App because I can let go and find new items. Carb Manager scans low carb items easily. Zero Fasting for intermittent. Insight Timer for meditation.
No. 1 Self-Care Tip:
Face the mirror every day to redirect your energy—good or bad. Learn from all the lessons of the day and make sure to shift your energy to things that are worth it!
You Can't Go to Bed Without Doing This :W
 I have a nighttime ritual: Brush my teeth, my hair, an entire skin routine, rub Vicks VapoRub on my feet and cover them with socks.
What Is Making You the Happiest Right Now:
Organized surroundings and the woman I am becoming.
Reading Recommendation:
I'm currently reading all my favorite old books because as humans we evolve and I'm always searching for inspiration from old words which can become new again. I recommend that you do the same.