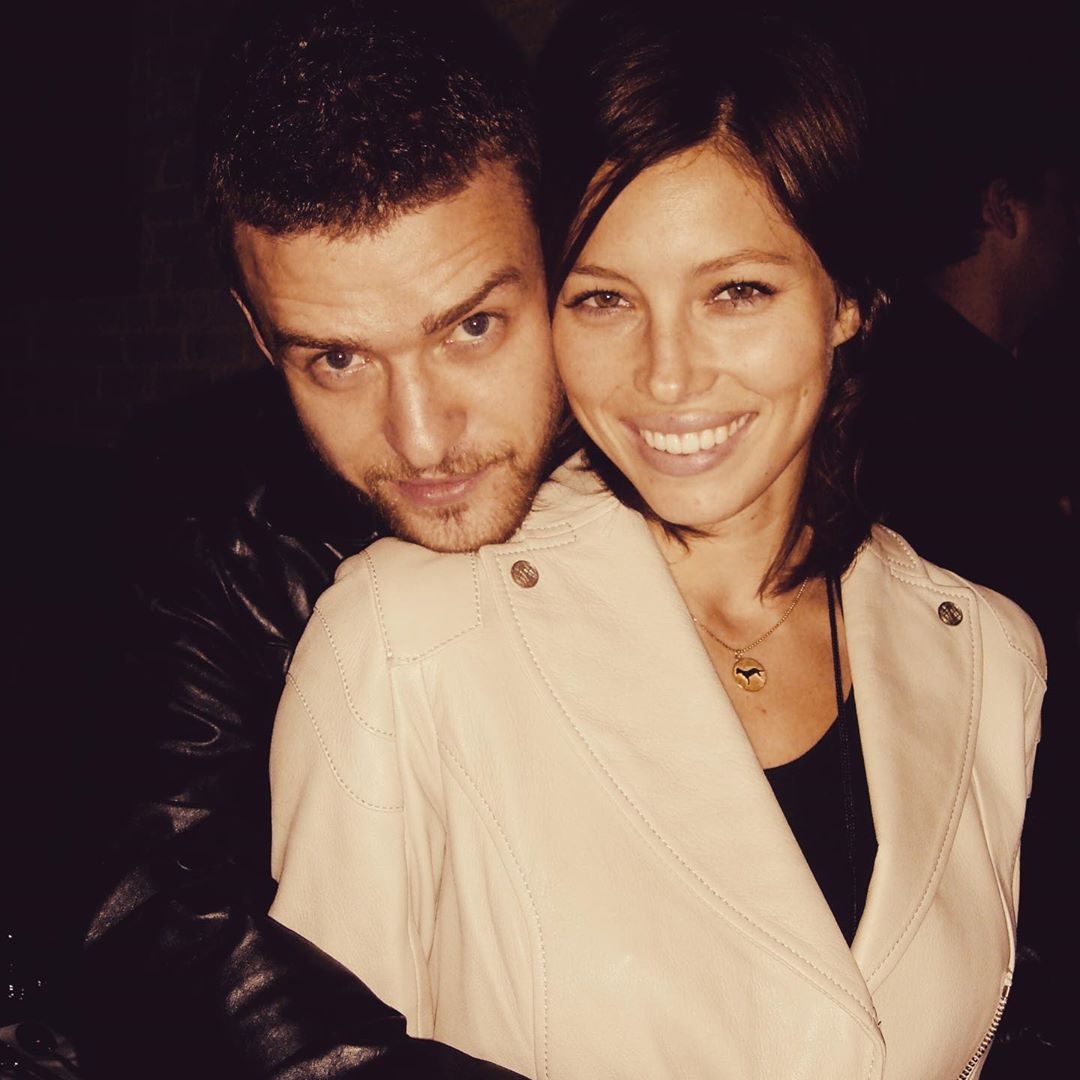 Instagram
It wasn't the greatest start to their eighth year of marriage.
About a month after celebrating his seventh wedding anniversary with Jessica Biel in October 2019, Justin Timberlake's thinking cap fell off. The multitalented entertainer was photographed at a bar in New Orleans holding hands under the table with Alisha Wainwright, one of his co-stars in the drama Palmer, which they were filming at the time.
Because two decades as a global superstar hadn't quite rammed the message home that practically anywhere he goes, someone has a camera, Timberlake found himself the subject of some very salacious speculation of what was going on that night.
Speculation that his wife back home couldn't help but be privy to as well.
"They were out with all the cast, crew, makeup artists, and everyone was just hanging out in a social setting," a source quickly assured E! News with regard to Timberlake and Wainwright's outing. "They are just working together. No validity to any other rumor other than that they are filming together."
A second source reiterated that it was an entirely "innocent" hangout.
But as people know, a picture is worth a thousand words—and that's before the Internet multiplies those words by infinity. And JT had been down this bumpy road before.
Watch:
Justin Timberlake & Jessica Biel May Have Won Halloween 2019
Knowing that, regardless of his intention, the image that went public was "definitely inappropriate and something that would make any wife uncomfortable," a source explained, damage control was required.
So Timberlake apologized, noting that he wanted to put an end to the "gossip" and "rumors," but also acknowledging his "strong lapse in judgment."
He continued, "I drank way too much that night and I regret my behavior. I should have known better. This is not the example I want to set for my son. I apologize to my amazing wife and family for putting them through such an embarrassing situation, and I am focused on being the best husband and father I can be. This was not that."
But to be clear, he emphasized, nothing untoward was going on behind the scenes with him and Wainwright.
Rodin Eckenroth/Getty Images
An insider explained to E! News that Timberlake really felt terrible about putting Biel through the scrutiny—of her, of the state of their marriage—that tends to accompany this sort of scandal, however much of a nothing-burger it turned out to be.
And he went the public-apology route so they could "put this behind them and start to move on," the source said. "Justin feels like the story isn't dying and hopes this will be the end of it. He always tries to keep his private life private, but he knows he made a big mistake in public and now has to own up to it." 
The couple had already made a concerted effort to shrug it off, but assuring the world that he knew he had messed up did help matters.
"Their marriage will survive," another source said at the time, adding that Timberlake "knows how lucky he is."
And it was time to get busy showing it. 
At least the holidays were at hand, and Thanksgiving and Christmas are usually automatic mood-boosters, as well as a good time for togetherness along with those tidings of comfort and joy.
Aside from posts related to work, including the launch of her capsule collection with fitness brand Gaiam, Biel took a break from posting anything personal on Instagram until 2020. The same went for Timberlake post-apology, the Man of the Woods artist just sharing a sunset and a studio pic.
The time away—from L.A., from Instagram, from headlines—was all about regrouping and focusing on what mattered. Of course Timberlake was on hand to support his executive producer spouse at the third season premiere of The Sinner last February, the show that earned Biel her first Emmy nomination in 2018, and he sang her praises on her birthday. 
"Happy Birthday to the LOVE of my life... A new adventure every day and a treasure to me," he wrote on March 3. "I can't wait to share many more of these with you. Thanks for putting up with me when I smell funky after a round of golf or, when I smell funky in general. You are the mostest of the mostest, my love! I adore you."
Ahead of the pandemic declaration, they presciently celebrated her 38th trip around the sun with cake at home, the birthday girl sitting pretty in her pajamas.
For Mother's Day, Timberlake shared a photo of them walking with son Silas (from the back, having kept to the plan of not sharing his face intentionally with millions of strangers), writing, "You continue to keep me in complete awe every day. This family works because of your love and soulfulness. You are a dream to share all of this with. Your boys love you!!"
Meanwhile, nothing brings two people closer together than a shared secret.
Because now, not only did Biel and Timberlake celebrate their eighth anniversary Oct. 19, as devoted to each other as ever, they also welcomed their second son—a fact they have only just publicly acknowledged (though they did share the good news in the moment with their nearest and dearest).
Oh, it was all snowy getaways, casual video chats with Ellen DeGeneres and quarantine remixes with Jimmy Fallon as stay-at-home advisories took hold and talk show appearances went virtual starting in March. But all the while Timberlake and Biel were keeping a heck of a secret—one that was much easier to keep once it became totally normal to only spend time with your family.
And most people were way too busy figuring out how to work from home and Zoom-school their kids to notice that they hadn't seen Biel's stomach on Instagram for awhile.
That's right, though the world had descended into chaos, Timberlake and Biel had left personal turmoil in the dust and were preparing for the arrival of their second child from the relative remoteness of their spread in Montana.
"We're doing good, we're doing good," Timberlake said nonchalantly in an April interview with SiriusXM Hits 1 while promoting Trolls: World Tour. He cracked, "We're mostly commiserating over the fact that just 24-hour parenting is just not human."
In all seriousness, though, the artist said, "We feel very lucky and kind of blessed...They're pretty socially distant here anyway, where our place is and so, I mean just being able to kind of walk out into your driveway and maybe go for a little hike is always nice."
Silas reportedly became a big brother in July, Mom pulling off a stealth pregnancy and Dad managing not to spill the beans to anyone outside the circle of trust during a virtual press tour.
Adorably, the other members of 'N Sync remain inside that circle, Lance Bass revealing in September that Timberlake showed them photos of his new addition during a group chat with his former boy-band mates.
"The baby is cute, of course, it's Justin and Jessica!" Bass told Entertainment Tonight. But he would not be divulging the name, obviously, because "Justin would kill me."
But it's only fitting that DeGeneres would get the eventual scoop on the lad's name, a preview of an upcoming Timberlake appearance on her show including the singer saying, "His name is Phineas, and he's awesome and so cute, and nobody's sleeping—but we're thrilled. We're thrilled and couldn't be happier. Very grateful."
He and Biel "don't see each other anymore," he quipped, a nod to the business of going from raising one growing boy to two, but they're tackling it like a team. "Sort of like, 'You go get that one, I'll get this one!'"
And Silas, too, was adjusting pretty well so far, Timberlake added. "Right now, he's very much liking it. Phin can't walk yet or chase him down, so I don't know. We'll see what happens."
And so Timberlake and Biel have another year of matrimony, learning and loving, forgiving and forgetting, procreating and parenting, in the books.
"We have similar values; we believe in loyalty, honesty. We like to have fun," Biel told Marie Claire about her connection with the Social Network star in 2017. "We like a lot of the same things. Also, in the business, we're all very career-oriented, and you have to be a little selfish. I understand that about my peers—about being focused and driven—and if you can find that and someone who shares the same values as you, it's like: Score!"
As for Timberlake, about a week before their 2012 wedding in Italy, he told members of the Hollywood Foreign Press Association, "We have a couple of rules in our relationship. The first rule is that I make her feel like she's getting everything.
"The second rule is that I actually do let her have her way in everything. And, so far, it's working."
(Originally published Oct. 19, 2020, at 6 a.m. PT)