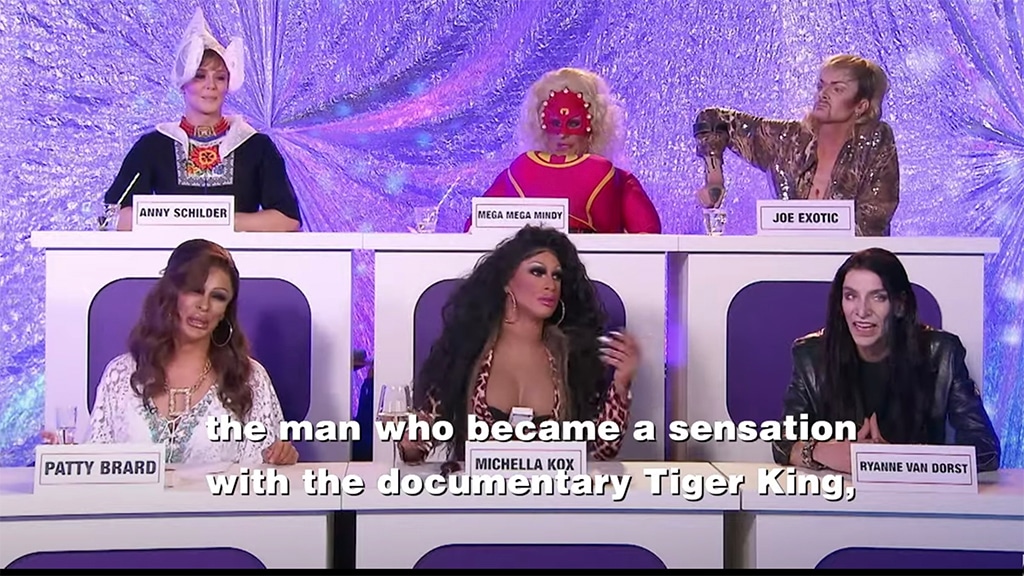 World of Wonder
Many things are different on Drag Race Holland—the language, the celebrities, the judges, the host—but it does still have at least one thing in common with America's Drag Race, and that is a love of questionable reality TV stars. It's also got Snatch Game. 
E! News has an exclusive first look at Drag Race Holland's first installment of the fan fave Drag Race challenge, which forces the queens to impersonate celebs in a game show format, and you will absolutely recognize at least one of the celebs being impersonated. Er, you might not call him a celeb, but you'll recognize him either way: Joe Exotic, brought to new life by contestant ChelseaBoy. 
Of course, Joe Exotic was the subject of Netflix's Tiger King (which somehow only came out earlier this year, if you can believe it) and he is currently in prison.  
As expected, ChelseaBoy's makeup is on point and the voice is pretty good, too. 
While you should know who Joe Exotic is at this point, you're forgiven for not recognizing any other Snatch Game contestants if you're not familiar with Dutch celebrities. Here's the rundown on who each of the queens is playing: 
Envy Peru is Patty Brard, a Dutch singer/presenter/reality star with a tumultuous past. She was in the girl group Luv, had one of the first reality shows about her life in the Netherlands and appears on a lot of Dutch television. She's currently sober and in shape, but Envy is playing Patty from the past when things were a little more chaotic. 
Janey Jacké is Anny Schilder, a Dutch singer from Janey's hometown of Volendam where they are known for a certain type of music called "Palingsound." It's also known for fishing and traditional Dutch clothing. 
Sederginne is playing Mega Mindy, a superhero from a Flemish children's show. Sederginne also added an extra Mega. 
Miss Abby OMG is playing Michella Kox, a reality star and influencer in Holland who won season two of the reality show Ladies In the Making, or in Dutch, Dames in de Dop. She's currently known for her social media commentary on shows like Love Island and Ex on the Beach. 
Ma'MaQueen is Ryanne van Dorst, a Dutch singer and presenter who has been open in the past about being a hermaphrodite. She's known for being very funny and will even be a guest judge in episode six of Drag Race Holland.
The full episode of Drag Race Holland will air later today, Thursday, Oct. 15 at 3 p.m. PT / 6 p.m. ET on WOW Presents Plus in the US and select territories worldwide.