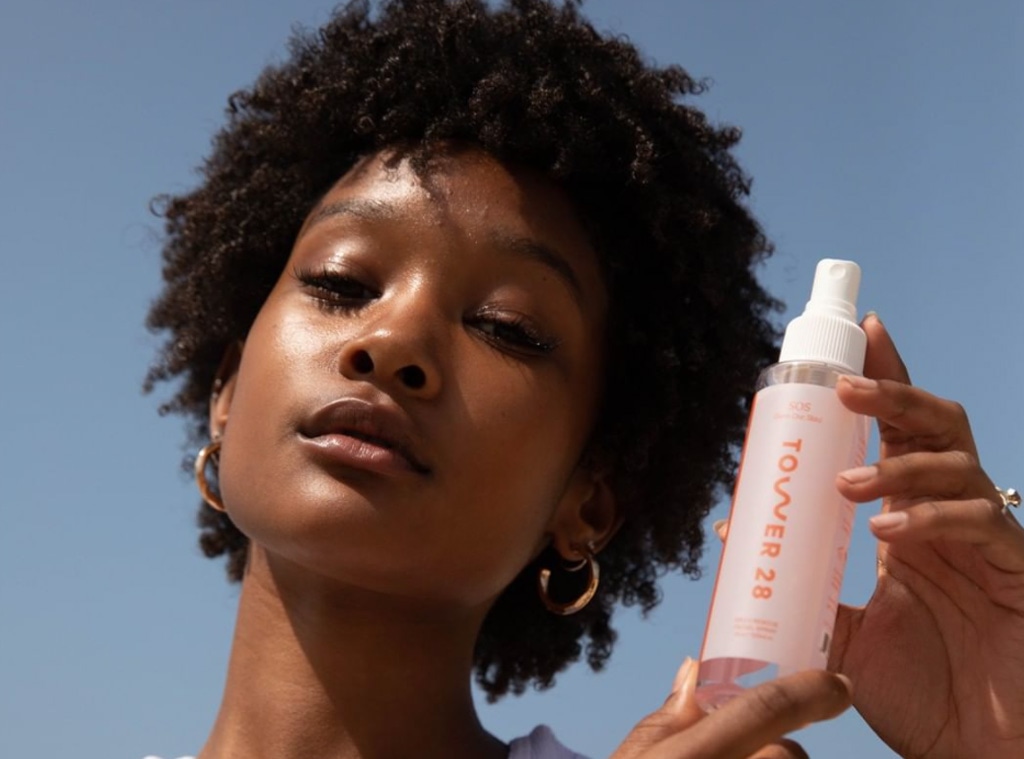 Tower 28
We love these products, and we hope you do too. E! has affiliate relationships, so we may get a small share of the revenue from your purchases. Items are sold by the retailer, not E!.
A facial spray with a 10,000 person waitlist? We've got to see what all the hype is about. 
Tower 28's SOS Daily Rescue Facial Spray in fact had a 10,000 person waitlist, until it came back into stock yesterday, that is. If you have eczema, this spray is promised to work wonders. The Tower 28 founder Amy Liu herself struggled with severe eczema, and discovered that hypochlorous acid helps to heal this skin condition. She included it in her bestselling facial spray and the rest is history. The SOS Daily Rescue spray has even won the National Eczema Association Seal of Acceptance.
Shop this miracle worker below!
SOS Daily Rescue Facial Spray
This facial spray comes in three different sizes and can be worn under or over makeup, as well on the rest of your body. The hypochlorous acid in it is promised to trigger an immune boost, which signals your body to repair and heal irritated skin.
Here's what reviewers have to say:
"All my life I've had very dry skin and a mild form of eczema and have tried many ointments, lotions, chapsticks, etc. (the skin around my lips especially gets so dry and flaky—gross, I know), but I am not exaggerating when I say this has done wonders for me. By the second day using it, I could see and feel a difference. I don't even feel the need to use makeup anymore!"
"Paired with a natural cleanser, this spray has seriously helped curb my fresh cropping of zits and inflammation from maskne and pregnancy hormonal acne."
"As someone who has had eczema his whole life, I was skeptical about this item, but after getting good reviews from my cousin, I decided to try it out. It has been a life saver for me, just getting my skin to calm down after showers and allow me not to have the eczema "itch" for longer. I use right out of the shower and before I do my usual hydration routine. I've been able to limit the amount of "heavy steroid" creams I've had in the past. While it's only been a couple weeks, I hope to have found a useful tool in maintaining my eczema going further. As someone who has always felt helpless, this feels like a breakthrough."