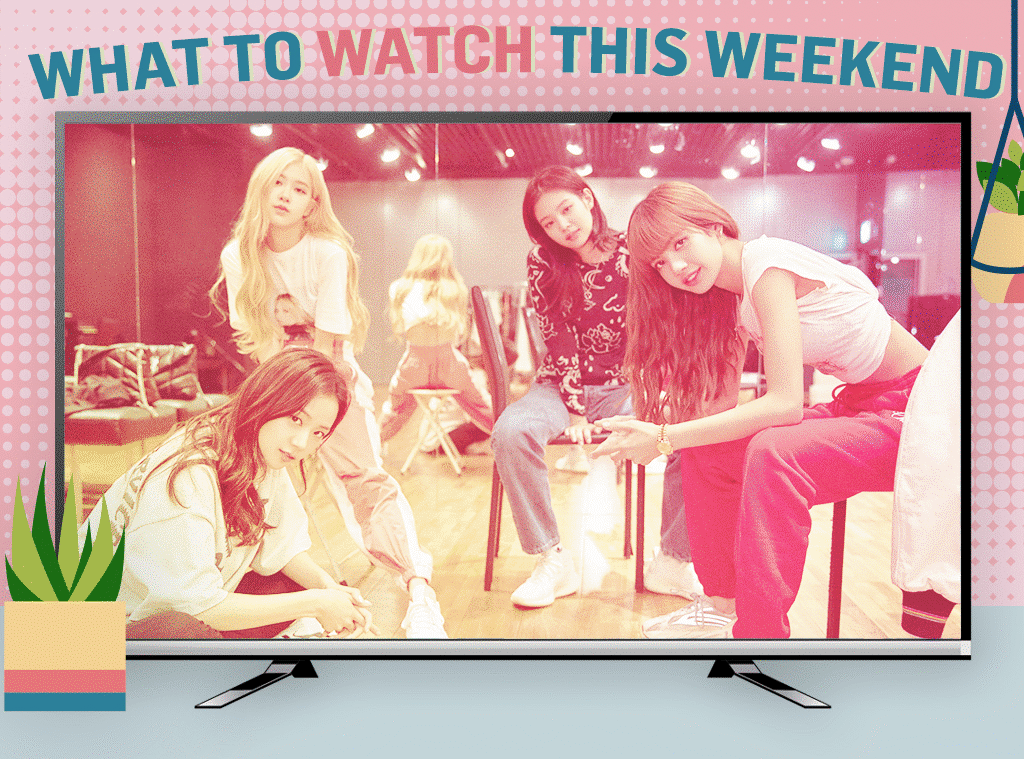 Netflix; Hulu; E! Illustration
Hey all you cool ghouls and goblins, ready for even more Halloween-themed content?
The countdown to the spookiest night of the year continues in our binge guide, which includes two original scary movies that will probably have you sleeping with the lights on after watching, a demonic Marvel series and a fun Netflix film the whole family can enjoy. See, there's something for everyone—including people who might need a break from the tricks and treats.
We're also highlighting a prestigious drama that's garnering Oscar buzz, a special reunion of an iconic TV show's cast and the most unusual reality series you'll ever watch. 
Here's what to watch this weekend, Oct. 16-17: 
If You Want to Start Prepping for Awards Season: With an all-star cast—Sacha Baron Cohen, Eddie Redmayne, Jeremy Strong, Joseph Gordon-Levitt and Mark Ryland—and The West Wing's Aaron Sorkin serving as writer and director, The Trial of the Chicago 7 is Netflix's latest Oscar hopeful. The legal drama tells the true story of a group of activists on trial after their protest at the 1968 Democratic National Convention turned violent. With powerhouse performances, especially from Baron Cohen as real-life activist Abbie Hoffman and Watchmen's Yahya Abdul-Mateen II as Black Panther Bobby Seale, and Sorkin's classic fast-paced dialogue and signature monologues, Chicago 7 is a movie-lover's heaven. (Where to Watch: Netflix)
Watch:
Did Tom Felton Ever Have a Crush on Emma Watson?
If You Are in the Mood for More Sorkin Post-Chicago 7: For the first time in 17 years, the main cast of The West Wing came together for a special cause. Dulé Hill, Allison Janney, Rob Lowe, Janel Moloney, Richard Schiff, Bradley Whitford and Martin Sheen will all reprise their roles from the iconic drama in a theatrical stage presentation of "Hartsfield's Landing," a classic season three episode. Plus, Lin-Manuel Miranda, Michelle Obama and Bill Clinton all make special appearances. NBD but, like, BFD. (Where to Watch: HBO Max)
And if you are craving more West Wing goodness after the special, all 156 episodes are awaiting you on Netflix. You're welcome/we're sorry for all loss of productivity for the next week of your life. 
If You Love All Things Marvel: Tom Austen and Sydney Lemmon star as Marvel Comics characters Daimon and Ana Helstrom, the children of a powerful serial killer, in Helstrom. Rather than take after their father, however, the siblings hunt down the worst of humanity in the 10-episode first season. Full of demons (both literal and metaphorical) and a standalone addition to the ever-expanding MCU, Helstrom is the perfect binge for "Huluween." (Where to Watch: Hulu)
If You Can't Stop Listening to "Ice Cream": The new documentary BLACKPINK: Light Up the Sky gives viewers an intimate hangout with one of the most popular artists in the world. Director Caroline Suh manages to offer insight into the distinct lives and personalities of members Jennie, Jisoo, Lisa and Rosé for established fans of the girl group while also deftly exploring and explaining the world of K-Pop for newcomers to the genre. (Where to Watch: Netflix)
If You've Always Wished Reality Shows Starred Animals: Did you know their is a 200-acre refuge in the heart of Louisiana that is home to more than 300 rescued chimpanzees? That place, named Chimp Haven, is the setting for Meet the Chimps, a new six-episode series that explores the animals' lives at the unique sanctuary. Glee's Jane Lynch narrates the ups and downs of the primate society, with Disney promising to show the "food squabbles, alliances, romances, bromances, tears, tantrums, high jinxes, and heartbreaks" in a release about their joint venture with National Geographic. Hey, there's a reason Mean Girls compared high school to the animal kingdom. (Where to Watch: Disney+)
If You're Looking For a New Halloween Offering to Share With Your Kids: C'mon, there's only so many viewings of Hocus Pocus, Casper and The Addams Family you can manage in 31 days. So why not give those classics a well-deserved break with a viewing of A Babysitter's Guide to Monster Hunting? Based on the popular book series by Joe Ballarini, the fun movie follows a reluctant teenage child-minder who ends up joining an international secret society of babysitters that protect kids with special powers from monsters. The big bad they are currently facing? A Boogeyman known as "The Grand Guignol" played by none other than Draco Malfoy himself, Harry Potter star Tom Felton. (Where to Watch: Netflix)
If You Can't Resist All Things Home Renovation: Ah, there's nothing like watching people get their perfect house while sitting in your one-bedroom apartment with a broken air conditioner, right? In Dream Home Makeover, husband and wife duo Syd and Shea McGee take their perfectly curated Instagram aesthetic to a streaming platform. Each of the six episodes will follow the interior designers as they tackle a different design project, whether it's a living room on a budget or a full overhaul of a family home. (Where to Watch: Netflix)