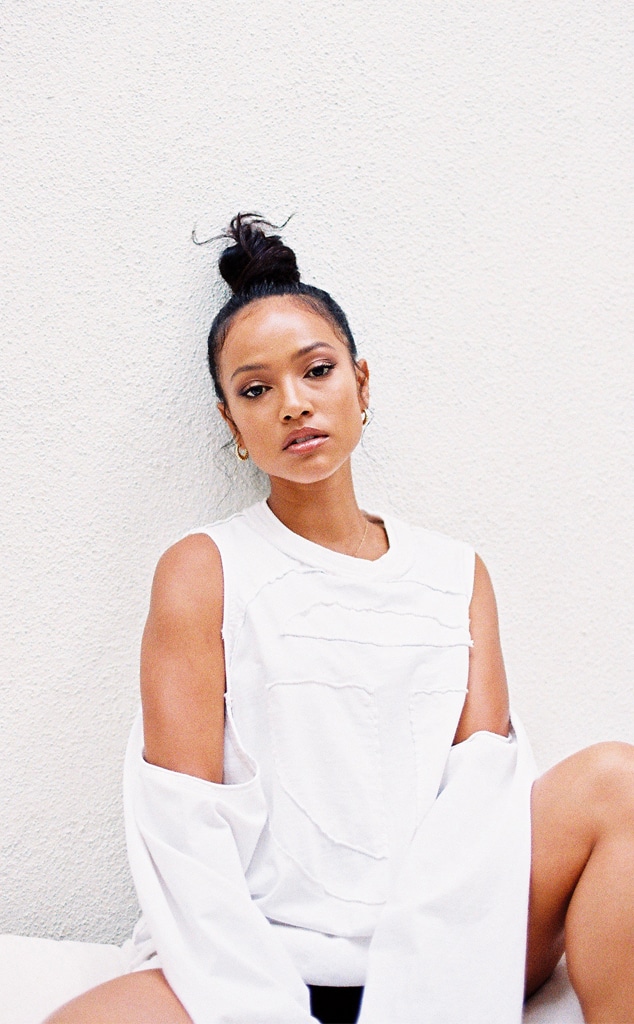 Topshelf Junior
Today, October 14, George Floyd would have turned 47. However, like the many innocent Black men and women before him, he won't get a chance to celebrate this birthday—or others to come. In May, Floyd was killed after a Minneapolis police officer pinned him to the ground and kneeled on Floyd's neck for nearly 9 minutes. Now, five months later, many are still reeling, demanding justice not just for Floyd but for all those in the Black community who constantly face racism and discrimination. Their message is simple: Our lives matter. Here, actress and model Karrueche Tran pens a powerful essay reflecting on the global protests and the need to keep the fight going, laying out the necessary steps to create equality in Hollywood and well beyond.
I noticed several clips of Fannie Lou Hamer circulating on the internet and, with every video I watched, I was intrigued and drawn in by her knowledge and her vernacular. So, I went to Eso Won Books in [Los Angeles'] Leimert Park and bought The Speeches of Fannie Lou Hamer: To Tell It Like It Is. As I began to read the book, I started to realize that so much of what she was speaking about still applies to what's happening today:
I heard a preacher say one night that people could look at the cloud and say it was going to rain and it would rain. And still now they can't discern the signs of time. We can see the signs, people, the signs of time. And the time now is to stand up. Stand up for your constitutional right.
— "We're On Our Way" Speech, delivered at a Mass Meeting in Indianola, Mississippi September 1964.
It has been an interesting and difficult year to say the least. Between a worldwide pandemic, millions of people losing their jobs, and the deaths of some of our greatest heroes, it feels like our world has literally turned upside down. To make matters worse, an issue that has plagued our country for hundreds of years has unabashedly taken center stage. Racial inequality and injustices have sadly been part of American culture for far too long.
The death of George Floyd was a different type of pain. Although we have been through this before with Sandra Bland, Tamir Rice, Trayvon Martin, Philando Castile and the many other innocent Black lives that were taken, this time felt different. Every morning I'd wake up with a sick feeling in my stomach as I read the news yet I couldn't stop. I was glued to my phone so much that I eventually had to force myself to take a break from it all for my own sanity.
The video of George Floyd screaming for his mother, the protests, the looting, the countless footage of police brutality, I couldn't believe what I was witnessing in real time. I started to question myself and the role I play in all of this, especially as a Black woman in entertainment. Why wasn't I as enraged before? Why wasn't I louder? Social media, the likes, the opportunities that have come my way, all of that has been a blessing, but what was the imprint that I'd like to leave in my lifetime?
Watch:
Black Lives Matter Protests That Are Changing The World
I knew that I wanted to utilize my voice in the most positive way. Since then, I have committed to not only educating myself on different ways to make change but being vocal and using my platform to educate others as well.
Many companies and CEOs have put out statements in support of the Black Lives Matter movement, but that is simply not enough. Words are important, but, in this case, unless there is real action behind those words, it all means nothing. We cannot let this be another hashtag or trend. Yes, changing old, racist imagery on a bottle of syrup is nice, but how many Black people do you employ? Are there any with high level or executive positions? Do you listen to their input? Apologizing for your past actions is appreciated, but what are you going to do to ensure it won't happen again?
I've read too many scripts about Black stories that are written from a white perspective. And why is it that most Black kids growing up never get to see superheroes, doctors and bosses that look like them on the big screen? Instead they grow up seeing themselves as slaves, thugs, drug addicts and always having to overcome adversity. Why aren't there more magazine covers with Black models or more spreads featuring Black designers, shot by Black photographers?
I say all this to say, please don't let us down. We are tired. We need more than "I stand with you" quotes. We demand equality. I ask you to think beyond this moment and think about what can be done to end this cycle, for the next and future generations.