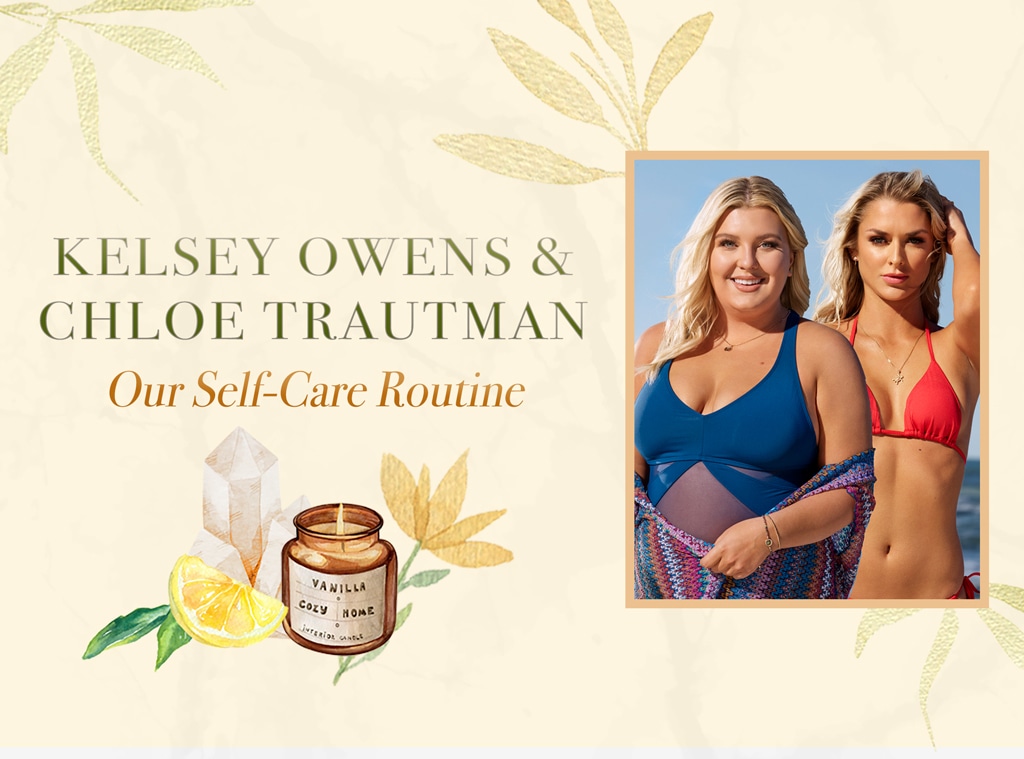 MTV; E! Illustration
Wanna cut to the feeling? It'll be easy to do that after getting inspired by Kelsey Owens and Chloe Trautman's wellness practices. 
As part of E! News' Wellness Wednesday series, the Siesta Key stars opened up about their self-care routines, which are all about positivity and making small changes every day to make a big impact on your life. 
"Happiness is a choice, it's a choice that you can make each and every day," Chloe told E! News. "So...what makes me happy? I make me happy." Stitch it on a pillow and throw it on our couch.
Read on to find out the simple but effective rule Kelsey has started living by to avoid getting caught up in "day-to-day drama," which, as any MTV viewers knows is easy to do in Siesta Key. Plus, Chloe, who lost 30 pounds during quarantine, revealed her favorite ways to break a sweat right now. 
Kelsey Owens
Affirmation or Mantra You Tell Yourself:
Five By Five Rule... If it's not going to matter in five years don't spend more than five minutes being upset about it. I love this mantra because it's so easy to get caught up in day-to-day drama, speed bumps, and mishaps, but this rule allows me to keep things in perspective and move forward in a more positive manner.
Social Media Accounts You Follow for Positivity:
@thehappyquoters because they have uplifting and motivational quotes that are often very relatable and great reminders to see on your social media daily. Another account I follow is @atticuspoetry because it's an account that posts short poetry reminding you to embrace who you are and not adapt because of others expectations, which I think is something this world we live in could really use right now.
You Favorite Go-To Snack:
I wish I could say it was something healthy but I'm a child at heart and it's by far Flavor Blasted Goldfish. LOL!
Your Current Feel Good Song: 
"Vivir Mi Vida" by Marc Anthony. This song is actually written in Spanish and has such a fun rhythm that when you play it there's no chance you're not going to want to get up and dance! Over time my friends and I continued to play it as our pump up song and me, not knowing Spanish, decided to translate it, and after translating the song I love it 100 times more. The song talks about embracing life and living it to the fullest. To always laugh, dance, and follow your dreams.
What Is Making You the Happiest Right Now:
With the way the world has slowed down the past few months it's made me realize how happy I am for my health, my family, and the amazing people I've been fortunate enough to be surrounded by in my life.
Chloe Trautman
Affirmation or Mantra You Tell Yourself:
"Today I did good and tomorrow I will do better."
One day, my really good friend, Gabby, gave voice to these words and they really hit home for me. They resonated with me so deeply that I now utter them to myself at the end of every day. This mantra reminds me that I must always praise my accomplishments, no matter how big or how small. Because at the end of the day you did all you could do and that tomorrow you have an opportunity to do even better.
The First Thing You Do in the Morning:
The first thing I do in the morning is set my intentions for the day. I like to get my mind in a positive state, my environment organized, express gratitude and appreciation for all that is in my life, and avoid my guilty pleasure, TikTok.
Three Things You Try to Do Each Day:
1. Learn something new. This can be anything from learning a new word, recipe, way of life, concept, skill, person, whatever! Regardless of the notion I grasp, I aim to integrate something fresh and new daily.
2. Read a chapter of my current book AND truly resonate with it.
3. SWEAT. I have to sweat. Whether it be from a HIIT workout, rollerblading, the sauna. I have to release one way or another.
Your Favorite Way to Break a Sweat Right Now:
At this moment in time my favorite way to break a sweat is either a 45-minute HIIT workout or cardio followed by some weights and finishing with the sauna.
Your Go-To Snack:
Apples and peanut butter BUT not just your average apples and peanut-butter, folks. There is a science to this special snack. First, they have to be honeycrisp apples, cut very thin. Then you get your peanut butter, melt it, add some honey and stir all the deliciousness together! This creates almost like a caramel consistency. You don't use nearly as much peanut butter AND you avoid getting it on your thumb every time you dip. Brilliant, I KNOW!
The Apps or Podcasts You've Been Turning To:
1. On Purpose by Jay Shetty
I absolutely adore Jay and the wisdom he has to offer to help each one of us master our mind. He expresses that mindfulness is not just a concept, it's a way of life.
2. Earn Your Happy by Lori Harder
I've been listening to Lori's podcast for the last few years now. I'm not sure how I stumbled across her, but boy, I'm glad I did!
What Is Making You the Happiest Right Now:
Hmm, what is making me the happiest right now? Life itself. Every single thing about it. Loving myself, learning about myself, surrounding myself with genuine humans, educating myself, taking care of myself. I mean, it's a full package. The thing about "happiness" is it's intangible. It does not come from physical or material matters, it comes from within. Happiness is a choice, it's a choice that you can make each and every day. So, in short, what makes me happy? I make me happy.
Your Reading Recommendation:
Oh, goodness, where do I even begin?! I have so many. So, I'll try and keep this as short as possible. Alright, first book, my all-time favorite is How to Win Friends and Influence People by Dale Carnegie. This book was written in 1936, but man, oh man, is it ever so relevant to present day. This book changed my life in absolutely every way possible. Each page had me looking up to the sky and saying to myself, "If all humanity had this thought process, this world would be a better place." After I read this book I told everyone and their mother about it (LITERALLY). I mean, I still do. That is why I've officially decided that when I get married that will be my wedding gift to all of my guest, you're welcome!
To elaborate a little more, I'm going to quote the wise words of Mr. Carnegie. I truly believe that if I don't limit myself I'll end up writing the whole darn book. So, let's just make this my top three faves.
1. "It isn't what you have or who you are or where you are or what you are doing that makes you happy or unhappy. It is what you think about it."
2. "You can make more friends in two months by becoming interested in other people than you can in two years by trying to get other people interested in you."
3. "Any fool can criticize, complain, and condemn—and most fools do. But it takes character and self-control to be understanding and forgiving."