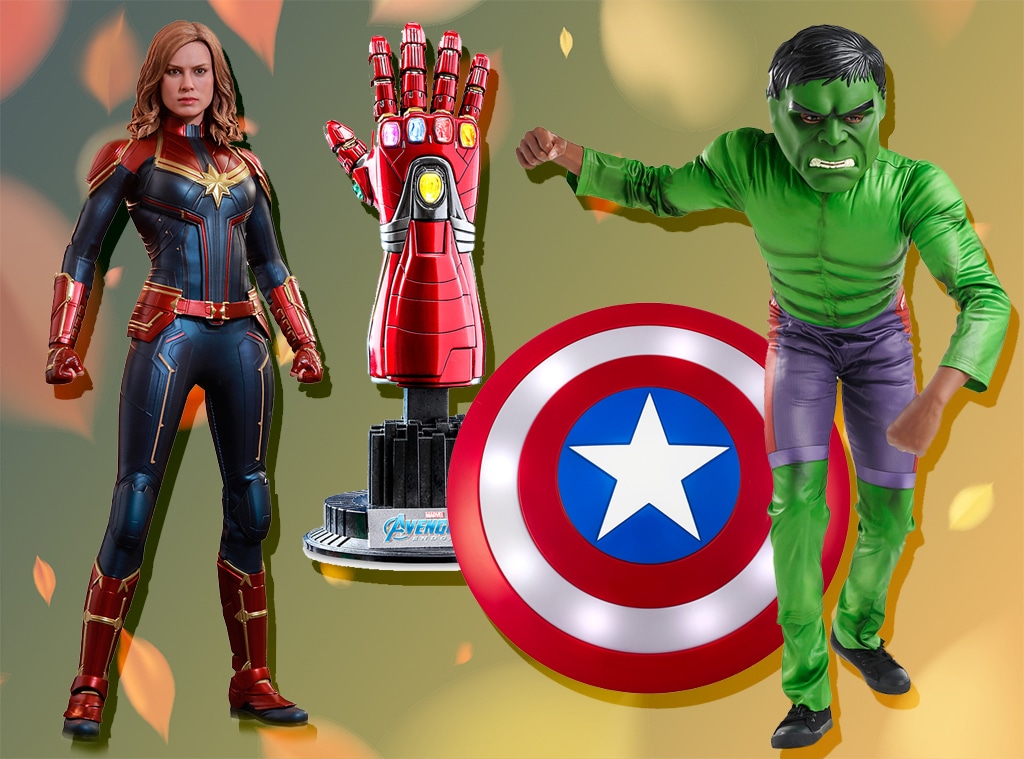 E! Illustration
But don't forget, there's also a weekly Social Sweepstakes on @shopDisney, where fans who follow, like and comment with the correct hashtag will have the chance to win one of 10 collectible Marvel prizes! Plus, any purchase made through October using a Marvel Mania "code word" on ShopDisney.com will receive a free exclusive Marvel Mania event collectible comic art cover with other promotional offers included! There's also going to be special exclusive video content available to fans on social media throughout the month.
Make sure you check back here next week to shop new collectibles featuring X-Men. In the meantime, shop the best Avengers finds below, and find the rest at ShopDisney!
Captain Marvel Sixth Scale Collectible Figure
Thanos Sixth Scale Collectible Figure
The Mad Titan cuts an intimidating silhouette in this sixth scale collectible figure courtesy of Sideshow and Hot Toys, inspired by his Avengers: Endgame look. It's highly detailed with two newly-painted head sculpts featuring Thanos' main moods: serious and angry. With detailed skin texture and tendons, full body armor with trim details and weathering effects, an Infinity Gauntlet equipped with LED lights and matching interchangeable hands mounted with all six Infinity Stones, you'll be the envy of all your friends when you showcase this in your home (or you'll make them scared of you).
Nano Gauntlet Quarter Scale Collectible
But in the end, Thanos meets his ultimate fate thanks to Iron Man's Nano Gauntlet, offered here in quarter scale courtesy of Sideshow and Hot Toys. Measuring 19cm tall, it's actually based on the visual design work in the early production stages of Avengers: Endgame. The Gauntlet features six LED light up Infinity Stones with two lighting modes, individual finger articulation, and a specially-designed custom base, 'cause Tony deserves the best for making the ultimate sacrifice.
The Avengers Lokai Bracelet
Captain America Shield – Marvel's Avengers: Infinity War
True, this is a replica of Captain America's iconic shield... but there's more to it than that. It has over 15 sounds, including authentic effects and dialogue, while the star and rings light up on impact. All you need is three AA batteries, which are included so you can get started doing this all day, right away.
Thanos Talking Action Figure
Banner warned us that Thanos was coming, and here he is in this 14-inch action figure that spouts 15 phrases and offers thrilling sound effects. All you have to do is flip on the on/off switch in the back and press the button on his torso to get him to speak and light up. Plus, you can also remove his helmet and chest plate, and he's fully posable.