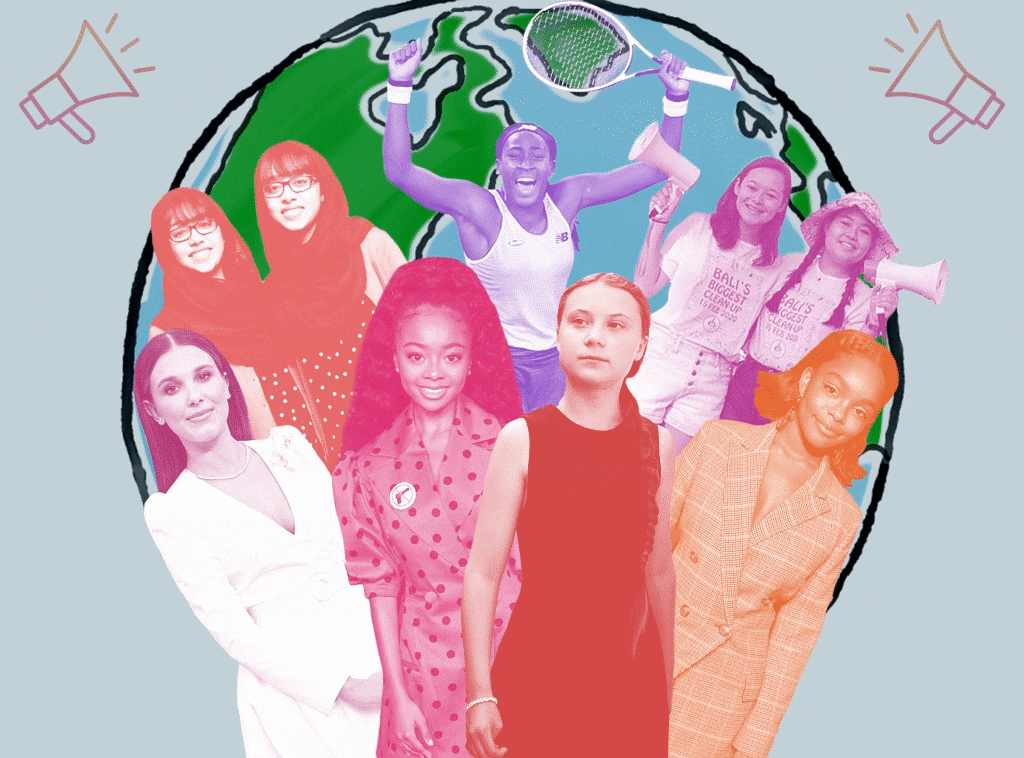 Getty Images; Instagram; Melissa Herwitt/E! Illustration
When it comes to children, maybe there was something to that whole "teach them well and let them lead the way" advice.
Because you can't help but feel more confident about the future when you hear about what kids like Bellen Woodard—she started an important conversation about inclusivity with her crayon box—and Marsai Martin, who became an executive producer at the impressively young age of 13, are doing to not just put their stamp on the world, but to make that world a more fair, more just and more hopeful place to live.
Youth activism is nothing new, but with more avenues available than ever before to get the word out, from social media and deliberate actions that attract global attention to podcasts and writing good old-fashioned books, more young people feel as though they have a voice.
A voice that's going to be heard, whether they're starting out with a celebrity platform or—even more often these days—not.
As always, there's no time lie the present to feel inspired, get involved, learn more about an issue or get to know your fellow citizens of the world who have found a cause that matters to them and are doing their darndest to make a difference.And if you don't mind us peeking inside your brain for a second, we can tell that you could use some more uplifting new along with all the...other stuff.
Watch:
Celebrate International Women's Day With E!
March 8 marks International Women's Day, so enjoy getting to know these young ladies, all 20 or younger as of today—some you've heard of, some who may be unfamiliar, and all of whom you'll be hearing more from.
And so age continues to be just a number.
If you're wondering how to get started, here's yet another wise-beyond-her-years tip from 14-year-old Naomi Wadler. She told the Washington Post, "If you don't find anything that really reflects and represents you accurately, start your own website. Become an activist. Start talking about it."
The Rehman twins, Maryam and Nivaal, would agree. "Your dreams are worth pursuing," they told Women of Influence in 2019. "If you work hard and stay dedicated, you will find that the universe has a way of helping you realize your dreams. It may take a while, but eventually, you will be rewarded for your hard work with your dreams either coming true exactly how you envisioned them, or in an unexpected, but equally exciting way."
This story was originally published on Sunday, Oct. 11, 2020 at 4 a.m. PT.