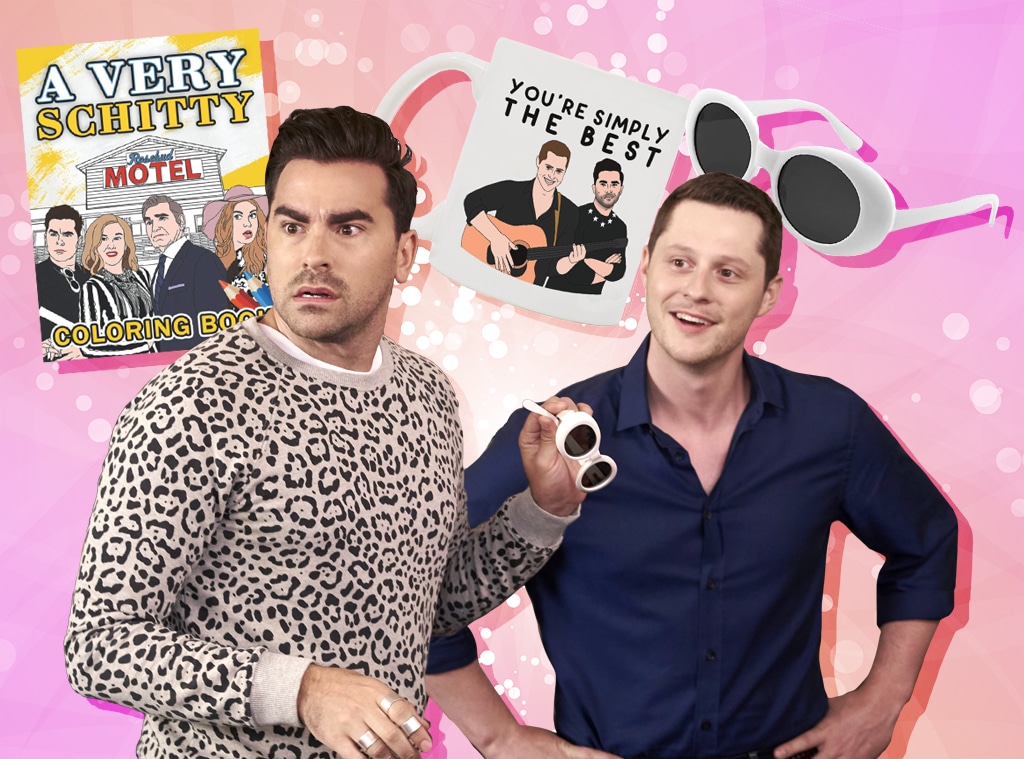 We love these products, and we hope you do too. E! has affiliate relationships, so we may get a small share of the revenue from your purchases. Items are sold by the retailer, not E!.
Does anyone else randomly check their streaming service to see if a new season of Schitt's Creek will magically appear? If you can't tell, we are still in denial that the award-winning comedy is over. Luckily, there's nothing like using a mug commemorating Patrick and David's wedding or wearing David's iconic white clout sunglasses to remind you of the good old days when a new week brought a new episode of Schitt's Creek. 
Whether you're like Moira and won't wear anything with an adhesive backing, or you love to channel your inner David and consider annual trips to Coachella as your way of being one with nature, we rounded up 13 gifts that will help you express your adoration of all things Rose family on a daily basis. From stickers and tees to beauty products and wall art, these products will make you and your loved ones feel a little bit Alexis. 
Check out our picks below!
PlayMonster THINGS... Game - Schitt's Creek Edition
We dare you not to laugh while you and your friends answer topics like: "Things... that are A Little Bit Alexis" or "Things.. that probably shouldn't be on your town's 'Welcome' sign" and guess who said what. This special edition of "Things" comes with 200 topic cards related to the popular show, a response pad and sticker sheet. 
Tastes Like Schitt: The Unofficial Cookbook of Schitt's Creek
Get a taste of the beloved show with this unofficial cookbook! Whether you know how to fold in the cheese or not, this collection of recipes will wow any fan. Who wouldn't want to try Rosebud Motel Cinnamon Rolls or Sloppy Jocelyns!
Women's Love That Journey for Me T-Shirt
Authentic Clout Goggles
Wear David's iconic shades! Whether you're trying hard not to connect with people or running errands for your store, these glasses will make everything seem possible.
Rose Apothecary Tinted Lip Balm
Made from 100% natural goat milk and botanicals, this rose-scented lip balm will keep your lips moisturized all winter long.
Schitt's Creek Wall Art by AJ Filopoulos
Fill your walls with one of this year's most celebrated TV casts! This textured canvas is perfect to hang in your dedicated binge-watching room.
Dark Rose Apothecary Tote Bag
Durable, super strong and easy to carry, this 100% spun poplin bag is perfect for carrying your artisan goat cheeses and small-batch lotions and such. 
You're Simply the Best Card
When you don't have the guts to go full-on karaoke to tell your beloved how you feel, why not say it with a card? While David shares the crux of your message on the outside, the inside is blank you you can offer up other bon mots, like your lack of shame over mall pretzels.
Ew, David Schitt's Creek Sticker
No list of Schitt's Creek shoppables is complete without something that says "Ew, David!" It's the law. But instead of settling for one thing that says Alexis' iconic line, why not make all things say it? Just buy this sticker (or many stickers) and plop it on your laptop, your favorite journal, a water bottle, or wherever. 
David Rose Schitt's Creek Gift Scented Candle
If you're trying hard not to connect with people right now, this candle will elevate your self-care nights and time at home.
Commemorative Wedding Mug
Celebrate the union of David Rose and Patrick Brewer forever with this commemorative mug complete with Moira's infamous costume.
Rose Family Long Sleeve Tee T-Shirt
Sure, you could wear any t-shirt... or you could go completely off the deep-end and wind up in a mohawked Helmut Lang hoodie in a field somewhere. But we think it's better to don this comfy long sleeve that pays homage to the entire Rose family.
Schitt's Creek Coloring Book
—Originally published Oct. 7, 2020 at 3 a.m. PT