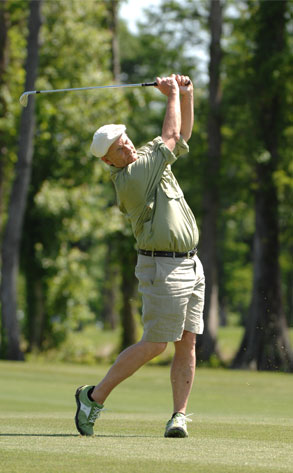 Marc Feldman/WireImage.com
Talk about life imitating art!
Nearly 30 years after Bill Murray battled that damn destructive gopher in the cult-classic golf flick Caddyshack, the actor-comedian took to the green again for the Outback Pro-Am and ended up taking out a spectator!
Gayle DiMaggio, a resident of the Tampa Bay golf course community, was just trying to catch a glimpse of the star from her backyard when Murray's tee shot took an unexpected hook to the left and whacked her upside the head.
"All of a sudden I felt this explosion in my head. I thought I was having a stroke because I just felt something go off," explained DiMaggio.
While she was eventually taken to the hospital and treated for a minor head injury, the former SNL cast member made it up to DiMaggio by filling her wait for the ambulance with lots of laughs.