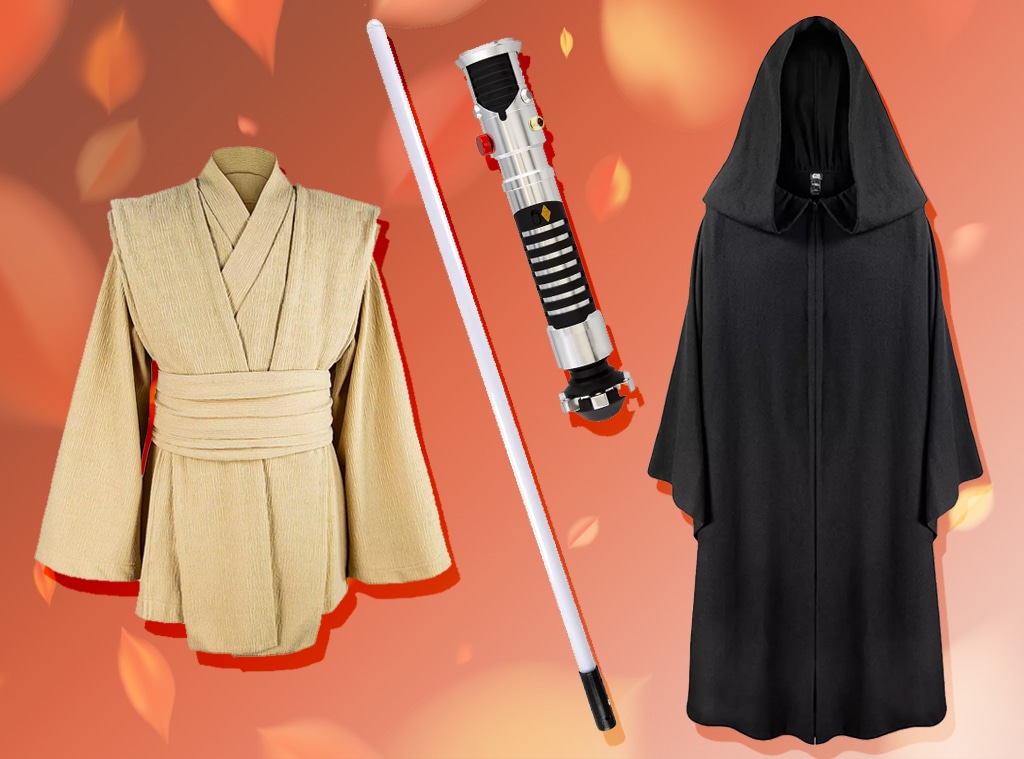 E! Illustration
We love these products, and we hope you do too. E! has affiliate relationships, so we may get a small share of the revenue from your purchases. Items are sold by the retailer, not E!. 
Do you miss the experience of going to Star Wars: Galaxy's Edge and picking up some merch from Black Spire Outpost? Good news: ShopDisney now has land-exclusive robes, Lightsaber hilts and more, just in time for Halloween!
Back when Star Wars: Galaxy's Edge first launched, the only place you could get these force-approved frocks and weapons was if you visited Batuu yourself. But for a short time, you can now get your hands on must-have items like Obi-Wan's Lightsaber hilt, a Jedi-approved robe for when you're going incognito, tunics inspired by Rey's signature style, and more!
But act fast, 'cause these SW:GE exclusives won't be available online for long. Shop our fave picks below, and may the force be with you!
Star Wars: Galaxy's Edge Tunic for Adults
Created especially for Walt Disney World Resort and Disneyland Resort, this wrap-front tunic will totally help you tap into the power of the force. It has sneaky snaps hidden in the front and some hidden hook and eye fasteners in the back, so it'll stay in place while you're battling for the good of the galaxy. It also has an adjustable fabric sash so you can make it fit the way you want.
Star Wars: Galaxy's Edge Resistance Tunic for Women
If you need a little more movement while you're battling the Sith, or if you just want to channel your inner Rey, this simple sleeveless tunic is the way to go. It has a wrap front and high flared collar that dips into a v-neck, with catch stitch accents at the hip for a little extra force flare. It works as a companion piece to the Resistance Vest for Women, too.
Star Wars: Galaxy's Edge Obi-Wan Kenobi Lightsaber Hilt
You'll feel the spirit of Obi-Wan Kenobi guiding you when you grip this detailed recreation of his lightsaber hilt. True, you won't go through the whole capital E experience of building your own lightsaber like you would at SW:GE, but pop three AAA batteries in the hilt and snap in a blade (sold separately), and we defy you not to get tears in your eyes when you light that thing up and see it glow blue.
Star Wars: Galaxy's Edge Lightsaber Blade 36'
This is the additional blade we were talking about above. It measures 36-inches, and sports contacts at the bottom that draw power from the hilt to light it up and make it glow. However, if you have a different Legacy Lightsaber Hilt or one of the hand-built Lightsabers from Savi's Workshop, this blade will work with these, too. Just be forewarned: this isn't a toy.
Star Wars: Galaxy's Edge Robe for Adults