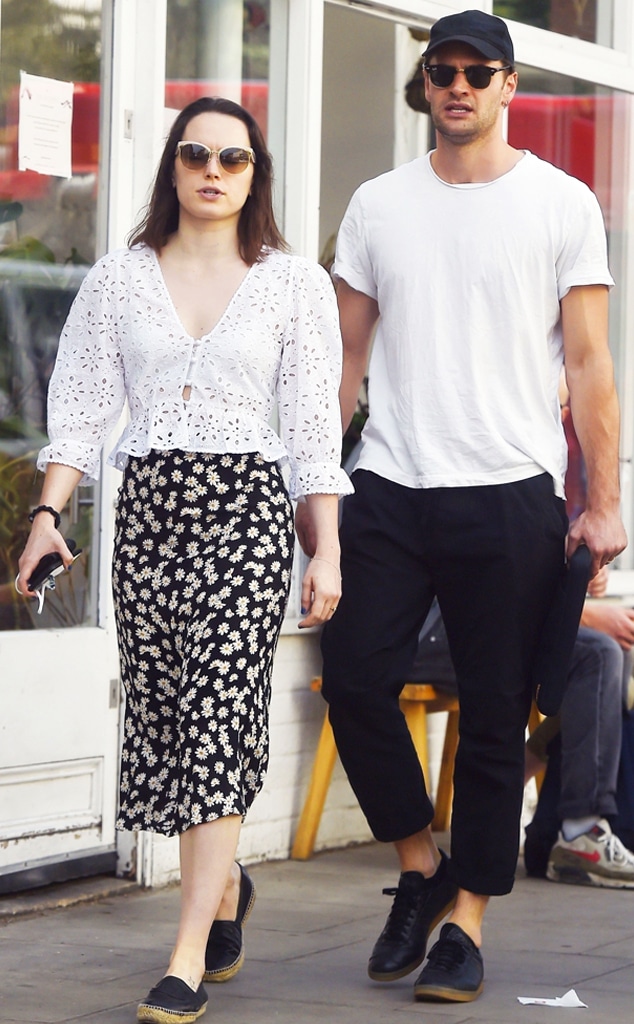 Backgrid
You can't get much passed by Star Wars fans.
Daisy Ridley is sparking marriage rumors with her partner Tom Bateman after the Hollywood actress was spotted wearing a ring on that finger.
On Sept. 22, the 28-year-old was spotted heading out to lunch with her mom and boyfriend in Notting Hill, an affluent district of West London, England. 
Daisy sported a floral skirt and white blouse for the casual afternoon out while Tom sported a classic white t-shirt and black pants. And while the pair's fashion is on point, it's what they are wearing on their respective wedding finger that has pop culture fans talking.
After looking closely, both Daisy and Tom are wearing what appears to be wedding rings.
While both parties aren't publicly commenting on the speculation, some fans are already pointing out that Tom was wearing a possible wedding band just days earlier during a meeting with co-star Olivia Cooke.
This isn't the first time the Hollywood couple has kept fans guessing as to where they stand.
In June 2019, Ridley was spotted rocking a diamond ring with a gold band on her wedding finger.
A British tabloid also revealed that Tom "introduced Daisy to staff at a Chicago hairdresser's as his fiancée."
It's been reported that the actors met on the set of their 2017 film, Murder on the Orient Express, in which Daisy played a damsel in distress
Watch:
See Daisy Ridley's Fashion Nod to Dark Rey!
But despite their public careers, both parties have kept their professional life very much private. In an interview back in November 2019, Daisy was asked about her rumored engagement to Tom. Spoiler alert: She wasn't going to kiss and tell. 
"The thing is, I've never talked about my personal life," she explained to Marie Claire. "So I won't talk about it now. I'm so aware of how much information about my life is out there, so if there's one thing I don't want to talk about…"