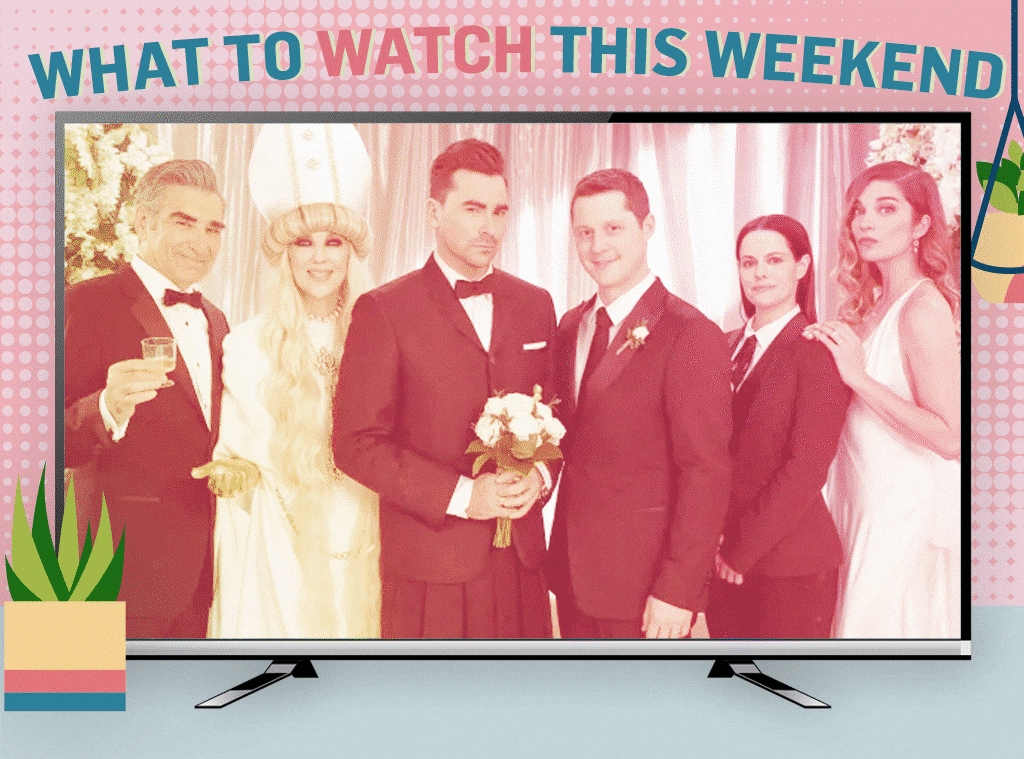 Netflix; Disney +, CBC; E! Illustration
We don't know who needs to hear this but it's almost October. 
Doesn't it feel like we were moving through quicksand in the beginning of the year and now we're in the Millennium Falcon traveling at lightspeed? Now, we're upon the final weekend of September, fully ready to settle inside and check out new shows and cozy up with some comforting favorites.
For Sept. 26-27, we have quite the assortment of offerings for you, including Millie Bobby Brown's action-packed and lively new film and the latest Disney Channel Original Movie that has one royal twist. Plus, your next true crime obsession and a new drama that might be a little too timely are also premiering. 
Finally, we're continuing the celebration of Schitt's Creek historic night at the 2020 Emmys and honoring the loss of a feminist icon.
Here's how to binge-watch the last weekend of the month away...
If You Think Millie Bobby Brown Is the Just the Coolest: Well, get ready to be even more obsessed with the Stranger Things star as she shines as Sherlock Holmes' mystery-solving younger sister in Enola Holmes. While it's hard to imagine any character coming close to earning as big of a place in our hearts as Eleven, Brown's turn as the title character is charming, magnetic and empowering. With a stacked supporting cast—Helena Bonham-Carter, Henry Cavill (as Sherlock), Sam Claflin and Fiona Shaw—and five more Nancy Springer books to pull storylines from, the decision to turn this into a franchise should be elementary, our dear streaming giant. (Where to Watch: Netflix)
Watch:
Felicity Jones' Advice From Ruth Bader Ginsburg on Playing RBG
If You Can't Enough of All Things Royals: Imagine if Prince Harry actually had super powers and was covertly protecting the world from supernatural harm since he was a teen. That's basically what you get in Secret Society of Second-Born Royals, Disney's latest original movie about a training program for the spare heirs to harness their mystical skills. And bonus: we get Skylar Astin as a professor guiding the second-born gang. Talk about pitch-perfect casting. (Where to Watch: Disney+) 
If You're Still Giddy Over That Schitt's Sweep: No, we have not stopped smiling over Schitt's Creek total dominance at the 2020 Emmys, and yes, we take any excuse to keep gushing over this delightful gem of a show and its charming stars. So why not just fold in a quick little rewatch of the record-setting comedy, which ended its six-season run in April, this weekend? And by quick we mean rewatch all 48 episodes. Duh. (Where to Watch: Netflix and CW Seed)
If You Have Someone in Your Life Who Waits in Line Outside of Nike Like They Are Selling Beyoncé Tickets: Everyone has their thing, right? For Devin (Allen Maldanado), it's shoes and Sneakerheads follows the family man's scramble to cover up his latest costly binge-buy from his wife. The comedy centers on his quest for the elusive "Zeroes," the hardest-to-find kicks in the game, aided by his friend/enabler Bobby (Andrew Bachelor). To quote Vanessa Hudgens: Yeah, that's right it's sneakernight. (Where to Watch: Netflix)
If You Want to Pay Respect to and Remember an Icon: The world lost Supreme Court Justice Ruth Bader Ginsburg on Sept. 18, with the women's rights pioneer dying at the age of 87 due to cancer complications. If you are looking for some comfort and inspiration, we recommend watching RBG, the Oscar-nominated documentary focusing on the trailblazer's remarkable life. And for a double-feature, you can also check out On the Basis of Sex, which stars Felicity Jones as the justice and Armie Hammer as her devoted husband, Marty Ginsburg. RIP, Notorious R.B.G. (Where to Watch: RBG is on Hulu and On the Basis of Sex is on Showtime and Amazon Prime Video)
If You Want to Get Into the Halloween Spirit A little Early: Sometimes you just can't wait until Oct. 1 to fire up a spooky classic. And what better way to do so than by spending some time with Gomez, Morticia, Wednesday and the rest of the fam in The Addams Family? Released last year, the animated movie features the vocal talents of Charlize Theron, Chloe Grace Moretz, Oscar Isaac and, the queen of Halloween herself, Bette Midler. And before you ask, yes, you can watch the live-action movies all October long as part of Freeform's 31 Nights of Halloween programming. (Where to Watch: Hulu and Amazon Prime Video)
If You're Looking for Your Weekly True Crime Fix: Another day, another docuseries to check out on Netflix. A Perfect Crime—the streaming platform's first German doc—investigates the 1991 killing of politician Detlev Rohwedder. The four-parter will dive deep into the unsolved murder and look into the unrest in the country following the Cold War. True crime + espionage = an irresistible combo for armchair detectives. (Where to Watch: Netflix)
Elizabeth Morris/Amazon Prime Video
If You Are Willing to Watch a Show About a Pandemic: John Cusack makes his TV debut in the eerily timely Utopia. The nine-episode series—which also stars The Office's Rainn Wilson and comes from the mind of Gone Girl author Gillian Flynn—centers on a group of cyber-friends who are obsessed with an elusive and mythical comic book called "Utopia," which they are convinced can predict upcoming global events. Spoiler alert: Its prediction of an epidemic is totally coming true. Siri, play "It's the End of the World As We Know It." (Where to Watch: Amazon Prime Video)
If You're in Need of Some Comfort Food: Why is watching other people enjoy food sometimes as satisfying as eating it yourself? We don't have the answer to that question but we do have a second helping of The Chef Show—with director Jon Favreau and celeb chef Roy Choi back in foodie action—to help you mull it over. (Where to Watch: Netflix)