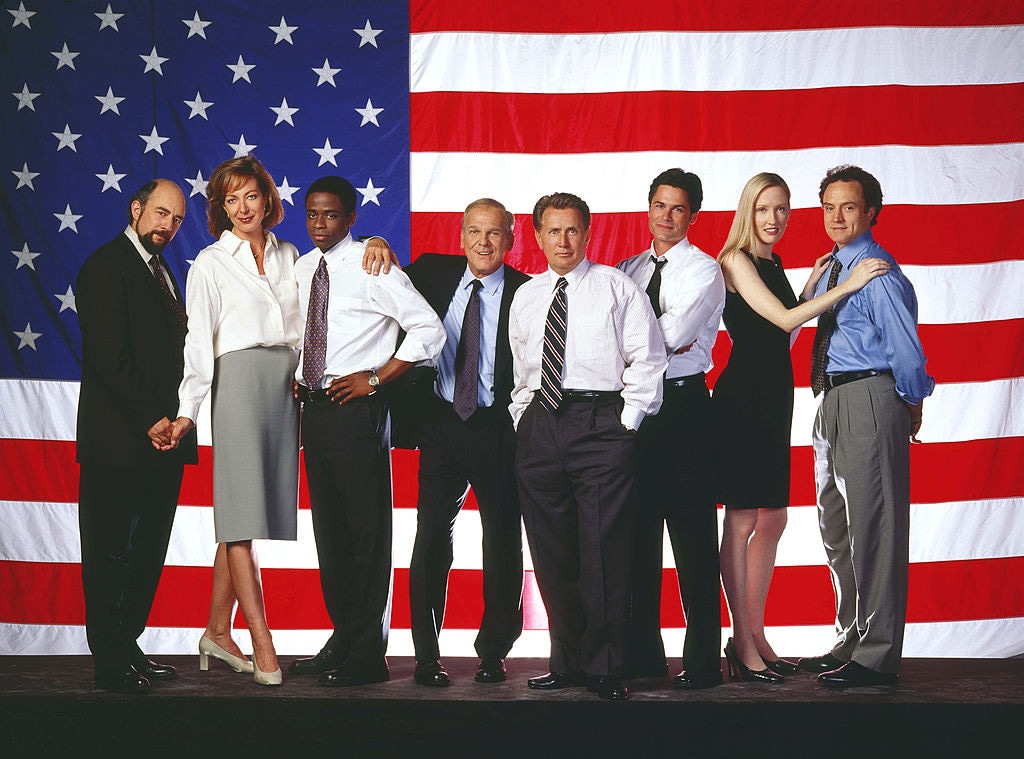 NBC
For years now, Aaron Sorkin and the cast of his 26-time Emmy-winning, impeccably written, politically minded creation have been inundated with the same question: What's next? 
As in, would we ever again get to peek inside the most aspirational of White Houses, into a place that gave people hope that a world of politics could exist coupling the requisite dirty dealings and one-upmanship with bipartisan cooperation and the ever-present desire to actually do good. 
"It's nice to think about," Allison Janney told Jimmy Kimmel in January 2020 of slipping back into C.J. Cregg's suits for another term in The West Wing cabinet. "I think everybody wants to think about it now because, you know, it was a Camelot administration on The West Wing. It was the way you hope that people in government [would be]."
It was rousing and motivational; it showcased the best of people; it taught us that a small group of thoughtful committed citizens can change the world. And for many—against the backdrop of the current divisive climate—revisiting all seven seasons on Netflix feels as heartwarming as the first time we saw President Bartlet (Martin Sheen) give Charlie (Dulé Hill) his family's knife set. So, really, Aaron, can a fan get a reboot up in here? 
Finally, he answered our pleas. 
The West Wing made a return...for one night only last October, with Sheen, Janney, Hill, Rob Lowe, Bradley Whitford and Janel Moloney reprising their roles for A West Wing Special to Benefit When We All Vote, a staged version of season three's "Hartsfield Landing" episode. The HBO Max project was created to support Michelle Obama's nonpartisan get out the vote initiative.  
And while Sorkin was very clear during the cast's appearance on The Late Show With Stephen Colbert Oct. 9 that it was not a reunion ("Reunion shows have a certain stigma attached to them, that you feel like it's going to be A Very Brady Christmas"), it's also not nothing. So, game on! Let's drink from the keg of glory and enjoy the finest muffins and bagels in all the land!
Watch:
Allison Janney - 2019 Oscars E! Glambot
Also, the fact that Sorkin tapped Sterling K. Brown to step foot into Leo McGarry's presumably hand-cut Italian leather shoes—filling in for the late John Spencer who passed during the series' final season in 2005—means there's still a sliver of hope for the next-chapter plot that Sorkin floated in 2017. One that elected Brown as a commander in chief facing "some kind of jam, an emergency, a very delicate situation involving the threat of war or something" that only former President Bartlet could solve.
And though Whitford recently told Esquire, "I don't think a conventional reboot is a good idea," he added, "although I do think a version of that show could have gone on and on and on. But it's dangerous—I remember saying at the time, you have to get out before the banana gets brown."
We're here for anything that brings the gang back together, especially as it's been 15 long years since the series finale aired on May 14, 2006. So let's celebrate by grabbing some New England crab cakes, firing up "The Jackal" and studying up on our favorite West Wing trivia. Ginger, get the popcorn!
(Originally published Sept. 22, 2020, at 2 p.m. PT)