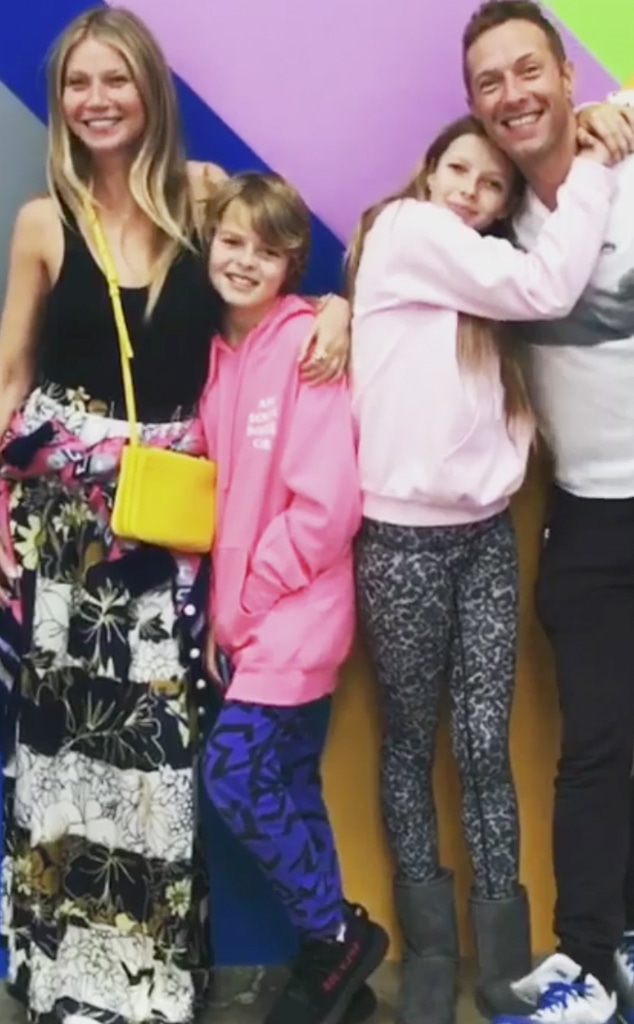 Instagram
Co-parenting isn't easy—just ask Gwyneth Paltrow.
The 47-year-old actress shared how she makes it work with her ex Chris Martin during the Sept. 22 episode of The Drew Barrymore Show. 
As fans will recall, the Oscar winner and the Coldplay artist announced their decision to "consciously uncouple" in 2014. Six years later, Paltrow told Drew Barrymore her relationship with Martin today is better than it was when they were married and credited her therapist with giving them a "rubric" on how to get to this point.
"It's like you have to have radical accountability," the Goop leader said. "You have to know that every relationship is 50/50. No matter what you think, how you think you were wronged, or, you know, how bad you perceive the other person's actions, or whatever the case may be, if you are brave enough to take responsibility for your half and really look at your own garbage and your own trauma and how it's presenting in the world and in your relationship, then there really is somewhere to go and something to learn and something to heal. Like, we're all part good and part bad. It's not binary. we are all gray area. We all are trying our best."
As for what led them to try this approach to divorce, Paltrow said she really wanted their kids, Apple Martin, 16, and Moses Martin, 14, "to not be traumatized, if it were possible." However, she admitted staying committed to the co-parenting plan wasn't always easy.
"Chris and I committed to putting them first and that's harder than it looks," she shared. "Because some days, you really don't want to be with the person that you are getting divorced from. But if you're committed to having family dinner, then you do it. And you take a deep breath, and you look the person in the eye, and you remember your pact, and you smile, and you hug, and you make a joke, and you just recommit to this new relationship that you're trying to foster." 
Paltrow then explained that while their marriage is over, they're still a family.
"That's how it will be forever," she continued. "Some days it's not as good as it looks. We also have good days and bad days. But I think it's driving towards the same purpose of unity and love and really what's best for them. We have this idea that just because we break up we can't love the things about the person anymore that we loved and that's not true."
Last month, in a piece for British Vogue, the Iron Man star wrote about how conscious uncoupling has "now permeated the break-up culture." In the article, Paltrow acknowledged "it's different for every couple." However, the actress reiterated that, in her experience, she had to be "accountable" for her part in the dissolution of their marriage, learn to forgive, let go of spite and discover that "it's OK to stay in love with the parts of your ex that you were always in love with."
Watch:
Gwyneth Paltrow Embarrasses Apple With Unapproved Selfie
Paltrow is now married to Brad Falchuk, who she wed in 2018. As for Martin, he started dating Dakota Johnson in 2017. In fact, the whole crew celebrates everything from holidays to birthdays together. As Paltrow put it, "I know my ex-husband was meant to be the father of my children, and I know my current husband is meant to be the person I grow very old with. Conscious uncoupling lets us recognize those two different loves can coexist and nourish each other."  
To see her interview with Barrymore, check out the video above.