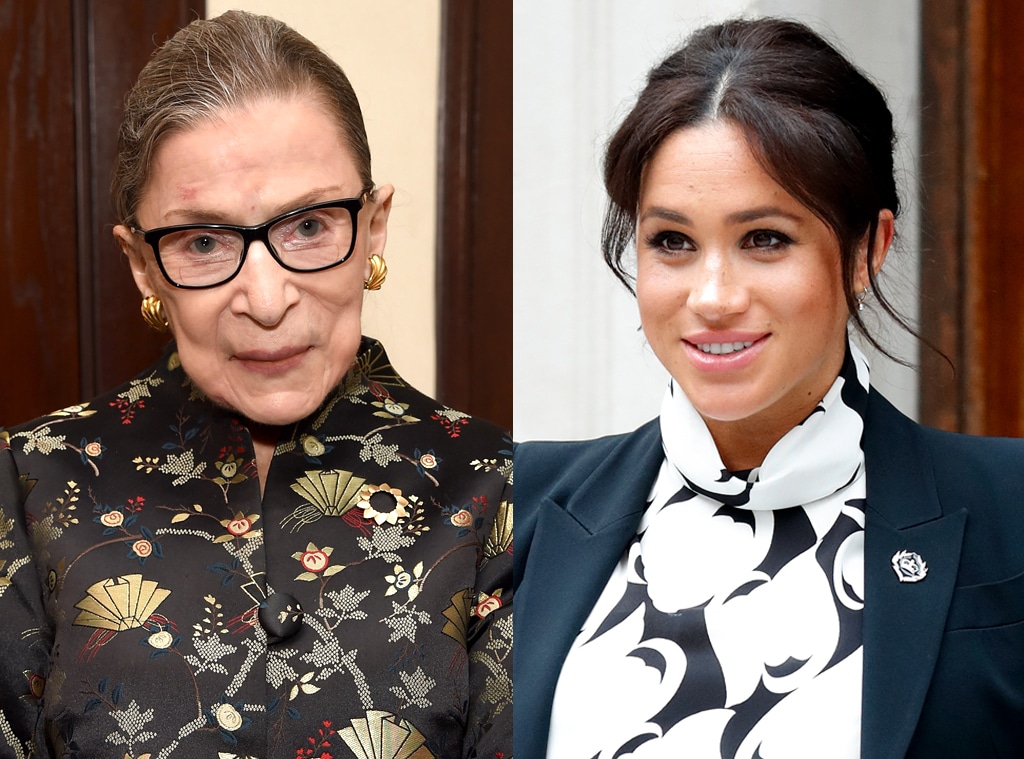 Getty Images
Meghan Markle is remembering Ruth Bader Ginsburg's iconic legacy.
The Supreme Court Justice died on Friday, Sept. 18 after battling metastatic pancreatic cancer. She was 87 years old. Following the news of her death, the former Suits star and royal family member expressed a heartfelt tribute in her honor.
"With an incomparable and indelible legacy, Ruth Bader Ginsburg will forever be known as a woman of brilliance, a Justice of courage, and a human of deep conviction," Meghan said in a statement shared with E! News. "She has been a true inspiration to me since I was a girl. Honor her, remember her, act for her."
Meghan isn't the only celebrity to pay her respects to the legendary liberal justice.
Felicity Jones, who portrayed RBG in the biopic, On the Basis of Sex, said in a statement to E! News, "Ruth Bader Ginsburg gave us hope, a public figure who stood for integrity and justice—a responsibility she did not wear lightly."
The actress added, "She will be missed not only as a beacon of light in these difficult times but for her razor sharp [sic] wit and extraordinary humanity. She taught us all so much. I will miss her deeply."
The film's director, Mimi Leder, shared her heartache on social media.
"RBG I will never forget you. Thank you for profoundly changing the world with your fiercely brilliant powerful mind, heart and soul," Leder expressed on Instagram. "Your courage and bravery paved the way for us all. We will continue the fight in your name. Warrior!!! Rest in Peace and Power my dear friend Madam Justice."
Watch:
Supreme Court Justice Ruth Bader Ginsburg Dead at 87
The Supreme Court Justice was also the subject of the documentary film RBG, which was nominated for Best Documentary at the Academy Awards in 2019.
"Like so many Americans, we are crushed by the death of Justice Ruth Bader Ginsburg," directors Betsy West and Julie Cohen told E! News. "Even had she not become a Supreme Court Justice, Ginsburg earned a place in history for what she did to win equally for American women."
"When we asked her several years ago how she wanted she wanted to be remembered," their statement continued, "She said with characteristic modesty, 'Just as someone who did whatever she could, with whatever limited talent she had, to move society along in the direction I would like it to be for my children and grandchildren.'"
Jacquelyn Martin/AP/Shutterstock
Ginsburg was first appointed to the prestigious position of Supreme Court Justice in March 1993 and held the title for over 25 years—even as she battled cancer.
In August 2019, she beat cancer for the fourth time. A statement from the Supreme Court announced she passed away from cancer complications. She was "surrounded by her family" at her home in Washington D.C.
For more insight into RBG's historic life and legacy, click here.